BILL'S BITES: RBA rate hikes now likely from June
The surprise decision on Tuesday by the Reserve Bank of Australia board to abandon its "patient" approach to monetary policy, has prompted the Westpac economics team to revise our forecasts.

Before the decision, we'd expected the Reserve Bank's initial cash rate hike in the cycle to come in August this year, and for rates to peak in November 2023.

Now we expect a much shorter tightening cycle, with a sequence of cash rate hikes beginning in June this year and peaking at 2 per cent a year later in June 2023.

We forecast the first rise in June of 15 bps, followed by two further 25 bps hikes in July and August.

By that point, we expect to see the 2020 COVID emergency cuts unwound with the Board likely to take a pause in September. Further 25 bps hikes are then likely to resume in October and November, reaching 1.25 per cent by year's end.

The cycle would resume in February 2023 with three more 25bp hikes in February, May and June 2023 to reach a peak of 2 per cent.

Our reforecast was also influenced by the strength in the labour market.

Since the Reserve Bank's last Board meeting in March, when "patience" was emphasised, we've seen a further drop in the unemployment rate, from 4.2 per cent to 4 per cent, and a continuing surge in job vacancies pointing to further falls in the unemployment rate through the rest of 2022.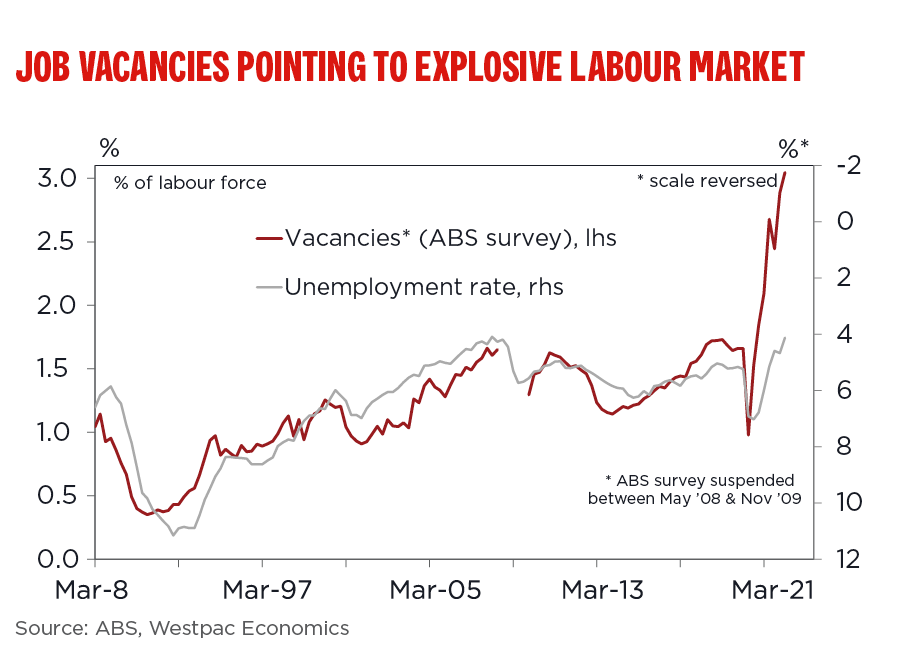 Accordingly, we've revised down our forecast for the unemployment rate which is now expected to reach 3.25 per cent by year's end, compared to 3.75 per cent forecast previously.

That much tighter labour market in turn points to a stronger lift in wages growth in 2023, with a peak of 4 per cent now expected compared to our previous peak of 3.5 per cent.

Interestingly, this shift by the RBA Board from a "patient" to a more pro-active approach to monetary policy is in the context of an election campaign that will be fought through most of April and the first half of May, indicating the RBA is willing to risk political controversy, particularly around any potential discussion of the role of the federal budget in changing the Board's stance.

Being aware of such complications but still being prepared to change the stance emphasises the Board's determination to change the policy message.

Read more at Westpac IQ.
The information in this article is general information only, it does not constitute any recommendation or advice; it has been prepared without taking into account your personal objectives, financial situation or needs and you should consider its appropriateness with regard to these factors before acting on it. Any taxation position described is a general statement and should only be used as a guide. It does not constitute tax advice and is based on current tax laws and our interpretation. Your individual situation may differ and you should seek independent professional tax advice. You should also consider obtaining personalised advice from a professional financial adviser before making any financial decisions in relation to the matters discussed.
Don't miss
By Ben Young
Head of Fraud and Financial Crime Insights