There's a stark graph in Westpac's latest "Coast to Coast" update on the state economies highlighting the divergent damage the Delta outbreaks have had around the country.

Output across "rest of Australia" is expected to steadily rise in the second half of calendar 2021, while the more heavily lockdown-impacted New South Wales and Victoria experience a sharp dip before a recovery.

As the report states, even prior to the latest COVID lockdowns the rest of Australia was flying, with "Tasmania's island economy, along with remote fortress WA" outperforming over the past 18 months, alongside South Australia and Queensland.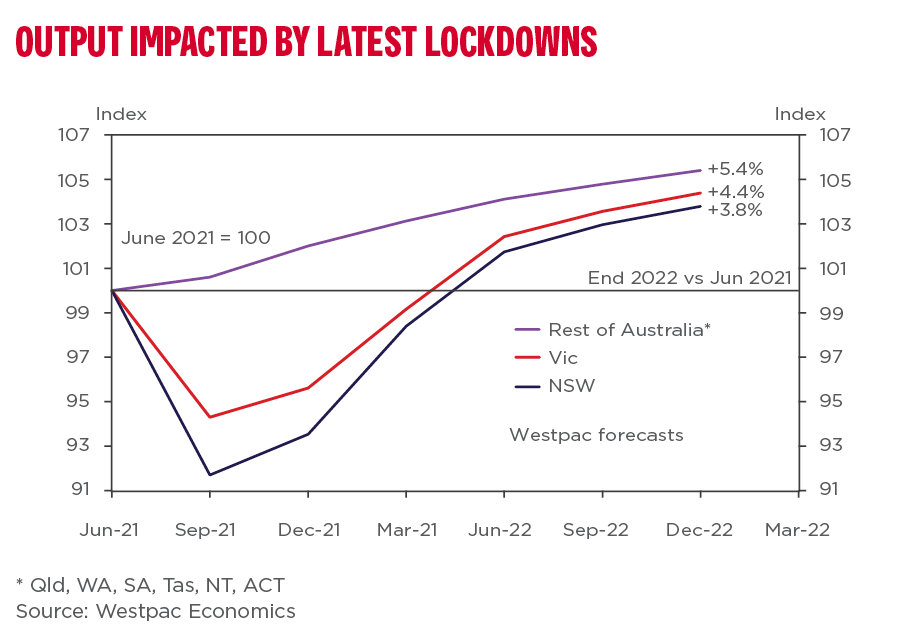 "These states have benefitted from significant policy stimulus, bringing forward demand, while avoiding the worst of the covid disruptions," it notes.

However, this dynamic might look a little different next year.

"The flip side of this underperformance to date of Victoria and NSW is that consumers' pent-up demand is more considerable in these states. That, alongside a sizeable savings buffer, points to a period of outperformance for Victoria and NSW in 2022," the report continues.

Overall, Westpac's economics team recently upgraded their national GDP growth forecast for 2022 from 5 per cent to 7.4 per cent. However, the prediction for the here and now wasn't as upbeat, with the current September quarter expected to contract 4 per cent, before a 1.6 per cent bounce back in the final three months of the year.

They added there was a lot of uncertainty given the many moving parts, including possible virus mutations, the duration of vaccine efficacy and potential scarring in the business sector from protracted lockdowns.

Similar to last year, how households respond once restrictions ease will be a key determinant.

According to Westpac's Card Tracker, which utilises the bank's credit and debit card transaction activity, total spending is set to be down 4-4.5 per cent in the current third quarter of 2021.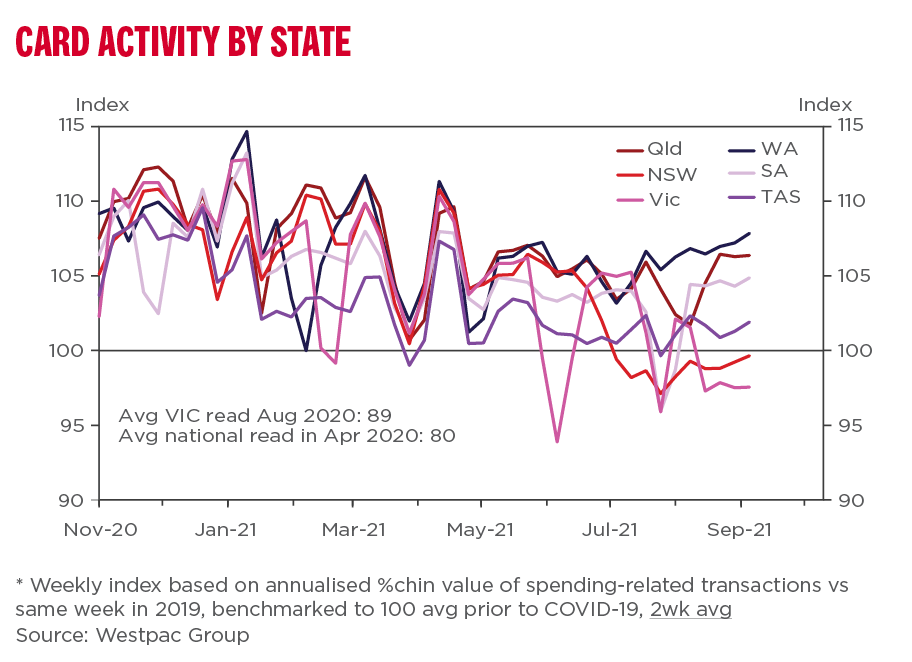 Unsurprisingly, NSW is facing the biggest shock, with card activity down 12 per cent, a "very large" decline that accounts for the bulk of the decline nationally. In Victoria, card activity is tracking for a smaller but still sizeable 8 per cent slide, with WA, in contrast, set to be up a "robust" 1.8 per cent after avoiding major delta outbreaks.

"Looking ahead, a slow vaccine rollout means WA runs the risk of being more susceptible to delta outbreaks near term. Border restrictions also look set to remain in place well into 2022, which may weigh on confidence as movement frees up in other states," the report says.

As for NSW, the biggest state economy, the report says high vaccination rates mean the outlook for 2022 is a strong rebound as "months of pent-up consumer demand is unleashed". "Consumers, when provided with the opportunity to spend, showed a willingness to do just that," it states, referring to conditions pre lockdown. "Households have built-up a sizeable savings buffer (boosted by government income transfers) which will help to fund future spending."

However, as there often is with COVID, there was a 'but': "However, risks remain - with the COVID pandemic continuing to provide surprises."

Indeed.

The information in this article is general information only, it does not constitute any recommendation or advice; it has been prepared without taking into account your personal objectives, financial situation or needs and you should consider its appropriateness with regard to these factors before acting on it. Any taxation position described is a general statement and should only be used as a guide. It does not constitute tax advice and is based on current tax laws and our interpretation. Your individual situation may differ and you should seek independent professional tax advice. You should also consider obtaining personalised advice from a professional financial adviser before making any financial decisions in relation to the matters discussed.