No fence needed: Aussie tech creates virtual paddocks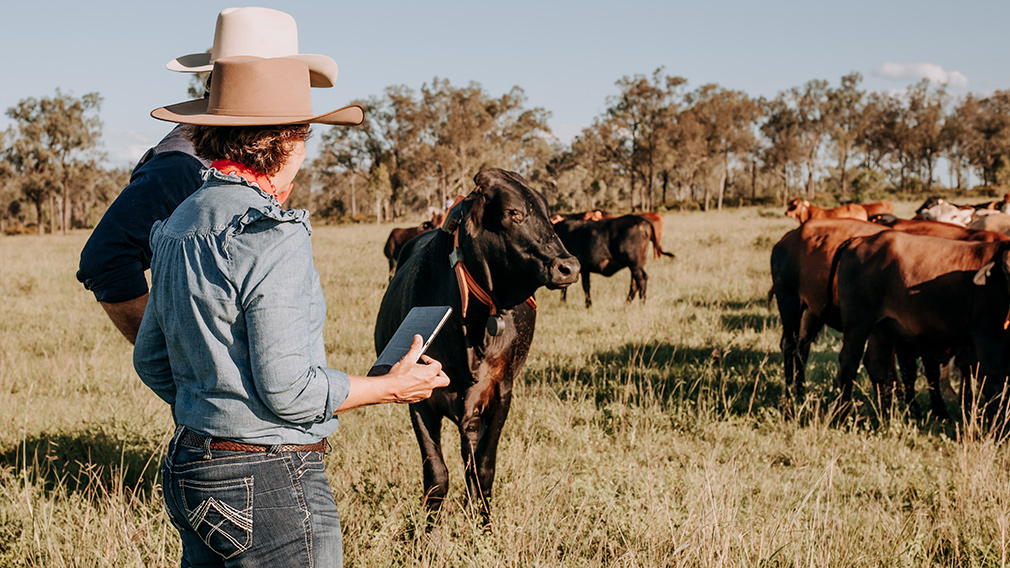 Collars on cattle may become commonplace as farmers embrace a world-first Australian technology innovation which creates virtual fences to control a herd's grazing patterns.

"The applications for the industry are quite exciting," says beef cattle grazier Ainsley McArthur, the first to trial the technology on a large scale at her family run Mystery Park property on Queensland's central coast.

"The system works and it's a great tool to help us manage our grazing."

Called eShepherd, the digital paddock technology created by agtech startup Agersens using IP developed by CSIRO, works by fitting each of the cattle with an intelligent, light weight, solar powered neckband.

Using a web app, the grazier draws virtual fences using GPS coordinates on a map of the property and, when the animals approach the invisible fence, the neckband produces an audio sound which they learn is a cue to stop and turn. If they don't respond to the audio sound, they receive a mild electric pulse.

"It was really amazing to watch them learn so quickly," says McArthur, who estimates training took between seven and 10 days.

"When they were fitted with the neckbands, they wobbled their heads a bit as though they were thinking it was strange, but it was surprising how quickly they became accustomed to it. They adapted, and learnt what is was, very quickly."

The fourth-generation grazier, who runs her 12,000-hectare property with husband Rob – also a fourth-generation grazier – and their six children, fitted the neckbands to around 450 out of their 5000-strong cattle herd during the three-month trial from September. As the technology moves into commercialisation, they are keen to expand it to more of the herd.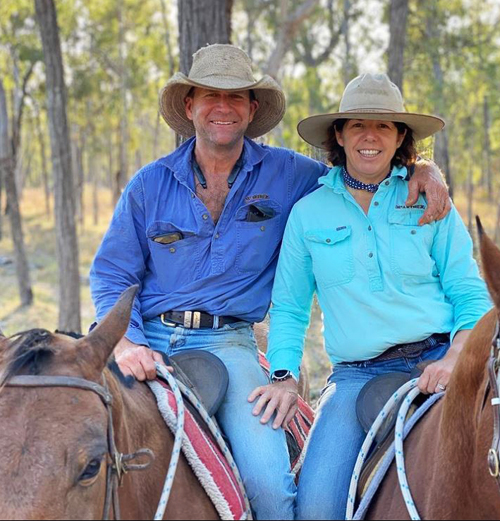 Jason Chaffey, chief executive of Agersens, says the success of the initial eShepherd trials has attracted growing interest across the cattle industry and a number of farmers had put their hands up to take part in beta trials this year to test it more broadly before production is scaled up towards the end of 2021.

"Farmers are big adopters of new technologies where they see it makes sense," Chaffey says.

"As farming is all about optimising production and reducing overall costs, anything that contributes to that is welcomed. The eShepherd system helps achieve more effective pasture utilisation, so farmers can increase their stocking rate and density which ultimately impacts their carrying capacity and net overall asset value."

While initially "challenged" by the eShepherd system – with questions around how the animals would behave, whether it would cause stress and if it would even really work – McArthur says once they got going, she was convinced of the benefits. She's also convinced of the system's animal friendliness, noting the extensive safety mechanisms based on animal learning research, and data from her animals' neckbands showing more than 80 per cent of their interaction with the fence is audio.

"Our country is fenced with traditional post and barbed wire fencing and, as we've intensified our rotational grazing, and kept the cattle out of riparian or sensitive areas, we've used single electric wires – but on 12,000 hectares there's only so many single electric wires you can put up," she says.

"The eShepherd system has been the tool that's going to make that easier, because you can just draw the fences anywhere you like."

Based on results from the Mystery Park trial, Chaffey estimates the eShepherd system can help the McArthur's achieve a 40 per cent increase in pasture utilisation, 20 per cent increase in land value due to enhanced carrying capacity and a 3 per cent decrease in stock loss.

He says his Melbourne-based ag tech company – which was founded in 2014 and has since raised more than $17 million to fund its research and development – was also expanding eShepherd's suite of data decision tools based on the data collected by the neckbands, making it even more valuable to farmers.

Already, McArthur notes one example where the system was able to alert her to an animal that had fallen behind the herd after suffering from what's known as "three day sickness" – like the flu for cows.

"We were able to remove her from the mob and help her to recover. On an extensive grazing property, you wouldn't necessarily even be aware that was going on without that kind of data," she says.

As take up of the system increases through expansion into other markets globally, Chaffey says he expects the $300 price of the neckbands will come down over time and that the company is exploring a range of pricing models to encourage adoption.

McArthur quips that she wishes the technology had been available 20 years ago when her family introduced rotational grazing after taking over Mystery Park, land which had been in Rob's family almost 100 years, since his great uncle bought an original 3420-acre lot with the winnings of his racehorse Mystery Lad.

"Rob and I have a very healthy respect for tradition, but we've been keen to embrace doing things differently, from our business model to the things we're doing on farm," she says.

"And we're also mindful that saddling up the horse and actually spending time with the cattle is not a bad thing either."
Mystery Park will be open for tours as part of Beef Australia 2021 (May 2-8), sponsored by Westpac Agribusiness.