Vogue Codes kicks off with Bumble's COVID boost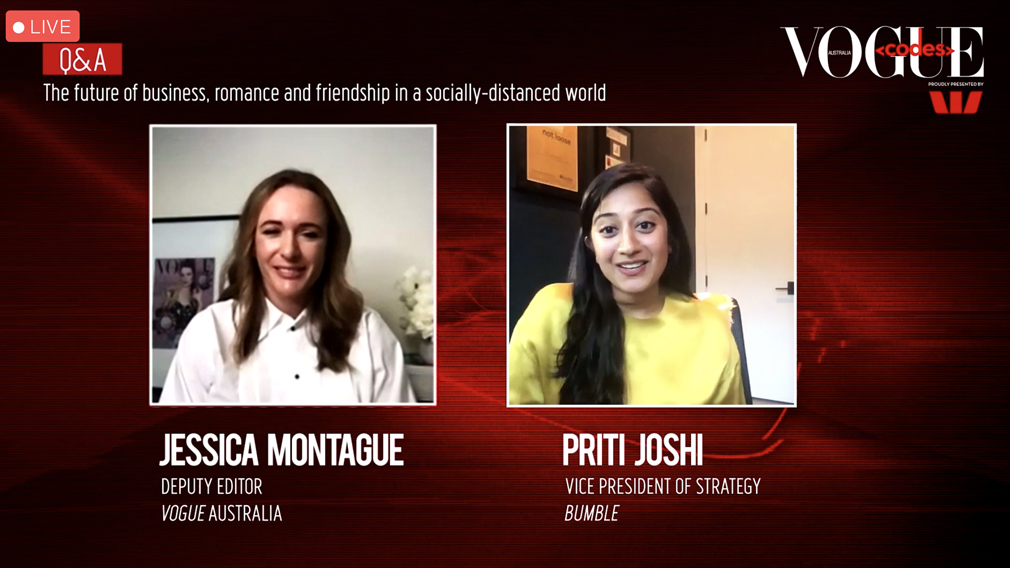 You'd expect the search for love to have been crushed by pandemic lockdowns around the world.

But dating is thriving, albeit in different formats than usual, according to Priti Joshi, vice president of strategy at the women-led dating and networking app Bumble.

"It's definitely changed the dating game," Ms Joshi said today in the first of a series of online events hosted as part of Vogue Codes Virtual 2020, sponsored by Westpac.

Since the pandemic emerged, she said Bumble – launched in 2015 by entrepreneur and Tinder co-founder Whitney Wolfe Herd and now boasting around 95 million users in 150 countries – had seen an "astronomical jump" in use of the app's video and voice calls feature. The app only allows women to "make the first move" in heterosexual matches, while either person can in same-sex connections.

"Enter COVID, and the idea of voice and video calls changed completely and actually became the way our users were connecting with one another," Ms Joshi said.

"We can see a 76 per cent increase in the number of voice and video calls between users in Australia. And what's more exciting is that these … calls are about 30 mins long, so this means our users are truly getting to know one another."

A self-confessed "data-nerd", Ms Joshi – who leads Bumble's data and analytics team and joined in 2018 after a decade with management consulting firm McKinsey & Co – said data and artificial intelligence had driven the ongoing development of the app's features and user experience.

This included the introduction of a "Private Detector", which uses AI to identify and blur out nudity in photos to let users stay in control of who and what they see, in line with its zero tolerance for abuse or harassment. In addition, Bumble BFF – a feature for platonic friendship meetings – was launched in response to data that showed 61 per cent of people felt friendship groups were becoming smaller as they grew older, 80 per cent made most of their friends before they turned 25 and 73 per cent were regularly experiencing loneliness.

Launching the first free live-streamed event in the fifth annual Vogue Codes series, Vogue Australia editorial director Edwina McCann said it was exciting to open up the program – which aims to inspire more women to "be creators of the digital future" by pursuing careers in tech-related industries – to audiences outside Australia by taking the series online for the first time. Future webinars will feature founder of Adore Beauty Kate Morris; founder of PepTalkHer Meggie Palmer; and global head of design for Barbie and Fashion Dolls at Mattel Inc Kim Culmone. The full Vogue Codes 2020 line-up is expected to be announced next month.

"Vogue Codes is our crusade to see women empowered by technology," said Ms McCann, who spearheaded the initiative to tackle the gender imbalance in tech jobs, where research shows men generally outnumber women by at least two to one.

"With the past few months showing us the importance of technology more than ever, embracing tech and the learning behind it is so important for girls and women, so that we can play a role in our shared digital future."

This marks Westpac's fifth year as "presenting partner" of Vogue Codes, a collaboration described by Anastasia Cammaroto, chief information officer for Consumer & Enterprise at Westpac, as "more important than ever" as technology and science roles increasingly shape the future.

"Our partnership with Vogue Codes is another way we can help break down stereotypes and encourage more females into future-shaping technology careers," Ms Cammaroto said.