A slew of properties in sought-after suburbs are set to come to market in coming months, potentially providing buyers with richer pickings after some of the weakest listing conditions in years, new research shows.

As housing finance data stoked confidence that the market had found its feet, Westpac research showed inner-city suburbs including Sydney's Paddington, Melbourne's Brunswick East and Perth's Claremont, were among suburbs where sellers were most likely to test demand in coming months. Separate research conducted by Lonergan showed 2.1 million Australian homeowners were looking to sell within the next five years.

"It's helpful to know where these potential pockets of supply could come from…(and there's) a spread of hotspots across metropolitan suburbs, offering potential buyers some choice when it comes to their preferred location," said Westpac general manager of home ownership, Will Ranken, noting it comes amid lower interest rates and strong competition among lenders.

The research, conducted by Insight Data Solutions, compiled the top 10 suburbs in each capital city where sellers were most likely to list houses and units in the next six months, with the results ranging from prestige locales to growth corridors and suburban areas popular with families.

In Sydney, Australia's biggest property market, the list for houses was topped by Paddington and included Glenmore Park, Avalon Beach and Warriewood, while the supply of units was most likely to come from owners in the likes of Prospect, Dee Why and North Ryde. Sydney inner city real estate agency BresicWhitney this month said Paddington had already been one of the strongest suburbs for sales this Spring auction season, which had surprised to the upside.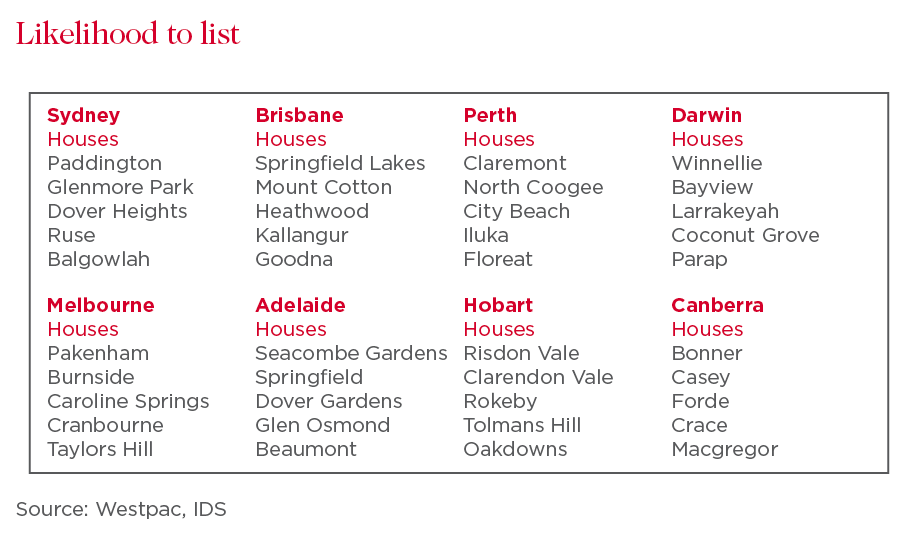 In Melbourne, which alongside Sydney has driven the recent revival in house prices, Packenham and Burnside topped the list for houses, and Carrum Downs and Brunswick East for units. The Lonergan research – done for Westpac's 2019 Home Ownership Report – confirmed location was the most important factor for buyers, whether first timers or homeowners looking at moving.

It comes as buyers wade back into the market amid rising evidence the two-year housing market correction has turned following the Reserve Bank's rate cuts, the removal of election uncertainty and the loosening of banks' regulatory serviceability requirements.

Total housing finance rose 2.9 per cent in August, Australian Bureau of Statistics data showed this week, led by a surge in loans to investors, while house prices jumped 0.9 per cent in September, the third month of gains in a row and largest since March 2017. It follows the largest slump in house prices on record and stalled listings, led by the 2012-2017 boom cities of Sydney and Melbourne but also protracted declines in Darwin and Perth.

REIWA, Western Australia's body for real estate professionals, this week said sales had dropped from 89,000 in 2005 to less than 39,000 last year, as it unveiled a "six-point plan" the organisation claims will help spur activity.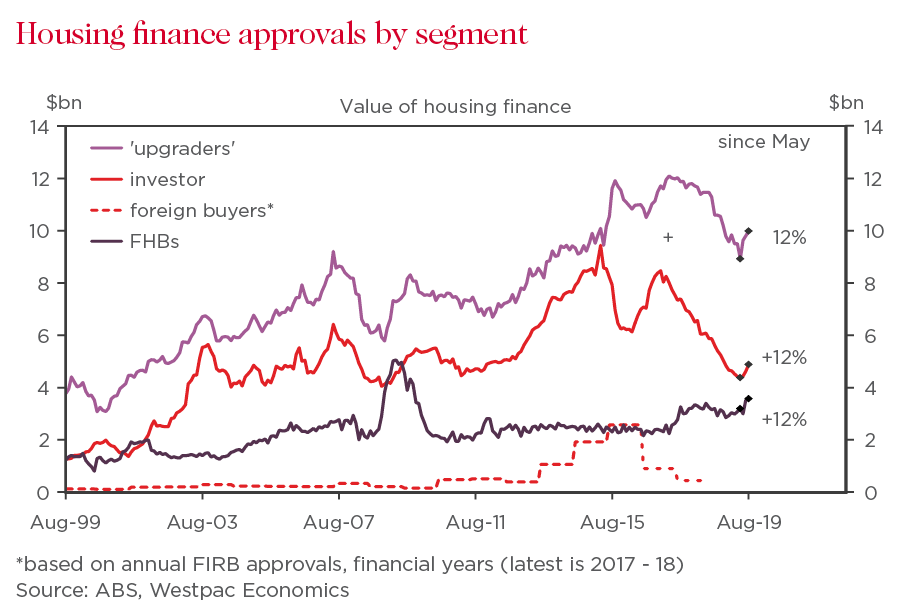 "Overall, the picture from finance approvals is consistent with the upturn in auction market activity, prices and turnover (since the middle of the year) and looks likely to carry into the months ahead," Westpac senior economist Matthew Hassan said.

For first homebuyers, the Lonergan research showed safety was the most essential feature when mulling a purchase, followed by a quiet area, proximity to shopping centres or grocery, access to public transport and proximity to work. The findings backed up recent St.George research that showed convenience for work or being close to public transport was the most important feature for aspiring buyers.

It comes as first-time homebuyers return to the market, making up 19.6 per cent of housing finance, the highest since the GFC, according to UBS economists.