Tourism is big business. But understanding and leveraging the detail hasn't always been easy for tourism operators.

Amid hot competition globally for the tourism dollar, Destination NSW (DNSW) and Westpac today launched a new "Tourism Expenditure Monitor" to deliver insights from aggregated, de-identified visitor spending data that operators can use to understand how and where people use their cash throughout the state. It will also assist the tourism industry to gain a deeper understanding about what drives visitors to local communities and where they are coming from.

The move comes as the Australian dollar comes under pressure, making domestic travel relatively more affordable and the country more appealing to foreigners.

"If you can't measure, you can't manage," DNSW CEO Sandra Chipchase said.

"This initiative is crucial to equip our industry, particularly in rural and remote areas of NSW, with traveller data analysis and insights."

In the year ending March 2019, NSW recorded 209 million visitor nights – or overnight stays – generating more than $40bn of spending in the state, with more than half coming from domestic travel, according to DNSW data. Overall, Austrade calculates tourism contributes $17.3bn to NSW's gross state product and employs more than 170,000 people.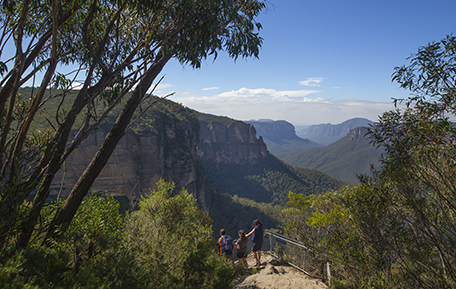 Home to the nation's biggest city, NSW is also well placed to benefit from growth in foreign tourists. According to Australian Bureau of Statistics data released in February, NSW was the intended state of stay for the bulk of short-term visitors to Australia last year, at 38 per cent, with Chinese visitors to Australia the most prolific for the first time, overtaking New Zealanders.

The NSW government has previously unveiled ambitions to lift overall overnight visitor spending to $55bn a year by 2030, including $25bn from regional areas, noting tourism has a larger economic impact than the agriculture, mining, and education and training industries.

But until now, data about Australia's domestic tourism was gathered via telephone surveys with visitors, which although being useful is not comprehensive and relies on visitors' memories of how much they spent.

"The NSW government wants to have a clear viewpoint on the economic impact of visitation … and, in particular, to understand the distribution of visitors around regional versus metro areas," says Peter Pallister, head of New Ventures and Digital in Westpac Institutional Bank's Global Transaction Services division.

DNSW plans to use the new "Destination NSW Westpac Tourism Expenditure Monitor" to help identify opportunities for tourism growth and a greater understanding of tourism expenditure. The agency will also supply information to its "destination networks" – groups of smaller tourism regions like Hunter Valley or Blue Mountains – and local government areas to help inform their own tourism initiatives.

In addition to enhancing existing research products in the market, Mr Pallister said the Monitor provided a "level of regional granularity which cannot be cost-effectively achieved via survey-based data capture" and it was a "much larger sample size".

"The key value is the ability to benchmark the performance of regional tourism targets and to evaluate the effectiveness of their marketing and regional activities," he said.

Di Challenor, Westpac's general manager of Global Transaction Services, said the bank had made "multiple investments" focused on consumer privacy, customer-centric technology and data analysis capabilities to "safely, securely and responsibly" develop insights from data.