Little loans go a long way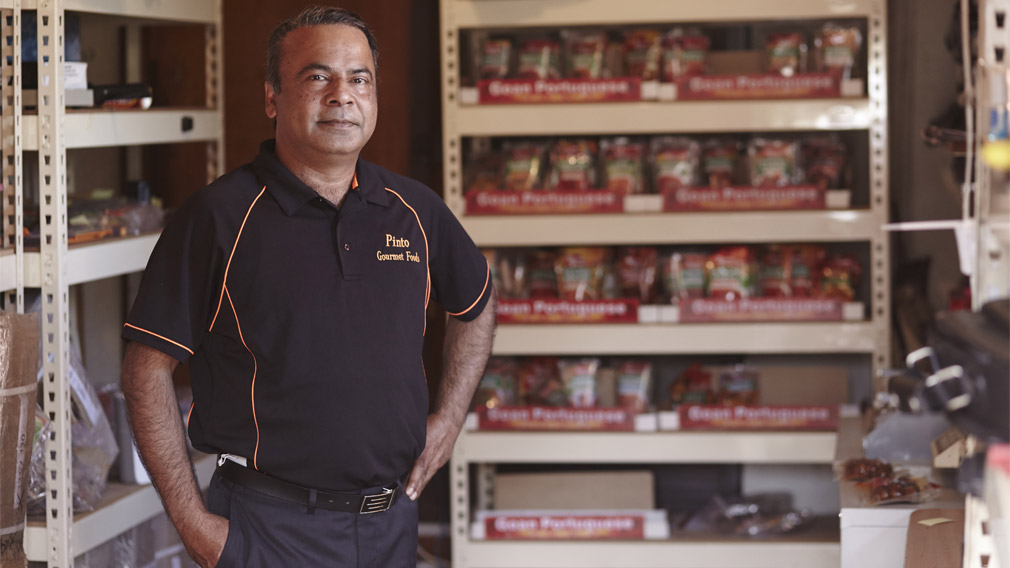 Mervyn Pinto's love of Portuguese Goan food stems from childhood dinners cooked by his mother.

Keen to reconnect with these flavours from his birthplace of Parra Mapusa in Goa, he however couldn't find anyone importing these delicacies into his adopted home of Australia. Knowing he'd spotted a hole in the market, he set out a plan almost five years ago to bring in his first small batch of pickles, condiments and pastes.

Today, Mr Pinto is eyeing the next phase of growth after ongoing coaching from Many Rivers Microfinance's field officers and two of their micro loans.

But the initial business plan was almost brought undone when he didn't meet the credit requirements to get a traditional bank loan, a dilemma faced by many aspiring entrepreneurs who are left to search for other options.

Not-for-profit Many Rivers is one of those options, having helped 1439 small businesses since it was set up in 2008, according to a new report from Deloitte Access Economics.

"What really got me going was the hand they gave me to get through the teething problems – setting up the right business disciplines, helping me make the right decisions, working out my forecasts," said Mr Pinto, a client of Many Rivers since 2013.

Deloitte's evaluation report, released last week, found he's far from alone. It says small businesses supported by Many Rivers had a "survival" rate of 77 per cent in their first year of operation, higher than the national average of 74 per cent. They were also just as likely to survive their first three years as the average despite owners experiencing greater disadvantage, such as dependence on welfare, limited access to finance or few assets, according to Deloitte Partner Professor Ian Harper.

"This shows Many Rivers invests in supporting these people to the extent to which they can remain in business on average for as long as someone who needs no support at all," Professor Harper said in a presentation of the findings last week.

Many Rivers offers entrepreneurs microenterprise development support and access to small unsecured Westpac business loans. Since forming 10 years ago, Many Rivers' loans have totalled $7.5 million, in 25 locations across urban, regional and rural Australia. In late 2015, Westpac also committed a further $2.25 million over three years to enable Many Rivers to expand operations to support more aspiring business owners.

John Burn, chief executive of Many Rivers, said the past year had been the not-for-profit's "best year ever", supporting 336 businesses. "If you add up all the people employed by businesses supported by Many Rivers, there are 1575, which is an amazing result," he said.

Income generated by businesses was estimated at $35 million annually. This was "higher than the average income, and certainly higher than the minimum wage and the unemployment benefit", according to Professor Harper. He added that clients' economic and social circumstances were also improving, as evidenced by their "unambiguously" lower welfare dependence, higher personal wealth and better access to finance.

Speaking last year, chief executive of Westpac's Business Bank, David Lindberg said Many Rivers was making a "tangible difference" to the lives of many people who were now self-employed and creating new jobs for others.

"We believe backing business is essential for the prosperity and growth of our nation. This must include supporting the economic participation of people who have traditionally faced barriers to start and grow their businesses. Inclusion is particularly important in regional and remote Australia," Mr Lindberg said.

Mr Burn said in many parts of Australia, there were limited job opportunities and enterprise was critical to helping people out of disadvantage. "The first measure of success is when a client generates their first income and the long-term measures are the economic and social benefits that arise when people feel valued and are supporting their families and communities," he said.

He added that Indigenous clients remain a priority for Many Rivers, making up 45 per cent of all clients. In addition, clients are from 105 ethnic backgrounds reflecting the organisation's increased focus on refugees and asylum seekers, he said. The types of businesses are as diverse as their owners. Among the top revenue earners are businesses that manage rubbish and car parks in the Pilbara, an Asian street food outlet in Toowoomba and a scaffolding business in Grafton.