New program as corporates compete for STEM youth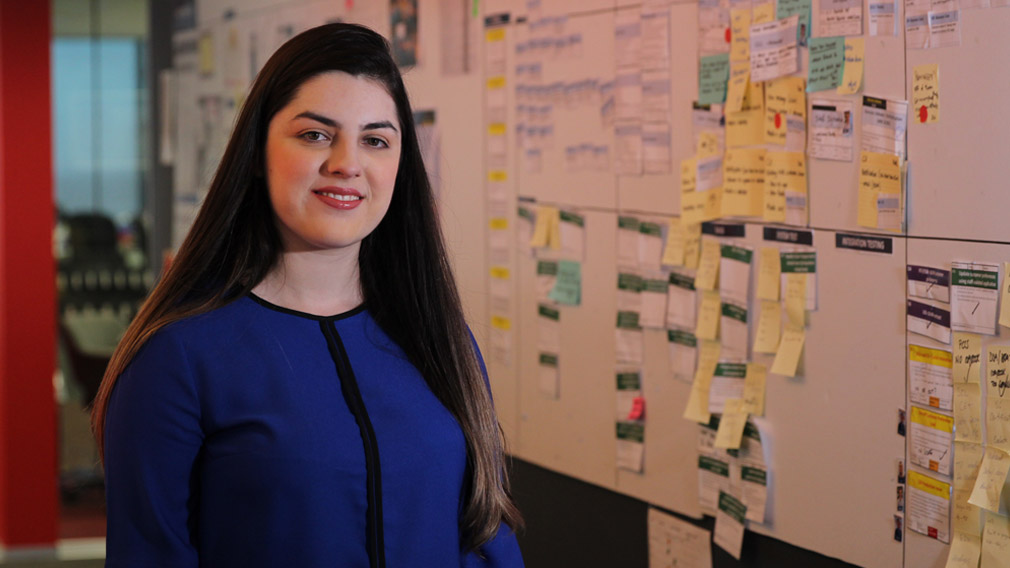 Financial services companies are stepping up efforts to attract students with so-called "STEM" skills, as they compete for the next crop of talent in a graduate pool that's not expected to keep pace.

Technology undergraduate Jessica Domazet is among a small group of university students selected for a new internship program at Westpac, another salvo in the bank's battle to entice more employees with science, technology, engineering and maths skills.

Through the program, six paid placements have been offered as a practical benefit to recipients of Westpac's Young Technologist scholarships – a cohort that has grown to over 80 students since the scholarships were introduced in 2015, and will grow annually by almost 40 more each year.

As banks globally are propelled into an era of digital agility, the widespread need for people with technology skills has spawned a number of rival programs to attract STEM students across the sector, as these organisations compete not only with each other, but also with major technology companies.

To cut through, Sue Doherty, who leads STEM advocacy at Westpac, said the bank's approach was to "infiltrate the school system" at every stage of a child's education.

"For primary and secondary students, we're partnering to bring programs specially designed to spark interest in STEM at a young age – including Code Camp and MathSpace – while also finding ways to support parents and teachers. We're also encouraging interest through other initiatives, including a work experience program especially for girls to try to address the current underrepresentation of women in the industry," she said.

"We have a particularly strong emphasis on tertiary level students. One of our flagship programs – our Young Technologist scholarships – supports students throughout their entire university degree and now, for the first time we've been able to provide pathways for those scholars to have practical, paid work experience. Our university partners tell us this is the most pivotal thing, something the education system can't do on its own."

A recent report by Deloitte Access Economics forecast that growth in the number of information, communication and technology (ICT) workers will outpace the overall Australian workforce over the next six years, with companies requiring an additional 81,000 ICT workers, and 236,700 more who will be intensive ICT users. It also confirms the number of graduates from ICT degrees will need to increase to meet future demand.

Competition for these graduates is particularly fierce within the financial services sector. Last year, this segment was the most active non-ICT sector to advertise for jobs with technology skills, according to Deloitte. For example, investment banks in Australia are also broadening the talent they seek to attract through internships and graduate programs.

Ms Doherty said part of the supply problem was that students were "self-selecting out of science and maths subjects at an early age", contributing to a "leaking pipeline of talent".

"If we want to have the workforce of the future, we need to be part of the conversation to encourage young people to think about the skills and capabilities they'll need to succeed in future careers – some that don't even exist yet. And that's STEM. It's not necessarily hard core coding. It's about problem solving, analytical thinking, communicating and negotiating," she said.

Ms Domazet, who is in the third year of a double degree in business and information technology at UTS, said the internship has been "eye-opening", predicting it would help to break down stereotypes which may be responsible for the low supply of technology graduates.

"The internship is definitely helping to prepare me for working in a corporate in a way that uni can't," she said.

"I'm in my penultimate year now, so it's invaluable to be getting this experience, and getting involved in things I've never done before. I've also met some amazing people – some have become mentors and are giving me great career advice."

Ms Domazet added that she has taken heart from seeing such an emphasis across corporate Australia on advocating women in IT, something she passionately promotes in her role as president of UTS's IT Society.

"When I was at primary school there was that stereotype that IT was all about that geeky guy in the basement just coding away at his computer. Obviously it's not like that. Even my mum was a bit concerned with my career choice – she was worried that being a woman in IT is tough. But as she's seen me progress, she's seen that it's going to be ok."

As applications open later this month for the next round of Westpac's Young Technologist Scholarships, Ms Doherty said the intern program was "just the start".

"We plan to increase the number of internships offered in future years, and we're also open to the idea of taking the students on in a part time capacity if it works for them. Our hope is that the interns will become part of our graduate program and ultimately permanent employees. The more they can advocate STEM and the programs that support it, the more likely we'll be able to help grow the pool of future talent," she said.