When Saturday morning paddler Michael got into trouble in rough seas, he was able to sound the alarm with his smartwatch, helping the Westpac Life Saver Rescue Helicopter arrive quickly to his aid.

Michael became one of the countless people to have been saved in over 100,000 missions by the rescue helicopter service, which is celebrating 50 years of helping those in need - from swimmers in trouble in coastal waters to people injured deep in the bush in motor vehicle or farming accidents.

"Everyone that they save is a person who is going home to their family. That's what is so special about this partnership," says Westpac CEO Peter King.

In partnership with Surf Life Saving Australia, Westpac has been supporting the service since it started in 1973, when a $25,000 grant from the bank helped to fund one Bell 47 helicopter to cover Sydney's coastline.

Australia's first civilian search and rescue operation has come a long way since then. There is now a fleet of 15 state-of-the-art rescue helicopters and one rescue boat at 13 base locations around the country.

In the early days, the life saver would jump into the water from the helicopter, rescue the person in distress and then hold on to them while both dangled on a cord 30 feet below the chopper for an uncomfortable ride into shore.

Nowadays, people are winched out of the water straight into the chopper where first aid can be administered instantly.

When Dr. Sue Rowley, the service's first doctor, started flying with the helicopter, her family were worried for her safety. The machine had just two seats - one for the pilot and the other for the rescuer - no doors, and just a bit of Perspex forming a bubble canopy.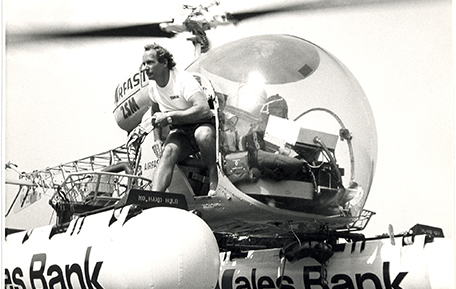 "When I told colleagues what I thought the helicopter could do in the future in terms of delivering first-class pre-hospital care direct to the patient, they laughed," Rowley says. But there's no doubt Rowley had the last laugh, with the rescue service growing over the years to lead the way in terms of its life-saving capability.

The team's new BK-117 helicopters have advanced communication and navigation systems, and a compact design which enables them to fly in and out of tight landing zones. Meanwhile, the four AgustaWestland AW139s which operate in northern New South Wales act as flying intensive care units, equipped to provide advanced medical support in challenging environments to patients on the scene.

"Many other organisations in this country have emulated what we started all those years ago," says Tony Waller, a rescue crew officer.

"In all of the years we've been doing this, because of the Westpac sponsorship no one has ever been given a bill to be rescued and that's something to be proud of," Waller adds.

Westpac recently committed to supporting the service for a further five years, extending the partnership into its second half century.

As for Michael, he's thankful he'll be able to continue his morning paddles.

"I'd like to thank the Westpac rescue helicopter service, but also my family would like to thank them - they got their dad and their husband home that day."