The NRLW's sixth season is up and running and one of its biggest stars expects a breakthrough year for women's rugby league on the back of expanded TV coverage and a major sponsorship deal with Westpac.

Millie Boyle, who has switched from her hometown Newcastle Knights to join the Sydney Roosters, is excited for the competition, which this year has added four teams.

Broadcaster Channel 9 is making all 48 NRLW games available free-to-air, while Westpac's investment is being shared equally between the men's and women's game – a first for any sporting code in Australia.

"The game is growing at a pretty fast rate, if you look back at where we started compared to where we are now," Boyle, who is also a Westpac ambassador, says in an interview with Wire.

"It's really exciting for the future to think that female players can have the same opportunity as the men, leaving school and walking straight into a professional contract. We're seeing that now, but it's only going to happen on a larger scale."

Boyle said Westpac's sponsorship was a game changer, particularly in its support of the sport's grassroots in local communities, which would only help to strengthen the pipeline of talent coming into the women's game.

The Westpac Junior Sky Blues Academy is a new initiative that aims to develop the next generation of female State of Origin stars, while the bank is also supporting the RISE Rookie Academy, which assists in the education and development of aspiring players, coaches and performance staff.

But the game still has a long way to go to level up with the men, and Boyle says her decision to switch to the Roosters, which took many by surprise including her own family, was made with an eye on the future beyond her playing career.

Boyle is already one of the most recognisable faces in the NRLW and is building her media profile with a presenting role on Channel 9. She's among a growing cohort of talented women covering the game on television, adding diversity to what has long been a male-dominated environment.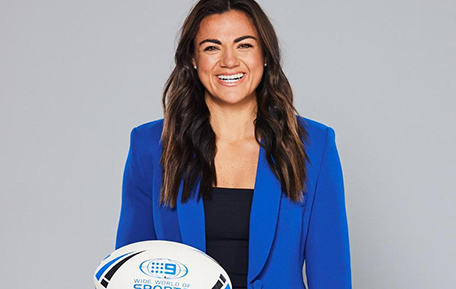 She recalls a recent moment where she and fellow presenter Danika Mason were reporting on the sidelines of a men's NRL game, being directed by a female producer.

"I don't think that has ever happened before, so it was a pretty cool pinch-me moment to be a part of. I've got a long way to go, but I'm very lucky that I have the opportunity to work with such an awesome team."

Just as important to her is the Trainer Group business she started with her partner Adam Elliott, who plays for the Newcastle Knights. They run 'Game Changer' workshops which help young people with disabilities to learn new skills and build their confidence in a team environment.

It's a project that's dear to her heart: Boyle has a close bond with her sister Hannah, who has Down Syndrome, while Elliott's brother James has autism.

"I wanted to create an environment that that uses the two things I love, which is sport and being part of a team - having good teammates, good mentors and coaches around me."

The Game Changer sessions are split between a sit-down informal group chat, where the participants can speak about any aspect affecting their wellbeing in a safe environment, and physical team-based exercises which emphasize how a healthy body can help support mental health.

"We all struggle, no matter who we are, we all get anxiety and stress about certain things, so letting them know that they're not on their own in having those feelings is really important," says Boyle.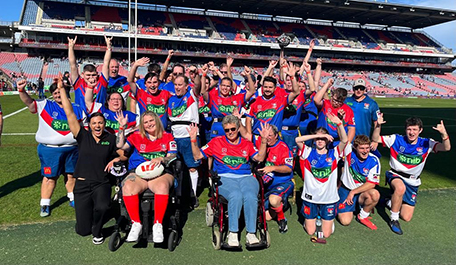 While society has improved in terms of inclusion, there's always scope to do more, and Boyle is keen to take the Game Changer program out to more regional and rural areas, where people with disabilities often lack access to specialised services.

As for the short-term, Boyle is focused on achieving success with her new teammates at the Roosters.

"I'd be lying if I said I don't want to win the competition because no matter what team I'm playing with, I always want to win.

"We've started well, but that doesn't always mean too much in the NRLW given the short seasons. We've got four more teams in the competition this year and I'm really excited to see the new talent that will come through."