Furry friends find a higher purpose at this social enterprise
Vince, a rescue cat, purrs contentedly in the arms of his carer Caitlin.

They could be the pin-up couple for Happy Paws Happy Hearts, a Queensland-based social enterprise that connects socially isolated people with rescue animals, to enrich the lives of both.

"I've mostly learned about myself and what I'm capable of," says Caitlin, a past participant in the program and now one of the charity's ambassadors. "I've learned about making strong connections, and it's taught me to be able to ask for opportunities."

The mental health benefits of having a pet are well documented, but Happy Paws Happy Hearts goes a step further by helping both the individual and the animal to break down their own personal barriers, says CEO and co-founder Zoe Black.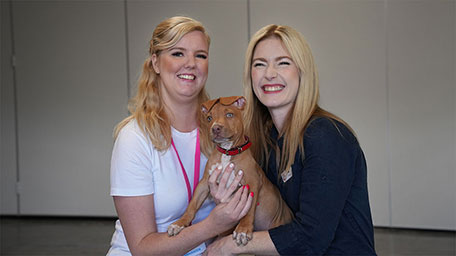 Those involved in the program range from young people dealing with mental health challenges, to people living with a disability, veterans and first responders. Participants are welcomed on-site at rescue shelters to help care for animals ranging from cats and dogs, to birds and even snakes.

With locations across Queensland, New South Wales, Tasmania, and the Northern Territory, the team creates space for change through fun, curated programs that support those who truly need it – whether they have two, three or four legs.

"It was amazing to have the Happy Paws team come on board to help us on a daily basis with making all those animals get exactly what they need," says Nanda Ten-Grotenhuis from RSPCA Wacol in Queensland.

"The engagement the animals get helps to enrich their day, as well as aiding their recovery and development. The information gained from those interactions can also help to find them a new home more quickly," Ten-Grotenuis says.

For the human participants, it's about building confidence and helping them to rediscover their capabilities, says Kellie Ireland, CCO and acting deputy CEO of the not-for-profit organisation.

The 'Explore' program which started recently in Toowoomba, supported by the Westpac Foundation, encourages participants to take their next steps in education, volunteering, or stepping back into the workplace.

"We found that we had a lot of young people who had built skills in communication, they'd built skills in group work, they learned how to care for and train animals, but they were looking for that next step into volunteering independently, further study and into employment in the animal care industry and beyond," Ireland says.

As for Caitlin, her experience with Happy Paws Happy Hearts has given her the confidence to pursue her passion for writing.

"I would really encourage as many people as possible to get on board. I really can't express enough how much I love it."