'Ocean optimist' has a plan to save our reefs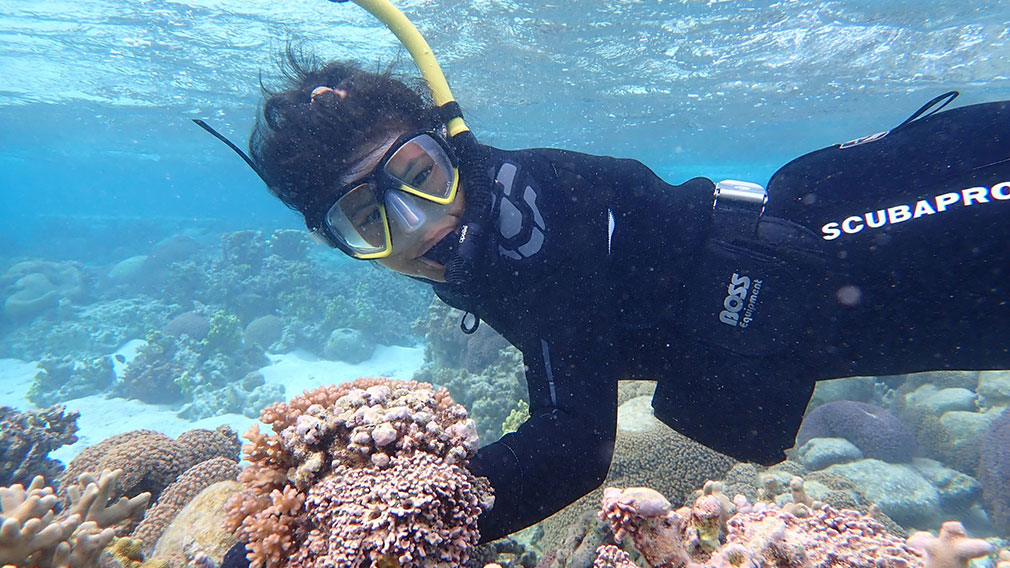 Dr Shawna Foo describes herself as an ocean optimist.

Inspired by finding resilience in unexpected places, her work involves identifying corals in parts of the reef which have been impacted by warming, but are less likely to bleach.

"It's no secret that climate change is degrading coral reefs, but some corals are resilient and able to thrive under environmental stress. We need to find out why."

Earlier this year, the Great Barrier Reef Marine Park Authority reported that 91 per cent of its reefs had been affected by bleaching, following four mass bleaching events in seven years.

In her search for a solution to this potentially fatal threat to one of Australia's great natural wonders, Foo is looking to the roots of mangroves, where some corals grow in an environment where other coral species might not be able to survive.

"The reefs associated with mangrove ecosystems could be the key,'' she says. "The mangroves change many characteristics of the water, including the acidity, but the corals are still living there, and they may be less likely to bleach.

"There's a lot of focus on trying to create more resilient lines of coral, but we might already have them," Foo says. "We're looking to raise their progeny and find out how they might transfer that resilience to other corals."

Transplanting coral is expensive and time-intensive, and Foo's work will use satellite mapping and surveys to identify prime locations to carry out the process and monitor the resilience of the coral.

Australia has the third largest area of mangroves globally, and their importance goes beyond helping to preserve our coral reefs. Scientists increasingly see coastal ecosystems, and mangrove forests in particular, as having a key role to play in combating climate change because of their effectiveness in storing carbon. So-called "blue carbon" ecosystems can store up to four times more carbon than terrestrial rainforests, according to the Australian Marine Conservation Society.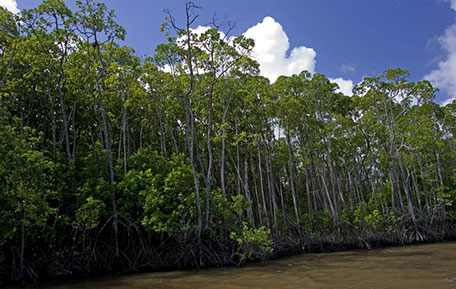 Foo, who recently returned from overseas to take up a research position with the University of Sydney, has also studied black sea urchins which are spreading further south as oceans warm, destroying kelp, eating algae and changing the balance of ecosystems as far south as Tasmania.

Her research into marine ecosystems and their response to climate change is being supported by the Westpac Scholars Trust as part of the Trust's focus on sustainability. The Trust is also backing research into the impact of climate change on the critical drivers of bushfires, led by Dr Hamish Clarke at The University of Melbourne, the other research fellow being funded under the Sustainable Futures priority.

Foo says its vital that the response to climate change takes into account its impact on the oceans which cover 70 per cent of the planet's surface.

"The ocean is a critical consideration when it comes to sustainability, and it's expected to warm by up to 3 degrees Celsius by 2100. Our seas are responsible for over half of the oxygen on Earth, which is produced by phytoplankton. They also absorb heat and carbon dioxide and therefore are an important regulator of climate," she says.

"Coral reefs are home to 25 per cent of marine life, providing that important habitat for animals which people rely on for subsistence." They also help to slow coastal erosion by reducing wave energy reaching the shore, Foo adds

The damage already done to coral reefs is sometimes all too apparent.

"Sometimes in my field, you encounter something which shocks you. On the Great Barrier Reef I came across an area of branching corals that were hundreds of years old, and they were all dead, it was one of the most depressing moments in my short career," Foo says.

Still, her research shows that positive action is possible. We need to better understand the potential of animals to adapt to ocean change, and identify factors that influence resilience to climate stress, Foo says.

"I'm excited to be playing a little part in trying to make marine ecosystems more resilient to climate change, so we can best protect what we have," she says.

Dr Foo was awarded a 2022 Research Fellowship by Westpac Scholars Trust.