10Qs with…a guide dog carer and sustainability expert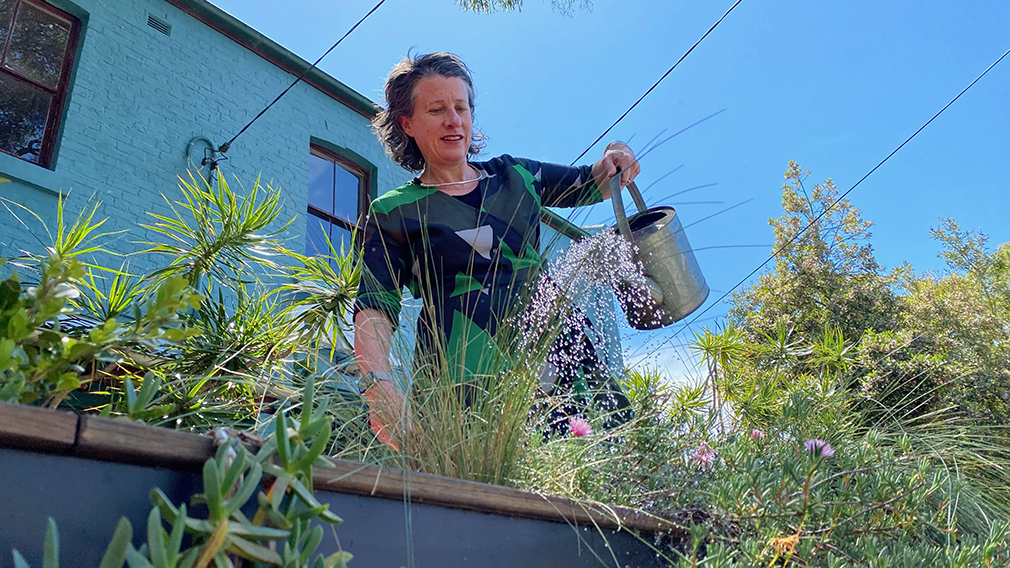 Siobhan Toohill, Westpac's Group Head of Sustainability, opens up about what makes her tick for Westpac Wire's "10 Qs with…".

What's your morning routine?
I'm usually awake from about 5am, scanning the news. Then, (husband) Adrian and I walk Deevie. He's our guide dog puppy that's had a career change to become a therapy dog for our (11-year-old) son, Malley.

Deevie's our "forever dog" now, but he's actually the third guide dog we've raised. The first was Pearl – we looked after her for about 14 months before she went off to do her formal training. We put our hand up again and took in Aries, and then Deevie.

But when Deevie went off for his formal training, he was prone to getting a bit too distracted to make it as a guide dog! And coincidentally, because of Malley's health issues – he can't play sport, has to visit hospital quite a bit and we knew he'd have to stay home for much longer than most during COVID – we'd put our hand up for a therapy dog. So Deevie came back to us for good.

Coffee: first thing, on the commute or in the office?
I love coffee and all its rituals. Adrian and I always have one together after our walk and, when I go into the office, I'll get another from Lobby Cafe (275 Kent Street, Sydney) along with a good chat with (cafe owner) Michael and the other early starters to catch up on the latest.

Are you a WFH fan or not so much?
I genuinely like the hybrid model. I'm fortunate – I have a great home office. Adrian is a tech nut, and he made sure I was completely set up from the start. But I really miss the social interaction, the catch ups on the steps and in the corridors – all that stuff that happens in the interstitial moments between meetings is lost.

It's made me realise how much business you get done in those moments.

What's the biggest virtual meeting gaff you've seen?
I do recall one of the calls I was on, quite early in the lockdowns, it was with a bunch of executives and external stakeholders.

One of the participants – I won't name him but he's a fairly high profile Australian – he chose to have all his washing behind him, including his underpants. I love the fact he thought that was completely OK but I personally found it completely, hilariously distracting!

Day structure: are you a 9-6 or work at all hours sort of person?
Because my role means I'm interacting with my sustainability peers internationally, I'm often on calls through the night – I might even go to bed for a while and get up for a 2am call.

My philosophy is to work really hard during the week, with early starts and late finishes, but then when I get to the weekend, I'll slam the shutter down. That's family time.

Do you enforce any technology or working free time?
My 11-year-old is very tough on enforcing our rule of no phones at the dinner table.

We always have dinners together as a family and have a little routine – in turn, each of us has to talk about two good things that happened that day, and one nice thing about each other.

That's a family ritual. Even if someone comes over for dinner, it's the same routine.

What do you do if you get super busy or feel a bit overwhelmed?
My philosophy is, if I can, I'll go to bed.

If I'm working late and feeling a bit frazzled by something, I'll grab a few hours of sleep, just let my brain process it subconsciously, then get up really early to tackle it.

Things almost always look better. You can more often than not come at a problem with much better perspective and be so much sharper and fresher.

What would we find you doing on a typical weekend?
I'm a huge walker and we spend a lot of time in parks.

Every couple of months we try to get up to the Blue Mountains to stay at Rough Track Cabins – beautifully cosy cabins, on the edge of the national park, where we get in lots of walking and fresh air.

Also, about a year ago, I was appointed to the board of the Greater Sydney Parklands Trust.

So, I have a governance responsibility around Centennial Park, Callan Park, Parramatta Park and Western Sydney Parklands and I've really enjoyed getting out and spending time really getting to know and use those parks.

Beyond that, every summer as a family we love nothing better than hitting the road and exploring the outback.

We've also started a ritual that these trips involve an island. So far that's been Bruny, Kangaroo, Stradbroke and Herron. There are plenty more earmarked for future trips.

What's the best thing you've read, watched or listened to recently?
I have to admit I've loved Ted Lasso in ways I didn't think I would.

It's basically a beautiful show all about mental health, leadership, teams and culture – so many lessons for life.

Also, Steve Martin's Only Murders In The Building – just a delightfully fun, beautifully produced feel-good. I'm a sucker for a Sunday night ABC drama – always great acting in a fantastic Australian setting.

What career advice would you give your younger self when just finishing school or uni?
Back yourself.

Do what feels right, and what you're really interested in, rather than what others think you need to do. Every time an opportunity emerges, take it. And follow great leaders, not dollars, because they will nurture you and set you on your path.

I had the classic thing where a parent wanted me to be a doctor, but I followed my heart and studied architecture, then tried out a whole bunch of stuff in those first couple of years – teaching, interior design, small practice, government practice, corporate.

That's how I realised I was really interested in urban design, design culture and policy and how we think about sustainability.