The cattle and cheese innovators smashing stereotypes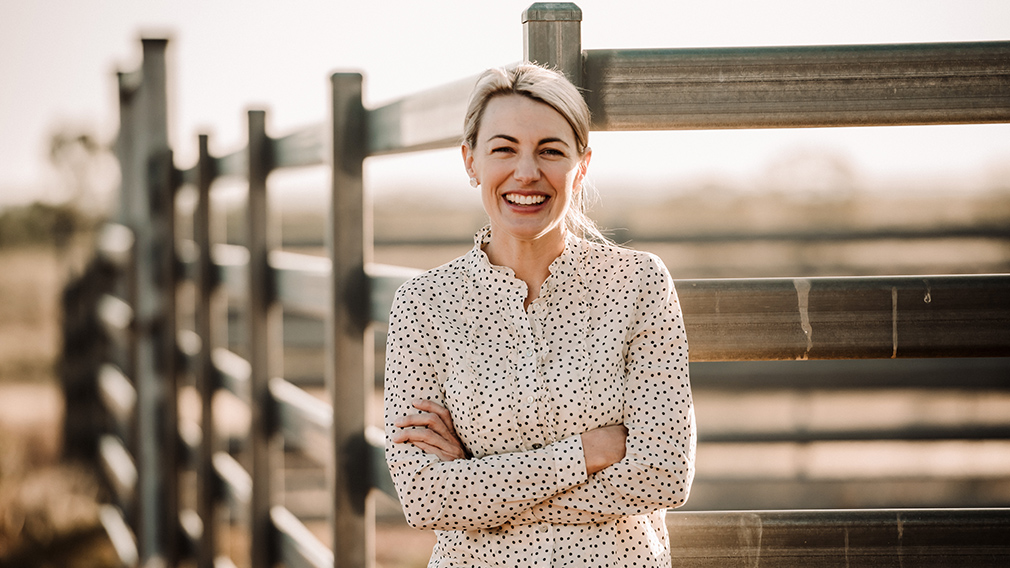 If you do a quick Google image search for "Australian farmer", it may be no surprise that only 16 per cent of people in the first 100 are women.

It's by no means a scientific test, but reflects a fairly common perception that Australian farming is synonymous with men, despite women's critical contribution.

"It's always seemed strange that's the image portrayed," says Elisha Parker, who grew up on a cattle station in central Queensland and co-founded Cattlesales.com.au, a national marketing platform to connect livestock agents and buyers.

"Because when you live and work in the industry you certainly don't perceive it like that – there have always been women in agriculture, and (so)… to me, it's a misrepresentation of reality."

It's a notion academics say is a hangover from the 1890s when politicians decided women's farm work would no longer be recorded in the census.

As observed by renowned social researcher Professor Margaret Alston, the decision was made so as not to give the impression to the rest of the world that Australian women were labouring in such an "unwomanly occupation" as agriculture. Until legislative changes in 1994, she says farming women were characterised in law as "non-productive, 'sleeping' partners", which meant, among other issues, they couldn't be insured or receive compensation for injury.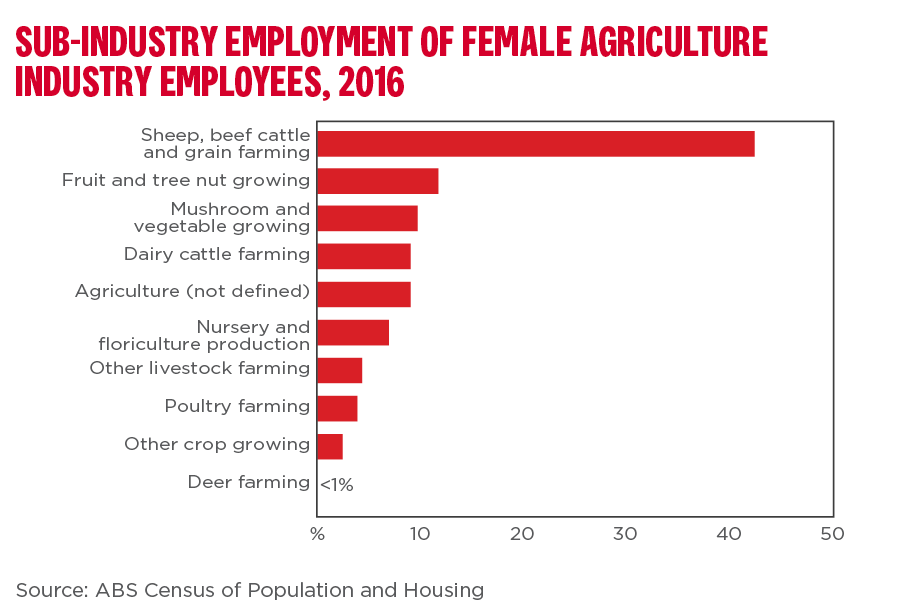 What's most frustrating for academics like Alston – and others in the sector – is that the many innovative women in farming have historically received little recognition. For example, Mary Penfold grew the famous Penfold's wine business in the 1840s, yet its success has often been attributed to her husband, a medical practitioner away from the vineyards for extended periods.

It's a similar story for Elizabeth Macarthur, a pioneer of Australia's merino wool industry in the fledgling colony of Sydney, while lauded husband John was not even in the country for 17 years during their farm's development. Eliza Furlonge was another wool industry pioneer in the 1830s, Adelaide Miethke set up School of the Air for children on farms in the 1950s, and the list goes on.

But in recent decades, things have begun to change, supported by initiatives like the annual Agrifutures' Rural Women's Awards initiated 21 years ago.

Parker, this year's Queensland state winner, says she feels fortunate to be benefiting from the work of her "predecessors" and farming women advocates, particularly in the 1990s.

"They've overcome so many hurdles that have made it as great as it is now to be a female in agriculture," she says.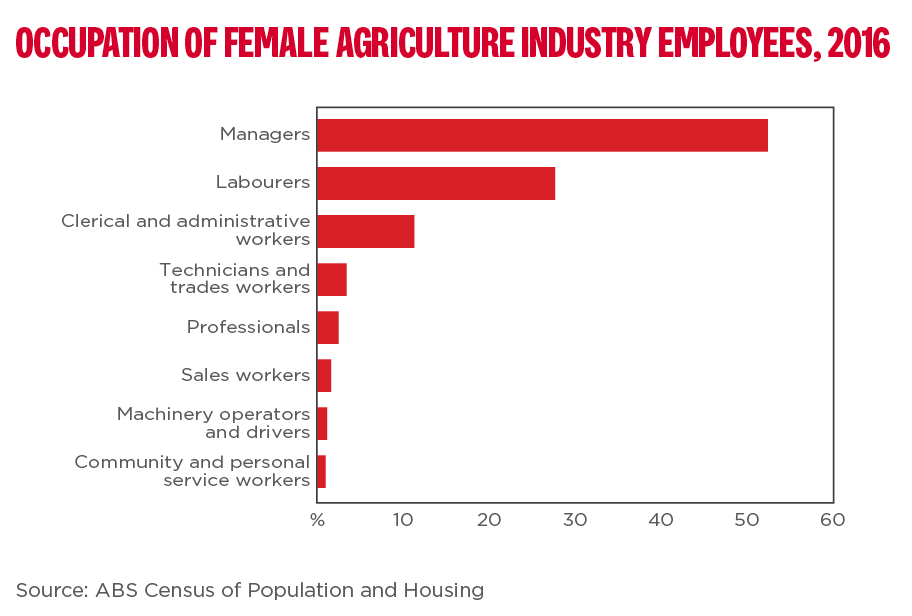 Like her predecessors, Parker's idea for Cattlesales.com.au – the first platform of its kind – was born from a gap in her industry, spotted in 2015 by her and school-friend-turned-business-partner Annabelle Spann.

"A friend's dad had driven a 1400-kilometre round trip to take a look at some cattle for sale on the next property from ours but… he didn't realise we also had exactly the same specs of cattle in our yards," recalls the mother of two young children, who is also a legal associate with a Brisbane-based law firm and a director on AgForce's Cattle Board.

"He could have looked at both mobs and made a better business decision. If you think about buying a house, you'd never think about ringing every real estate agent in town. But the cattle industry (had) no tool available. We wanted to build a tool that agents could use … to get that wider market reach."

Parker says the constant uptick in traffic since the 2016 launch of the platform – which connects cattle buyers with sellers nationally at all sales points – has given her confidence to invest in "exciting" new features, including a soon-to-be-released interactive bull sales catalogue.

"It's made life much easier for agents, because it provides quick and smart ways for them to be able to do what they're already doing but in an elevated way in that they've got a bigger market reach," she says.

Artisan cheesemaker Cressida Cains agrees that stereotypes are changing as a "groundswell of very capable women in agriculture with fantastic ideas" are starting to "rise to the top and become noticed" through platforms like the Rural Women's Awards.

"I would like to see more women in formal leadership roles in agriculture, but there's no doubt that the tide is starting to turn," says Cains, the New South Wales state winner.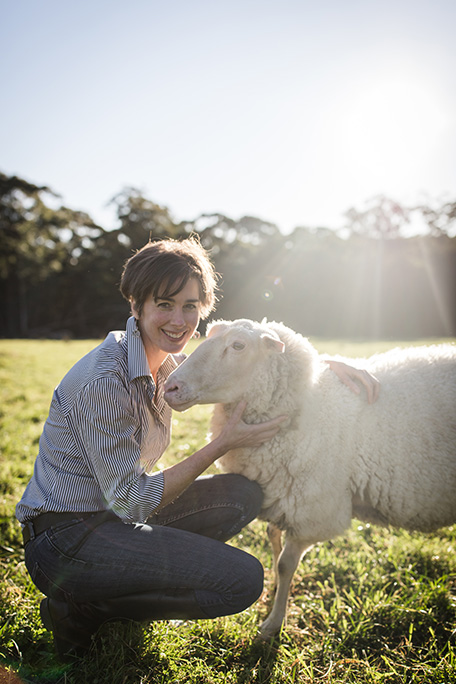 On top of her day job running Pecora Dairy, a small sheep milk dairy and cheesery she and her husband set up in 2011, Cains created Dairy Cocoon, a not-for-profit digital platform launched in April to support small dairy farmers to improve the viability of their business.

"On one hand, we've got small family-owned dairy farms shutting their gates and walking away because it's so hard to be profitable under the current model of selling milk to the processors," says Cains, noting dairy farms have steadily dwindled from more than 22,000 in the 1980s to fewer than 5000.

"And on the other, we've got this situation where Australia's demand for specialty cheese and dairy is increasing. To put that into perspective, last year Australia imported 100,000 tonnes of cheese, 35,000 tonnes of butter and 22 million litres of ice cream."

The strong demand, along with consumers' growing inclination towards home-grown produce, has firmed up Cains' long-held view that the ongoing viability of small dairies lies in a willingness to transform operations "up the value chain" to become "price setters" with branded products, rather than being "price takers".

She equates her vision to what's occurred in the craft brewery scene.

After centuries of limited beer choices in pubs and bottle shops, the last couple of decades have seen an explosion of independent beer brands.

And Dairy Cocoon's mission, she says, is to help small dairy farmers make that transition by connecting them with the resources, mentors and communities they need.

"It's potentially a really big decision to take a family farm, which has been run in a traditional way for generations, and look at another way of doing business," Cains says.

"Change is challenging, but there is huge opportunity for independent brands. Cheese, yoghurt and ice cream are definitely something that Australians want to eat. Dairy farmers can take back control of their businesses and create a viable long-term future for their family farm for generations to come.

"If I can make it easier even for just a few dairy farms to make that leap into producing their own branded product, then I really feel that my project's been a success."

Peta Ward, Westpac's agribusiness general manager in Queensland, says it's the women she sees quite often being the "real pioneers" in driving their family farms and sectors forward – and she puts it down to both necessity and the benefits of technology.

"If you look at family farms, particularly in remote areas, the woman is quite often the educator teaching the children, she's the bookkeeper, she's also probably the station cook, plus she's needed out in the paddock to help," Ward says.

"So, she's all of those things which means she's also looking for innovation and ways to make things easier and better – which ultimately drives the industry forward."

Each state winner of this year's Agrifuture's Rural Women's Awards received a $10,000 bursary from Westpac to support her project as part of the bank's Platinum Sponsorship. The national winner will be announced virtually on October 20.