Cheers! Winemakers toast 'goldilocks' vintage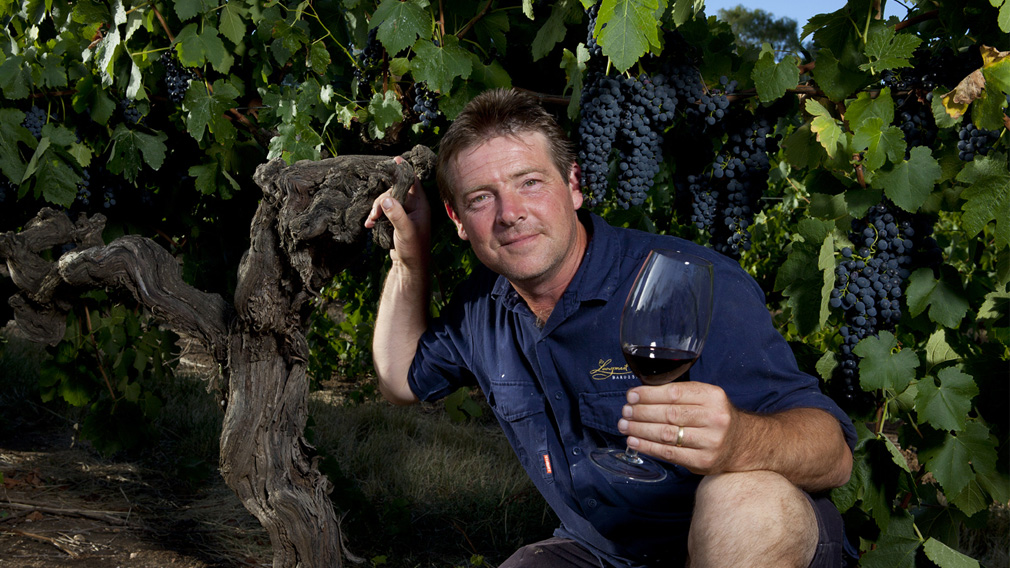 Many Australian winemakers – and wine lovers – finally have something to smile about.

After manifold setbacks over the past couple of years, including drought, bushfires, smoke taint, crippling export volatility and COVID, the sector's fortunes look to have reversed after near perfect growing conditions propelled the 2021 wine grape crush to a new record of more than 2 million tonnes, up 31 per cent from 2020.

Even better, the vintage is looking "absolutely extraordinary", according to Matthew McCulloch, chief executive of family-owned and operated Barossa heartland winery, Langmeil.

"It's what we call a Goldilocks vintage," he says of the once-in-a-decade ideal seasonal conditions that were not too hot, nor too cold across wine growing regions nation-wide.

"While it's still a little bit early to call, the signs are certainly promising that this could be one of Langmeil's greatest vintages."

It's a similar story across the sector, particularly in South Australia, which remains the largest wine producing state at 52 per cent, followed by New South Wales at 29 per cent and Victoria at 17 per cent, according to Wine Australia.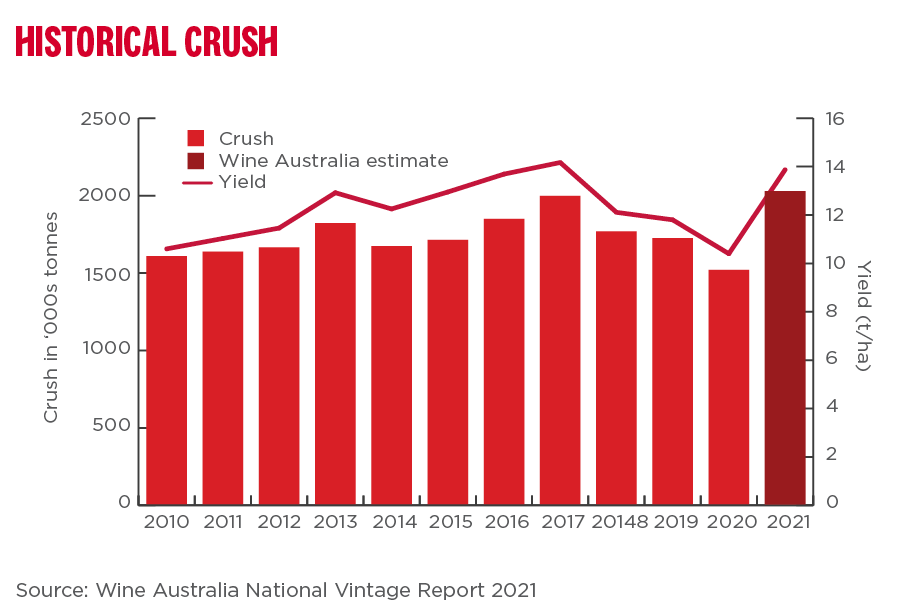 It's also a welcome relief for growers and wine makers, coming off the back of two exceptionally small vintages in the previous two years due to droughts, frosts and fires – along with a number of other curveballs.

A standout hurdle has been the sudden loss of the sector's largest export market, China – worth more than $1 billion to the industry in the 12 months to end June 2020 – following the decision flagged in November by China's Ministry of Commerce to impose import tariffs up to more than 200 per cent on Australian wine.

The move sent shockwaves through the industry, as an estimated 800 businesses were forced to quickly find new markets for the billions of dollars' worth of China-bound wine, much of which was already well into its two-year "grape to glass" process.

"Fortunately for most of the boutique and premium wine makers, they had only a small percentage of their sales going to China," says Westpac agribusiness relationship manager David Hammond, who counts Langmeil among his clients.

"But some wineries had become too exposed, and the majors really relied on China, and that's where most of the volume into China has been affected," he says.

Among the hardest hit was large, listed Australian player, Treasury Wine Estates, owner of brands such as Penfolds, Lindeman's and Rawson's Retreat. With China previously representing 30 per cent of its earnings, Treasury's shares initially tumbled 14 per cent on the news and the company has warned investors to expect "minimal" earnings from China in the six months to end June, as it works hard to readjust its portfolio.

While it's likely to take a few years to fill the export void left by China – which many in the industry predict is unlikely to bounce back even if the five-year tariff imposition eventually lifts – there has already been a pick-up in volumes going to other markets, according to Wine Australia. This included the UK, which imported 23 per cent more Australian wines – or $472 million worth – in the year to June 30, 2021, compared to the prior year; and South-East Asian countries including Singapore (up 16 per cent to $114m) and South Korea (up 111 per cent to $45m).

"South Korea is proving to be one of the markets to watch, particularly from a Barossa perspective," McCulloch says.

Although Langmeil had capped its exposure to China at less than 15 per cent, McCulloch says it was "still difficult to find a home for those wines" and disappointing for the winery's owners, the Lindner family, after spending more than a decade building up client relationships in the market.

"We've seen a phenomenal uplift in business from South Korea, along with Taiwan and Japan."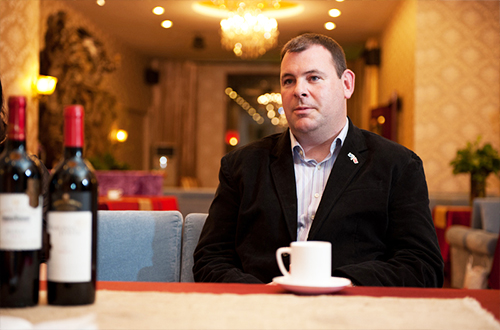 The task of attracting new international customers has been made even trickier due to COVID-related travel restrictions, many in the sector having to wrap their heads around the logistics of Zoom wine tastings.

"It was pretty strange at first because premium wine tends to be a more face-to-face proposition," McCulloch says, noting the intimacy of the tastings in Langmeil's Freedom Cellar, named for the winery's famous shiraz vine planted in 1843 and thought to be the world's oldest.

"But we've had to change, and in doing so, we've certainly found it's a way of reaching more people more efficiently – both for wine tastings and training for our distributor's teams across Australia and the world."

Langmeil was also not alone in having to quickly adapt in other ways to reposition itself – and upweight from around 60 to 80 percent of its 60,000 dozen bottle a year business – in its home market, where other seismic shifts were also underway.

According to Hamond, the sector was dealing with, on one hand, the sudden decimation of domestic sales from mass shutdowns of cellar doors and hospitality venues and, on the other, a surge in demand for direct-to-consumer sales.

"The changes of the last year have forced many wine makers to re-evaluate what they were doing, and sharpen their focus on those issues," Hammond says. It's meant investing more to improve, adapt and become more creative in their offers to wine club members and the efficiency of direct distribution systems.

McCulloch says Langmeil's direct-to-consumer channels have evolved more in the last 18 months than the past two decades.

"We've been amazed at the response we've had to our new offers, which are exclusive to wine club members," he says, noting a significant uplift in new – and repeat – customers over the past 12 months.

"It's been very encouraging and has really helped us transform. And if the world ever returns to whatever a new normal is, we will certainly continue with it."

As if these curveballs weren't enough for the industry, quite a few more have been thrown its way in the past year.

Experienced pickers and pruners have been in short supply, as these historically itinerant workers have been unable to cross state and international borders. And the cost of shipping containers has skyrocketed: just a few weeks ago, the freight containers on the world's busiest shipping routes from China to Europe surpassed $US10,000 for the first time, a rise of more than 500 per cent in a year.

McCulloch says while he's seen a lot of significant challenges during 25 years in the industry, he's never seen so many massive events hit "one after the other", making it "the most interesting 18 months" he's faced.

"You've just got to deal with it, focus on the things that are in your control and force yourself to look at things a bit differently," he says pragmatically.

"At Langmeil we have around 25 staff, and also indirectly support another 35 growing families across the Barossa where we get our fruit. Keeping our support for them going was absolutely key for us and we managed to achieve it."

And the good news for wine lovers?

The big 2021 vintage – that will translate to bottles on the shelf by 2023 – will be positive for local consumers, according to Hammond.

"There'll be more wine, the wine will be good quality, and there'll be some discounting at the lower end."