During the First World War, between 1914 and 1918, more than 42 per cent of the 1880 staff members of Bank of New South Wales (which became Westpac) enlisted for military service.

Tragically, 134 lost their lives.

The toll was greater still during the Second World War, between 1939 and 1945, when a staggering 71 per cent – or 3330 out of a staff of 4650 – enlisted, 285 of whom lost their lives, some among the 119 who were taken as prisoners of war.

The numbers are even worse when considering the staff of BankSA, Western Australian Bank, the Australian Bank of Commerce and the Commercial Bank of Australia, all of which folded into Westpac Group over time. In WWI, 239 lives were lost out of the 1457 staff who volunteered for service, while a further 347 lives were lost in WWII out of 4445 volunteers.

These are just some of the shocking numbers detailed in Westpac's private archives highlighting the toll of multiple wars, dating from the Boer War – the first campaign in which staff enlisted to serve – through to those in Malaya and Vietnam in which 179 bank staff served out of 540 conscripted for national service.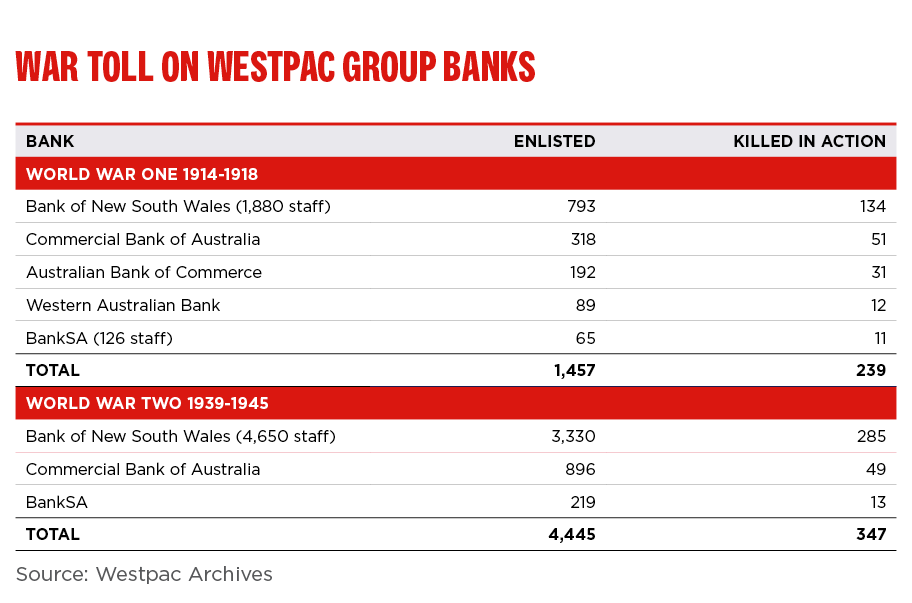 While these statistics paint a grim picture, particularly for men who made up the vast bulk of casualties and fatalities, they omit the nuance of personal experiences for those who survived military service, but were left with mental and physical debilities which influenced much of their later lives, such as Thomas Baker Heffer.

What is often less known is the consequences for women.

On one hand, the silver lining on the wars' cloud was the creation of an inflection point for women's employment.

As women were needed to fill role shortages left by men who went to war, the number of women employed by the Bank of NSW shot up by 75 in the two years to 1916 to become almost 8 per cent of the bank's total staff of around 1000. Meanwhile, BankSA employed its first female staff member – Mrs Rosa Hunt-Cooke – in October 1916. Although most of these women's appointments were thought to be only temporary at the time (until the men returned), these numbers steadily grew.

On the other hand, by the time of the Second World War, women also had the opportunity to enlist.

In fact, one staff member of the Bank of NSW – Miss Cynthia Neville – is listed among those who lost their lives on Westpac's honour roll – the only known female staff member to have lost her life in either of the Great Wars.

A 'stenographer and clerk', Miss Neville signed up in November 1941 to serve with the 118th Australian General Hospital, part of the Australian Army Medical Corps and, from August 1943, was stationed in New Guinea. After arriving in Port Moresby, she became seriously ill and, sadly, died in January 1944 just before her 26th birthday.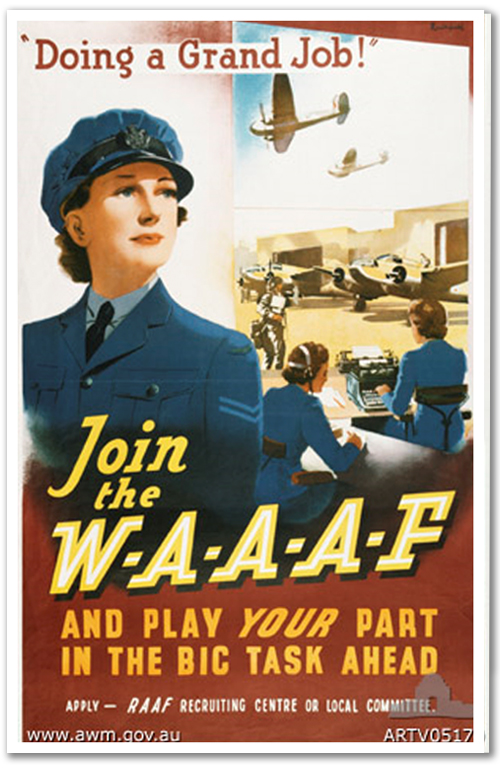 While archival details are scant on the other women who volunteered, we have unearthed at least four among the 219 BankSA staff who enlisted.

One of them – Miss Helen Caterer – joined the Australian Army Medical Women's Service, made up of nearly 8500 women who served as nurses, nursing aids, and technicians tending sick and wounded soldiers in the Middle East, New Guinea and Australia.

The other three – Miss Margaret Annear, Miss Neilson and Miss Shirley Read – joined the Women's Auxiliary Australian Air Force – known as WAAAFs.

While not allowed into combat, the WAAAFs learnt trades and became electricians, fitters, flight mechanics, fabric workers, instrument makers and meteorological assistants, while others took on administrative, medical, catering, signals and radar-related roles.

As we look to commemorate Anzac Day this weekend, unearthing stories like these is a good reminder of the many facets that make up the Anzac legend – important overlays to the image so firmly embedded in our country's cultural folklore of the resourceful, resilient, cheerful serviceman.

It's also a reminder of the different ways in which the bank has played a pivotal role – not just financial – in shaping the fabric of the nation, through the service, sacrifice, honour and mateship of its staff.

Lest we forget.