The labour market is at a very interesting point in time.

Not only are we heading towards the end of JobKeeper next month, but the health of the market varies wildly depending on your gender, where you live, whether you've been in lockdown, what industry you work in, whether you are seeking full or part-time work etc etc.

The good news is that total employment has all but recovered the jobs lost due to the pandemic, being just 0.5 per cent, or 58,500 jobs, below pre-COVID levels. While the improvement in unemployment has not been as solid – the fall to 6.4 per cent in January leaving the rate still 1.1 percentage points higher than March 2020 – this is due to a solid rise in the participation rate to near record highs as more workers join the market.

All in all, the sharp V-shaped recovery in employment is a far better outcome than almost everyone feared in the depths of the crisis last year, reflecting Australia's handling of COVID, and fiscal and monetary support few of us have seen before.

Indeed, the momentum gives us comfort that broader employment gains amid the economic recovery will help to offset the ending of the JobKeeper wage subsidy scheme (which was supporting 1.5 million Australians as recently as December, albeit down from the September peak of 3.6m recipients).

But we mustn't forget COVID has created a very different world, including the labour market.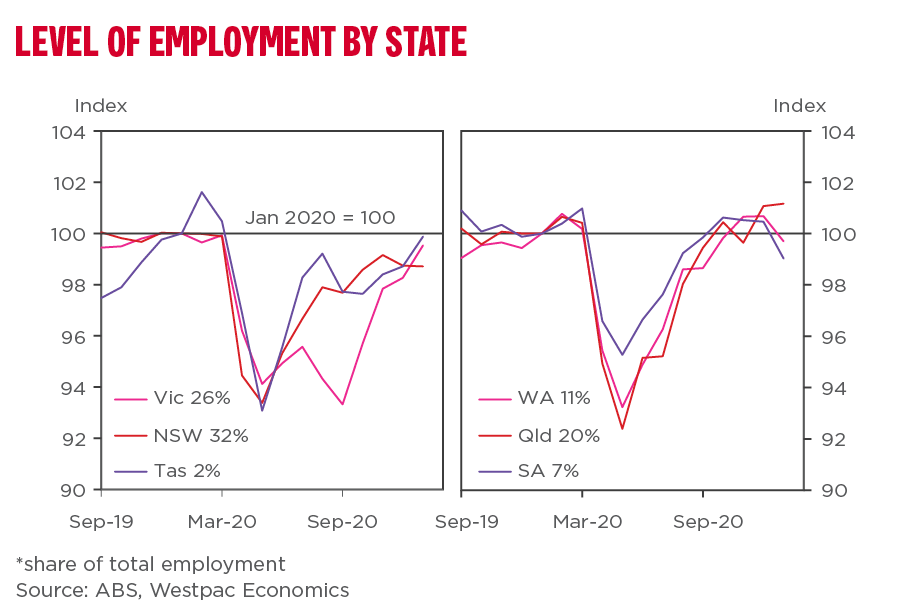 Firstly, it's been a better time to be seeking part-time work.

Since the May low, part-time employment has lifted 14.7 per cent since May to now be just 5100, or 0.1 per cent, below pre Covid levels. In contrast, full-time employment lifted only 3.4 per cent to be 53,400, or 0.6 per cent, lower than March 2020.

Part of this trend is a gender story.

In the early stages of the recovery, employment growth among females outpaced males because they were initially more impacted as the lockdown impacted industries where a higher proportion of women work, such as services, which in turn rebounded strongly as economies reopened.

However, this growth appears to be running out of steam before females have even recovered the hit, with the January numbers showing employment lagging behind males. Compared to March 2020, male employment is down 15,600, or 0.2 per cent, while female employment is down 49,200, or 0.7 per cent.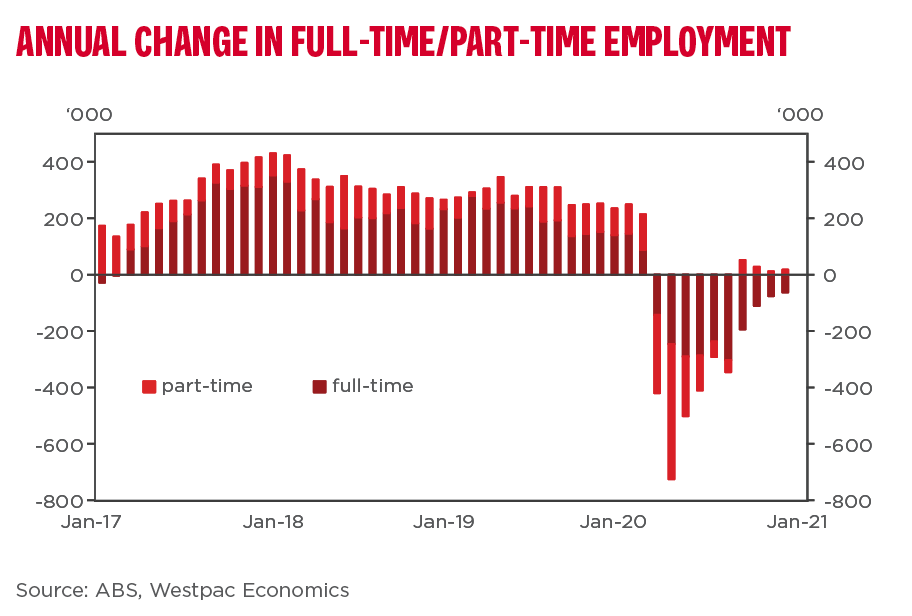 If we dig deeper, we can see the outperformance of part-time employment over the past year has been driven by males, up 56,500 compared to the 39,200 contraction in female part-time employment. In contrast, for full-time employment, males have been the main drag, down 49,300 versus a 13,600 decline for females.

In a nutshell, males explain the outperformance of part-time employment and the underperformance of fulltime employment since COVID.

But this is where it becomes interesting.

While female employment is clearly lagging that of males in the recovery, female participation is also softer. And it's this softer participation by females in the face of relatively disappointing employment opportunities that has been holding down the overall unemployment rate.

Where unemployment goes from here depends on what drives the recovery in employment.

If it continues to be part-time jobs among males where there is a smaller pool of men on the sidelines willing to work part-time compared to the pool of women who are, then unemployment will continue to fall. The counterfactual is if we see a recovery in female part-time employment, a larger inflow of women willing to re-enter the labour market to work part-rime will hold up the unemployment rate.

Our forecast is for unemployment to fall to 6 per cent by the end of the year, which requires a 240,000 increase in jobs in the next 11 months, or an average of 21,800 per month (at the same time as the participation rate lifts to a new record high of 66.6 per cent). Positively, industry and survey data suggests we are on the cusp of a recovery in full-time employment, particularly in sectors rich in male employment, such as manufacturing.

But it's unlikely to be a smooth journey, with the data revealing several quirks during the past year.

For one, despite a second lockdown mid-year, Victoria's employment is down just 0.4 per cent, or 13,700, since March, outperforming NSW (down 1.25 per cent, or 48,300) and even WA (down 0.5 per cent). Further, in the mining states of WA and Queensland, female employment is actually above pre-COVID levels while male employment remains below, suggesting the recovery to date has not been driving by the industries typically more skewed to men such as resources, manufacturing, construction or distribution.

Lastly, perhaps the most surprising element of the recovery has been the rapid correction in underemployment (those with a job wanting more work), falling to 8.1 per cent in January – 0.7 percentage points lower than it was in March 2020. Historically, a labour market led by part-time employment would be associated with higher rates of underemployment.

Maybe it is due to self-reporting, with many Australians thankful for any work they can get and are realistic about the lack of opportunities for more. Time will tell if this is true and underemployment increases from here.

But despite several ongoing issues and uncertainties remaining, it's hard not to be impressed with the labour market's recovery to date.

It's pleasantly surprised us.


Read more of Justin's research on Westpac IQ in his report Deeper Insights on the Aust. Labour Market.

The information in this article is general information only, it does not constitute any recommendation or advice; it has been prepared without taking into account your personal objectives, financial situation or needs and you should consider its appropriateness with regard to these factors before acting on it. Any taxation position described is a general statement and should only be used as a guide. It does not constitute tax advice and is based on current tax laws and our interpretation. Your individual situation may differ and you should seek independent professional tax advice. You should also consider obtaining personalised advice from a professional financial adviser before making any financial decisions in relation to the matters discussed.