Much of the world may have breathed a sigh of relief last week as Joe Biden officially became the 46th US President, ending Donald Trump's historic four years in the White House that will be remembered for everything from tweets and "fake news" to impeachments, tax cuts, trade wars and "the Mooch".

But for financial markets, Biden's inauguration – complete with Lady Gaga belting out the national anthem and thousands of masked troops keeping the peace – was more of a formality.

The biggest news of 2021 – so far – had already come.

"Biden's policy agenda always included a material lift in fiscal support for the economy, but I suspect the double Georgia Senate run-off wins for the Democrats enabled the Biden administration to capitalise by announcing that $US1.9 trillion back in early January," says Richard Franulovich, head of FX Strategy at Westpac, in a video on Westpac IQ.

"That $US1.9 trillion" refers to the new President's fresh COVID stimulus plan, which includes a range of spending to tackle the virus, support measures for households and the unemployed, and cash for the states – on top of the $US900 billion package waved through last month.

Despite conceding the Biden administration may struggle to pass the new plan as it is, Franulovich says it is potentially a "very big deal" that would prompt economists to materially upgrade their GDP forecasts for the US economy. Markets seem to agree, US stocks hitting fresh highs as investors price in the seductive cocktail of massive fiscal stimulus, the lowest interest rates in history and vaccine rollouts.

"(It) would mean a fiscal support package of the order of about 9 per cent of GDP, roughly similar in size to the Cares act of last year and that would mean … the complete amount of fiscal support the US has delivered around COVID is in excess of 20 per cent of GDP, which would be well in excess of what any other major developed economy has provided," Franulovich says.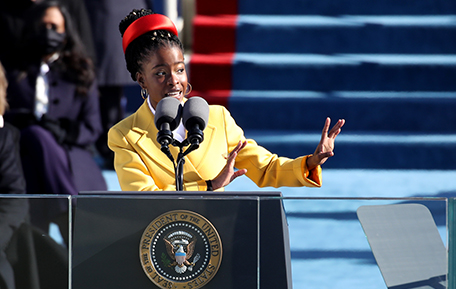 "So, it's potentially a game changer… but the reality is Congress…. is much more challenging. They (the Democrats) have a slim majority…and the reception at this point for that package coming from the Republicans has been pretty cool.

"I think it's going to be wishful thinking if markets are hoping… US politics can move into the background."

With COVID-19 continuing to ravage the US – not to mention the UK and parts of Europe – wishful thinking it may be.

After most central banks around the world cut interest rates to zero and cranked up the printing presses last year, the focus on governments' fiscal policy has spiked – a dynamic unlikely to change, for this year at least. While the risk of inflation is at the front of investors' minds, economists say it's too soon for central banks to even start to flag the removal of "quantitative easing" (the buying of assets like bonds to inject money into the financial system), let alone signal rate hikes.

"It is far too early to discuss the withdrawal of policy accommodation," Morgan Stanley economist Ellen Zentner said ahead of the Federal Reserve FOMC's first meeting of 2021 this week. "Chair Powell is likely to note the recent fiscal stimulus, but downplay inflationary consequences."

As the world's largest economy, US policy – fiscal and monetary – is key. And although early days, investors are cheering Biden's move to the White House, including in Australia where optimism surrounding stimulus and vaccines boosted the sharemarket more than 3 per cent in the first three weeks of 2021.

Ongoing positive economic data is also helping buoy spirits, fresh numbers last week showing the unemployment rate ticked down to 6.6 per cent in December as 50,000 jobs were created, mostly full-time positions.

Remarkably, total employment is almost back to pre-COVID levels, job losses just 93,000 below February levels. That's in contrast to the US where payrolls are still well down on levels before the pandemic and initial jobless claims have surged back above 900,000 per week, highlighting the challenges facing the new President to get the virus under control and the economy humming again.

Indeed, for all the criticism levelled at Trump, the former President presided over the nation's lowest unemployment rate since the 1960s pre-COVID.

Seemingly alert to the political, economic and health risks after his predecessor left the White House with the lowest approval rating of any President in almost 50 years, Biden issued a record number of executive orders during his first week, half relating to the response to COVID-19.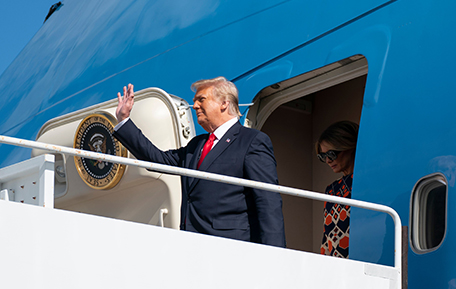 "Overall, it seems the market is comfortable with the US Democratic win for the immediate term, as it is pointing towards political moderation with room for more economic stimulus and pandemic relief," Morgan Stanley's strategists wrote last week.

"And thin majorities in both chambers suggest legislative agendas will lean towards less-contentious, centrist proposals and make the prospect of higher taxes and increased regulation much less likely."

Franulovich agrees Biden will need to dial down his more contentious policies and would prefer to pass the $US1.9 trillion COVID package with as much bipartisan support as possible, which is "going to mean a lot of horse trading in coming weeks" given the Republican's opposition to parts of the plan relating to aid for the states, one-off cash payments to households and raising the minimum wage.

"I think the reality is we probably end up with a package which is a lot smaller, maybe $US1-$US1.5 trillion, which none the less is meaningful," he says, noting the new President likely wants to "hit the ground running".

"But we'll just need to see how some of the more centrist Republicans respond to the package in coming days and weeks, and indeed how some of the 'blue dog' moderate centrist Democrats, how they will react. The final version of the package will look a lot different than its current form."

Post the COVID aid package, Franulovich says Biden will likely turn his attention to his $US2 trillion "Build Back Better" infrastructure and green investment plan, which will be "equally difficult and challenging for Congress to contemplate". He expects this will be when he moves to wind back some of Trump's tax cuts for corporates and high-income households, proposals markets aren't in love with but are well across after Biden took them to the election.

In his inaugural address last week, the President noted the many deep, long-standing issues the nation faced, including growing inequity, but shunned pushing policies or packages in favour of calling on Americans to unite to "end this uncivil war that pits red against blue, rural versus urban, conservative versus liberal".

And despite more than 400,000 COVID deaths and a struggling economy, the 78-year old still has optimism and hope among Americans to work with.

"We will not march back to what was, but move to what shall be: A country that is bruised but whole, benevolent but bold, fierce and free," said 22-year old Amanda Gorman in her poem as Biden watched on but Trump notably absent.

"We will rebuild, reconcile, and recover."


The views expressed are those of the author and do not necessarily reflect those of the Westpac Group.

The information in this article is general information only, it does not constitute any recommendation or advice; it has been prepared without taking into account your personal objectives, financial situation or needs and you should consider its appropriateness with regard to these factors before acting on it. Any taxation position described is a general statement and should only be used as a guide. It does not constitute tax advice and is based on current tax laws and our interpretation. Your individual situation may differ and you should seek independent professional tax advice. You should also consider obtaining personalised advice from a professional financial adviser before making any financial decisions in relation to the matters discussed.