Leaders leaned into crisis, now it's about leading out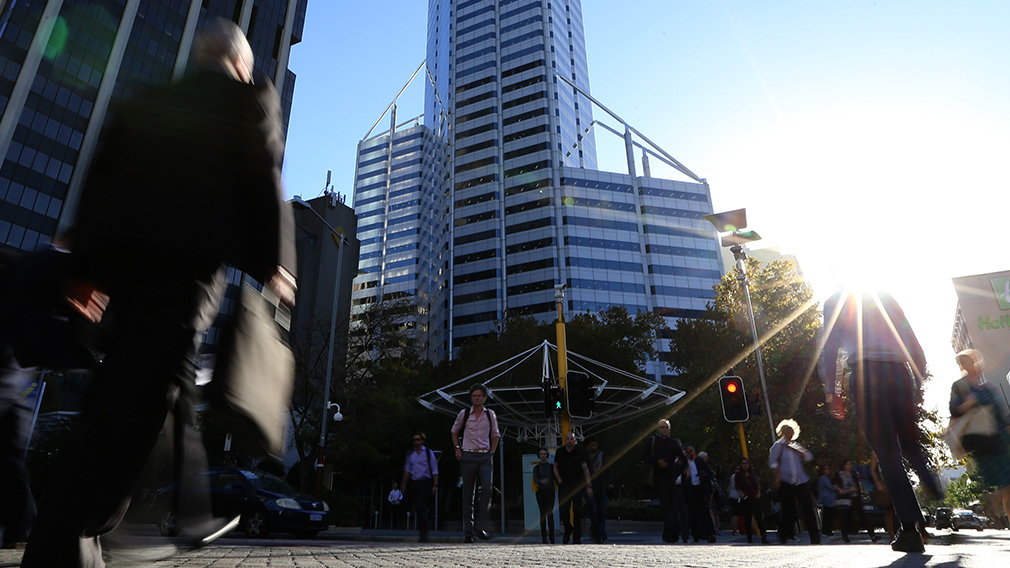 For all the pain wrought on economies and communities by COVID-19, there's certainly been some wins businesses have the option of carrying into the future.

Take efficiency and productivity.

One story I recently came across involved a chief executive of a large enterprise saying the business had made more decisions in seven days than they'd typically made in an entire year. Of course, the speed of COVID developments may have played a role, but the power of a crisis to inspire decisiveness and cut through bureaucracy continues to impress.

For many businesses, perfectionism has had to be ruthlessly deprioritised as CEOs step up and make big decisions quickly.

Another recent story involved a CEO who averaged 200 days on the road prior to COVID, but expects to halve this in the future. As someone who has travelled a lot in my career, I can relate to the benefits of less travel on both the work and home front. Again, it took a crisis to make us do what we knew should often occur – meetings via Zoom or Microsoft Teams, rather than several days of travel and all the flying, airports and taxis that go with it.

These aren't stories told to me, albeit many of the themes align with what I'm seeing across our customers. Rather, they are from our new survey of CEOs in the Asia Pacific, which shines a light on just how much the COVID-19 pandemic has changed the way we work and corporates operate.

Carried out by the Economist Intelligence Unit, the report is based off the views of 113 leaders across Australia, China, Indonesia, New Zealand, Japan, Singapore and contains some notable revelations, particularly in relation to leadership, supply chains and digital adaption.

In terms of the former, 80 per cent of CEOs say they and their teams are making decisions faster than before the crisis, likely helped by the that fact that 80 per cent also say they have changed the way they use technology. Nearly two-thirds expect to scale back their and other executives' business travel in the future and three quarters say they have adjusted how they communicate with staff, with some leaders noting they've had to become more responsive and transparent due to employees' heightened thirst for facts about what is going on.

I couldn't agree more.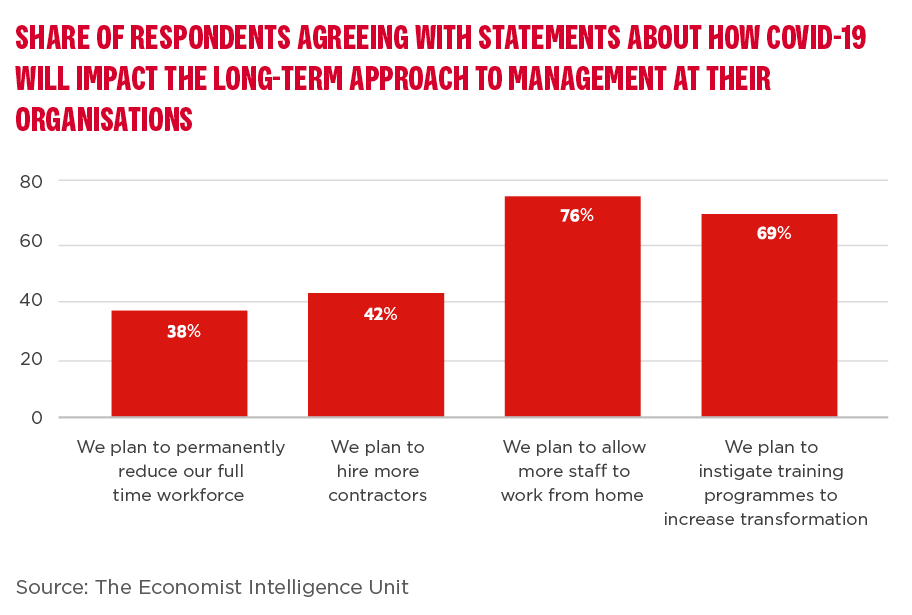 To me, transparency comes back to the idea that you treat people how you want to be treated and in relationships, the more you put in, the more you get out. At a time of incredible uncertainty, people usually, and understandably, want information and that means communicating the good, as well as the bad. As we move into the COVID recovery phase, it's hard to see demand for greater transparency going away and the businesses that have embedded this should be well placed to thrive.

Authenticity is also important and, interestingly, the report cites that more than 50 per cent of CEOs say they have been forced to change their leadership style. To be sure, many say they haven't found it easy – 55 per cent sought counselling to manage higher stress, reflecting the importance of caring for all of our people through a period like never before.

Personally, I've been struck by the resilience and adaptability of leaders through what's been the worst economic downturn since the 1930s. Like individuals and organisations, I think many leaders have discovered resilience, agility and strength they didn't know they had.

Looking ahead, many leaders are understandably well advanced in readying their businesses for the recovery, with two thirds of CEOs saying they had already developed a post-crisis business plan by mid-2020, and 43 per cent of those already implementing it. Following positive news on the efficacy and potential rollout of several proposed vaccines, and stronger economic data of late, several businesses are clearly well advanced in taking steps to ensure they're prepared for the bounce back in activity and any opportunities that come along, such as acquisitions or investments.

In terms of the latter, the report found more than half of CEOs say they have begun moving some of their supply chain and/or manufacturing onshore, including in Australia, after experiencing disruptions.

For Australia, this is a significant opportunity for us to reinvigorate our manufacturing sector. Ideally, the focus should be on "smart" manufacturing where we may have natural advantages and can create jobs – particularly high skilled opportunities – so we build capability in areas where we can potentially be very competitive on an international scale.

Digital is also top of mind for CEOs.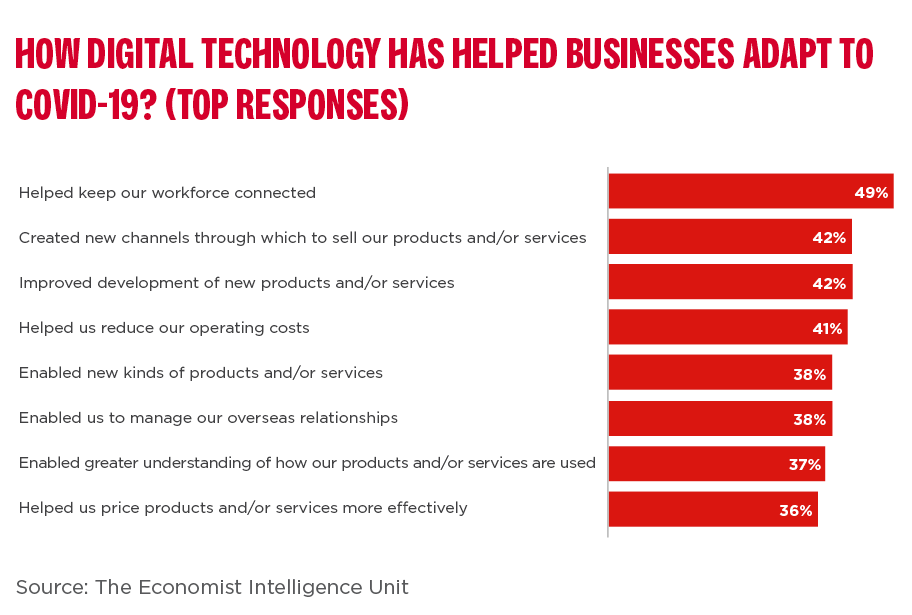 While many organisations are under financial pressure (64 per cent of CEOs said they'd suspended or cancelled investments and 38 per cent plan to permanently reduce full time employees), digital technologies have largely been spared the cutback in spending, with over half of CEOs saying that some or all their digital transformation initiatives have been fast-tracked rather than frozen or suspended.

Retail is a classic example of an industry where those who'd previously invested more in their online offering have generally outperformed those which hadn't and I can think of several that are emerging with stronger market positions than before the crisis.

Some observers say COVID has accelerated digital trends by several years – it's hard to disagree and this is expected to be a key battleground for most industries in the years ahead.

Representing the biggest exogenous shock in decades, COVID-19 has drastically changed not only our lives but corporate operating models, with accelerated digitisation and out-of-office workforces among the most visible so far.

For leaders, they've been forced to respond with resilience and adapt, with our survey highlighting that many have risen to the challenges and opportunities thrown their way.

The task ahead?

Embedding the positives and ensuring business is as well positioned as possible to play a driving role in the nation's recovery.