The COVID-19 pandemic has impacted everyone – and every business – in Australia, but not in the same way.

As we work closely with our business customers we are seeing that very clearly, as two very different narratives play out.

The first tells an upsetting story.

Currently, one in 10 (12 per cent) small to medium enterprises has shut down. Of these, 5 per cent have closed permanently and we understand a further 33 per cent are not confident they will re-open. This could lead to around 4 per cent of all small businesses in Australia closing permanently due to COVID-19.

The second narrative is more encouraging.

Almost 50 per cent of businesses are reinventing themselves and proactively changing their business models so they can survive the pandemic. Some are offering new or additional products and services (38 per cent) and some are moving the business either partially or entirely online (26 per cent). Remarkably, 20 per cent of our business customers have completely changed the focus of their operations.

I've been really impressed by our customers like Nobody Denim – who have transitioned from producing fashion products, to now also making medical scrubs for the Royal Melbourne Hospital.

Manly Spirts is another. They are producers of gin and vodka and have pivoted, levering their high-grade alcohol to produce high demand hand sanitiser. And Hatch – a digital platform created in 2017 to connect young people (usually students) with paid work placements – launched a new digital labour exchange, Hatch Exchange, that is helping to rapidly redeploy stood-down workers into temporary jobs.

This decisive action by many businesses is even more impressive when considering the scale of the COVID-19 crisis and the fact it is nothing like previous financial crises, being a simultaneous health and economic shock.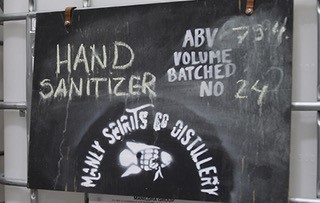 The good news is our political leaders have responded well to this profoundly challenging balancing act, with all levels of Australian government – along with regulators and the banking system – providing unprecedented support.

Despite there still being much uncertainty and need for vigilance, the infection curve has flattened, personal restrictions are being eased and people are embracing the chance to re-engage with life outside their front door.

Life won't return to anything like normal, though, without the economy re-starting quickly so as many businesses as possible can find their way through and we can get Australians back to work.

Since February, Westpac has helped nearly 40,000 business customers with a range of measures, including loan holidays. As an industry, the banks have supported over 200,000 businesses to get to the other side of the worst of the pandemic and the measures required to stem the spread of the virus.

Despite the pain caused by the pandemic, the government is to be commended for doing what we haven't witnessed before for the greater good and health of our people. The counterfactuals of different decisions cannot, and will never be, known. But swift decisions undoubtedly saved lives and resulted in a shorter than expected shutdown.

Encouragingly, many businesses have and are using the shutdown to position themselves for the post pandemic world. For example, 25 per cent of our business customers experiencing growth have invested in new plant and equipment, while a further 15 per cent are now operating longer hours, and 9 per cent are hiring more staff.

So, what are the chances of a fast re-start to the economy?

In my experience of previous downturns, while economies are typically slow to recover, a big problem with that recovery is the sense of pessimism, of no one being sure when, where or how the recovery will happen.

This downturn is a different beast, the economy was shut by design, not accident. As we speak, state and federal governments are laying out the path to reopening the economy so people can see how the recovery will begin. As the bounce in this month's Westpac Consumer Sentiment survey shows, there is a lot of optimism around reopening the economy and getting Australia back to business.

In respect of this downturn, it is more a question of the pace of recovery, how much permanent damage has been done and what happens when support measures are wound back.

It's too early for any of us to know which route the economy will take, but many scenarios are plausible.

It's clear some industries, like tourism and international education, may continue to be under pressure for some time. Unfortunately, there is no doubt that for many businesses, the worst may still lie ahead, particularly if this rocky economic climate lingers.

What we do know for sure is that the nation has weathered many downturns and difficult times before, with new industries, innovations and ways of doing things emerging on the other side.

I am confident this time will be no different and we will do our part, where we can, to get Australia back to business.