As expected, the pickup in the housing market has clearly come through.

A year ago, prospects looked bleak with property sales dropping sharply, price corrections worsening in Sydney and Melbourne and weakness spilling over to other markets. Turnover as a share of total dwelling stock finished last year at a 31-year low with 70 per cent of all properties recording annual price declines.

Fast forward to June and several helpful forces collided.

The Reserve Bank made its first of three rate cuts (followed up in July and October), uncertainty relating to the May federal election suddenly cleared and some regulatory guidelines for home loan serviceability assessments had been relaxed, all combining to help halt the near two-year property downturn.

So, what's next given the dramatic rebound since mid-year?

In our newly published price forecasts, we expect national prices to strengthen in 2020 to 5 per cent growth, compared to the likely 2.4 per cent gain this year – a remarkable turnaround given the 3.8 per cent fall over the first half.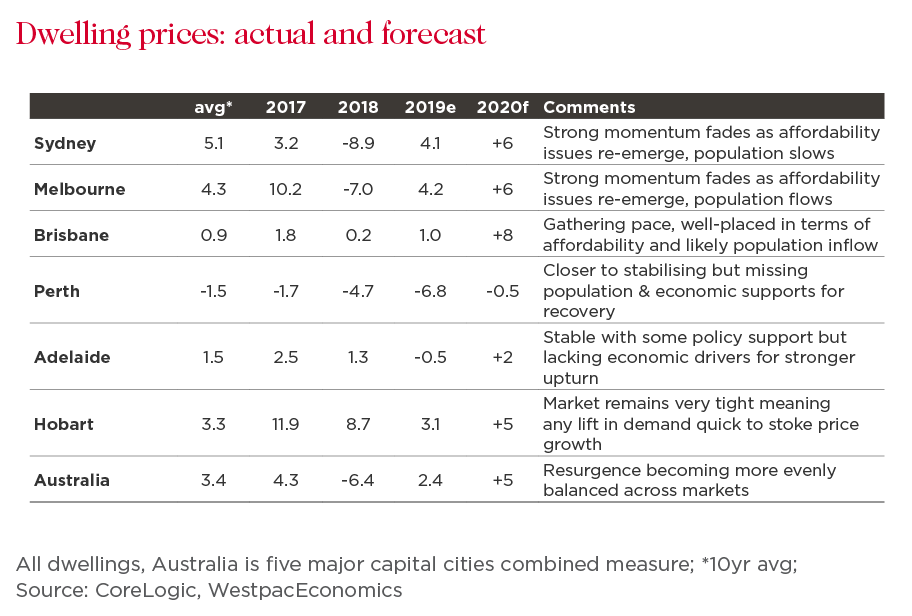 New listings and dwelling approvals are lifting from weak levels, while auction markets show positive prospects. In addition, buyer sentiment continues to improve, the pulse from the Westpac Housing Consumer Sentiment Index remaining near five year highs – readings consistent with a pickup in turnover carrying through year end and into the first half of 2020.

But as our research makes abundantly clear, it is difficult to generalise about residential property in Australia with individual state and capital city markets often showing very different performances.

The cyclical momentum is strongest in Sydney and Melbourne – which continue to drive the national cycle – but Brisbane is also picking up steam and we expect Queensland's capital to post the biggest price gains next year. Adelaide and Hobart are seeing a more muted lift while Perth is yet to pull out of a multi-year price decline.

Looking further ahead, there's several factors to watch out for.

A key one is policy.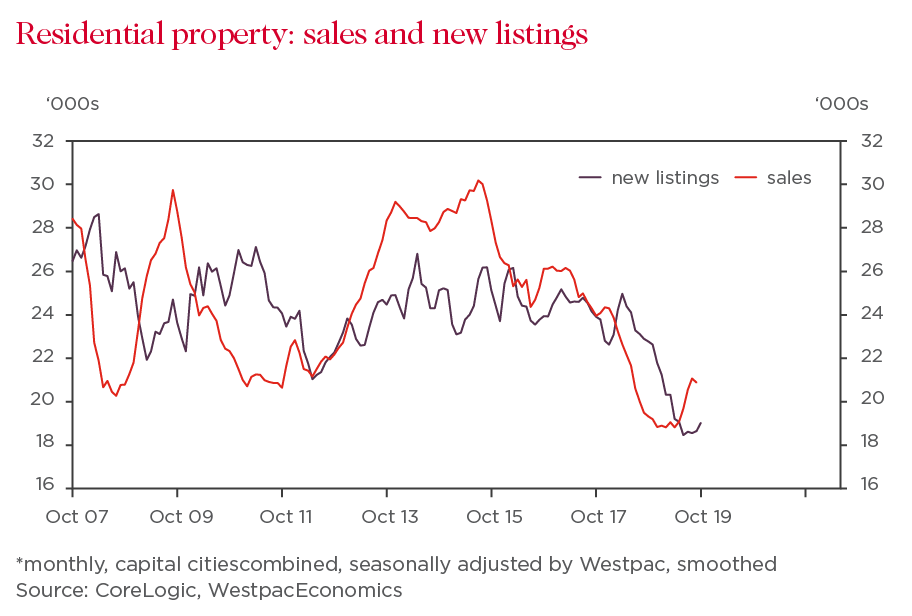 Interest rates are set to fall further with the RBA expected to cut rates by a further 50 basis points by June and to turn to so-called unconventional policy measures to provide additional stimulus in the second half of 2020. Fiscal policy is also likely to be supportive of property with the roll-out of the Federal government's First Home Buyer deposit scheme from January, while prudential policy looks set to be sidelined, not restraining the upturn but not actively loosening lending conditions either.

Elsewhere, supply will be important. A likely lift in new listings from extreme lows this year will test the depth of demand in the first half of 2020 while the supply of newly built dwellings will also remain elevated.

As 2020 unfolds, another dynamic to come to the fore will be around affordability and population flows.

Despite the price correction in 2017-18 and a further lowering in interest rates, the upturn is starting with affordability already relatively stretched in Sydney and Melbourne. The rebound in prices is likely to quickly run into the same affordability constraints that emerged in 2016-17, particularly as prices near all-time highs and with and investor activity likely to be constrained by funding availability. In turn, would-be buyers priced out of Sydney and Melbourne are likely to seek out more affordable markets.

The precise timing, magnitude and direction of this shift is highly uncertain, but there are already some hints of a shift with population growth slowing slightly in NSW and Victoria over the last year or two and picking up elsewhere, with Queensland looking a likely winner from this trend in the future.

It's clear the price upswing has more legs in 2020 – but it won't be all one-way traffic.

This material contains general commentary, and market colour. This material does not constitute investment advice. This information has been prepared without taking account of your objectives, financial situation or needs. We recommend that you seek your own independent legal or financial advice before proceeding with any investment decision. Whilst every effort has been taken to ensure that the assumptions on which the forecasts are based are reasonable, the forecasts may be affected by incorrect assumptions or by known or unknown risks and uncertainties. The ultimate outcomes may differ substantially from these forecasts. Except where contrary to law, Westpac and its related entities intend by this notice to exclude liability for this information.