How Sydney's aerotropolis plans to take off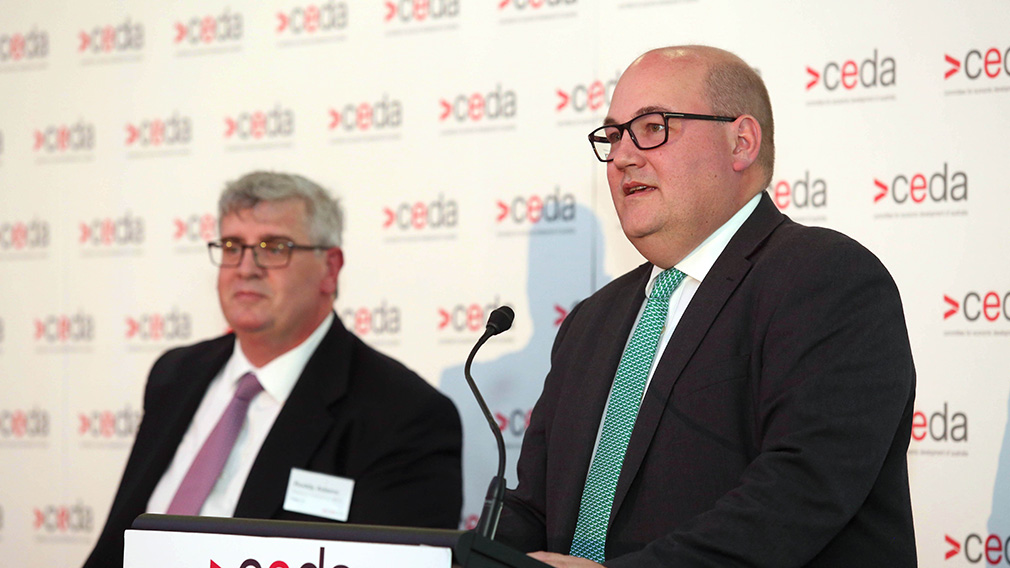 Sam Sangster, who is overseeing the Western Sydney Aerotropolis being developed in conjunction with the new Western Sydney Airport, looks forward to the day when a portion-sized piece of beef is cut, processed and wrapped in Western Sydney, put in the belly of a 787 Dreamliner and is in a Tokyo butcher's shop the next morning.

"That is the sort of opportunity we're looking at," Sangster told a recent Westpac-sponsored Committee for Economic Development of Australia (CEDA) lunch in Parramatta, where business leaders learned of the opportunities emanating from the new Western Sydney Aerotropolis.

Beyond the advantages of a 24-hour airport within a single night's flight of 3.6 billion customers in the Indo-Pacific Region, benefits to Western Sydney include advanced industry and manufacturing, more higher education, better public transport and more opportunities for locals to work in the region rather than travelling east.

Sangster, chief executive of the Western City & Aerotropolis Authority, which is overseeing the development, says its role is primarily around creating 200,000 jobs for knowledge workers in the next 20 years and attracting the industries that will create those jobs.

"That is no mean feat," says Sangster, who points out that Sydney's Macquarie Park precinct has about 65,000 jobs and it took 40 years to get there.

Central to achieving the vision is land development that has an industry attraction and economic development focus. "We're out and about there, turning sods and building buildings right now, but we're actually making sure to get the right industries coming and being attracted," Sangster says.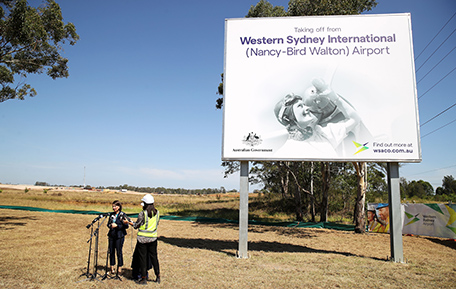 Western Sydney is a fast-growing region now and will have to accommodate more growth in future. "This is a growth story, and it's about ensuring that we make the most of the opportunity that arises from the construction of the airport," says Sangster.

"The federal government obviously is making a very significant investment – well over $5 billion into the airport proper, but there's actually over $20bn now either being spent or committed to infrastructure just in the western part of Sydney already."

Population growth is in sharp focus "recognising that over half of the population from Sydney will live west of Parramatta by 2036", Sangster reports.

The jobs target is just one of several big numbers that illustrate the scale of the project.

The initial area of the Western City & Aerotropolis Authority is about 11,500 hectares. Comparisons paint a picture of how large that is: Sydney's Barangaroo is 20 hectares and Melbourne Docklands is 128 hectares.

It is divided into three precincts. The first is the aerotropolis core, which will have a strong focus on aerospace and defence, and research and education. Several organisations have already committed to bringing R&D and advanced manufacturing in the aerospace and defence sector to the core precinct.

To the southeast of the core will be 2400 hectares of land allocated for agribusiness with a focus on food and production. "It's not just bulk materials. It's absolutely the value-adding, job-creating manufacturing roles that we want there and a real focus on supply and logistics because, obviously, to get product in and out – both import and export – we need to ensure we have high-quality, world-leading facilities that are operating in that mode," Sangster says.

The third precinct will sit to the north to house mixed-use development that will provide the support economy to the other two precincts, particular the health, medical technology and service industries.

Already governments are spending $3.6bn on roads in the area and there are plans for a new rail line to the aerotropolis and the airport itself.

It's all part of an ongoing transformation of Western Sydney, that has turned Parramatta into a major business centre in its own right. For instance, there is more than 280,000 square metres of A-grade office space either planned or built that didn't exist six years ago.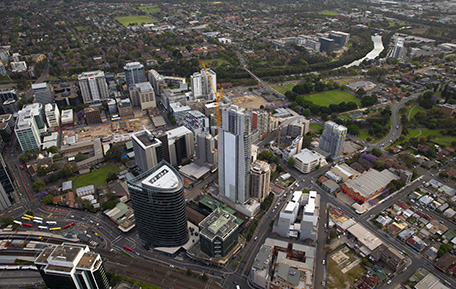 Chris Brown, chair of the Western Sydney Leadership dialogue, told the lunch that the vision for the Western Sydney airport is not as an overflow airport for Sydney, but as the primary airport for two of Greater Sydney's Three Cities – the Western Parkland City (focused around the aerotropolis) and The Central River City (extending from Greater Parramatta to Blacktown and towards Bankstown) – as well as the Hunter Valley and the Central Coast.

Nine local municipalities, which make up the aerotropolis, are a vital part of the development, but they are one of only three levels of government that have had to come together for the project. Unprecedented levels of cooperation between local, state and federal governments have been required and, while there have been minor differences in opinion, the project is recognised as too important not to collaborate on, Sangster says.

The aerotropolis has signed MOUs (memoranda of understanding) with at least 12 organisations to establish businesses or, in the case of the education providers, to fund a "multiversity" in the region.

Four universities – the University of Newcastle, University of NSW, the University of Wollongong and Western Sydney University plan to join forces to build a "multiversity" in the aerotropolis that will specialise in STEM (science, technology, engineering and maths) and link with local industry.

"We're incredibly proud that we have some of Australia's leading universities actually agreeing to come and put a STEM-focused university here," says Sangster, describing a future campus "totally integrated with industry, doing R&D that's industry-focused".

The region is leading the state in terms of vocational skills, and now needs to focus on lifting the number of undergraduate and post-graduate degrees to enhance skills and to chase those knowledge jobs that are being supported by tertiary education. The 200,000 students at Western Sydney University are starting to ameliorate that.

Dr Andy Marks, assistant vice-chancellor, strategy and policy at Western Sydney University, says that the Western City & Aerotropolis Authority prioritisation of industry attraction in the planning phase has been very useful for the tertiary education sector.

"Now, we know what kind of skills and research collaborations we can have because we know who's coming to the aerotropolis," he says. "That never happens in the right order like that, so that's been a wonderful bringer of confidence and direction."

This story first appeared on Westpac IQ.