How regional property pipped the cities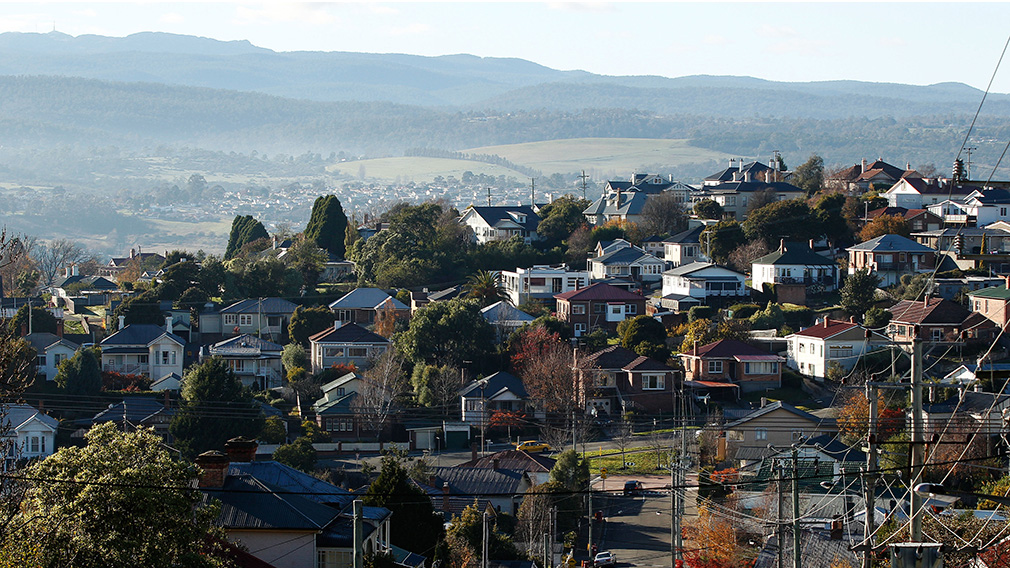 Terry Robinson remembers a time, not too long ago, when things were pretty dire in Launceston.

"We had a bloody rotten trot in 2014, 15 and 16," the managing director of Peter Lees Launceston and a real estate agent for 25 years, says.

"No one likes to see people lose the value in their home after they've bought it. And during those years that was happening here a lot."

For a large chunk of Australian homeowners, what Tasmania's second-biggest city went through a few years ago is today the new reality.

January data from real estate analyst firm CoreLogic shows continued falls in dwelling prices in all capital cities apart from Hobart and Canberra in the past quarter, with many economists and property analysts predicting ongoing pain – in Sydney and Melbourne at least – this year.

But amongst the carnage in many big cities, a bright spark has emerged in the form of regional satellite cities.

And the once-sleepy city of Launceston is leading the way.

Tasmania's second-biggest city registered a 9.9 per cent median house price rise over the 12 months to the end of January on the back of a 6 per cent increase in 2017.

According to Tom Harrison, a director at Launceston-based real estate agent Harrison Humphreys, it has been a long time coming.

"It has taken 10 years for the stability to come back into the economy after the collapse of the logging industry," Harrison, a local who returned to the town seven years ago after stints in Melbourne and London, says.

"A lot of people moved away. They're now able to come back and find work in their home town."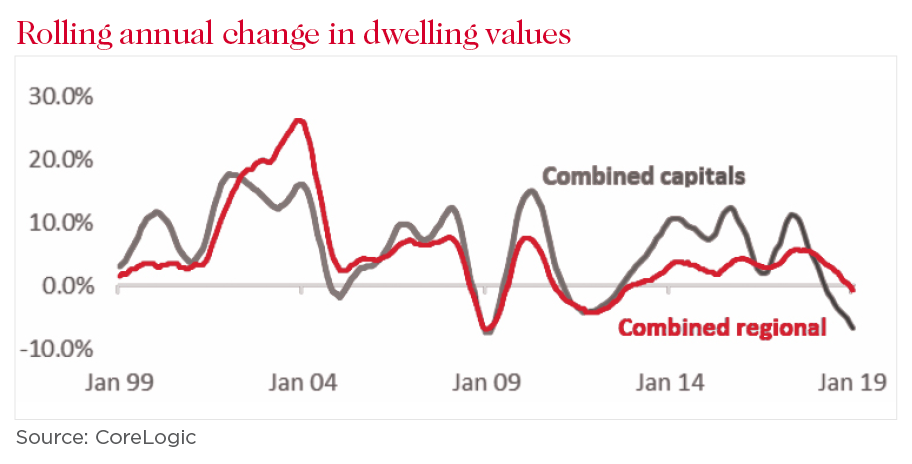 In 2018, combined capital city dwelling prices dived 6.1 per cent to a median value of $612,737, far worse than the 0.2 per cent slip in combined regional areas to $377,661, according to CoreLogic. Even among the capitals, less populated Hobart and Canberra were the top performers in an otherwise rough year for property in the major markets as tighter credit conditions, softer foreign demand and years of prior strong growth weighed.

Harrison says as well as the affordability factor, new technology has enabled people to escape the rat race and move "away from the mainland" without giving up anything.

"About 12 months ago I sold a home to a commodities trader," he says.

"Most of his clients are in Victoria, but because of developments in technology and the NBN, those location restrictions aren't there anymore.

"The Airbnb market has also added a new dynamic to the town, creating a new market for property owners. It's brought new players into the market. And we now get many people asking not only about rental appraisals but also the anticipated returns if they Airbnb'd the property."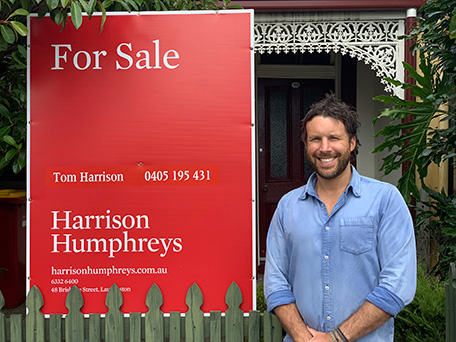 Sandra and Greg Comer are part of the Airbnb movement. The couple moved to Launceston in mid-2017 from Seven Hills, in Sydney's west.

After buying earlier this decade for $360,000, they sold their home in Sydney for $720,000 – at the height of the boom – and bought a three-bedroom home in Youngtown, south of the city centre for $340,000 in June 2017.

They run an Airbnb in the downstairs section of the house, with Sandra, a former financial services worker, temping at odd jobs when required.

According to the couple, it is the best thing they've ever done.

"We'd been to Tasmania a few times on holiday and always loved it," Sandra says.

"What you can get in the housing market down here for that price is very good, and we always wanted to run an Airbnb.

"But it was also the services. We're getting near retirement age and Greg has some health problems. If you go to the doctor here and need an x-ray, you can do it all in the same day.

"We struggled to do that in Sydney, it's just so crowded."

Westpac senior economist Matthew Hassan says renewed interest in regional cities such as Launceston started gathering pace in mid-2017 and became a definite trend mid last year.

While some regional cities – generally further from a capital city, including in mining regions following the end of the commodities boom – are still struggling and in many cases going backwards, he says the strength of the trend behind "affordability refugees" moving to regional areas close to the big capitals has been notable, and surprising.

"This time the affordability trend is a little bit different," he says. "In the past it has been largely focused in areas such as the Sunshine Coast and Brisbane.

"But this time the flow-on affect has extended into other areas. We've seen it in places like Geelong, which has been a little bit surprising.

"There's a whole range of things that push people into these areas, and other than cost, it is no doubt increased state government support for regional areas across the board has been a pulling factor.

"It's why places like Ballarat have performed so well."

Just over an hour's train ride from central Melbourne, Ballarat has indeed emerged as one the best performing regions in the country.

According to CoreLogic data, prices in the regional city have spiked 9.2 per cent over the past 12 months.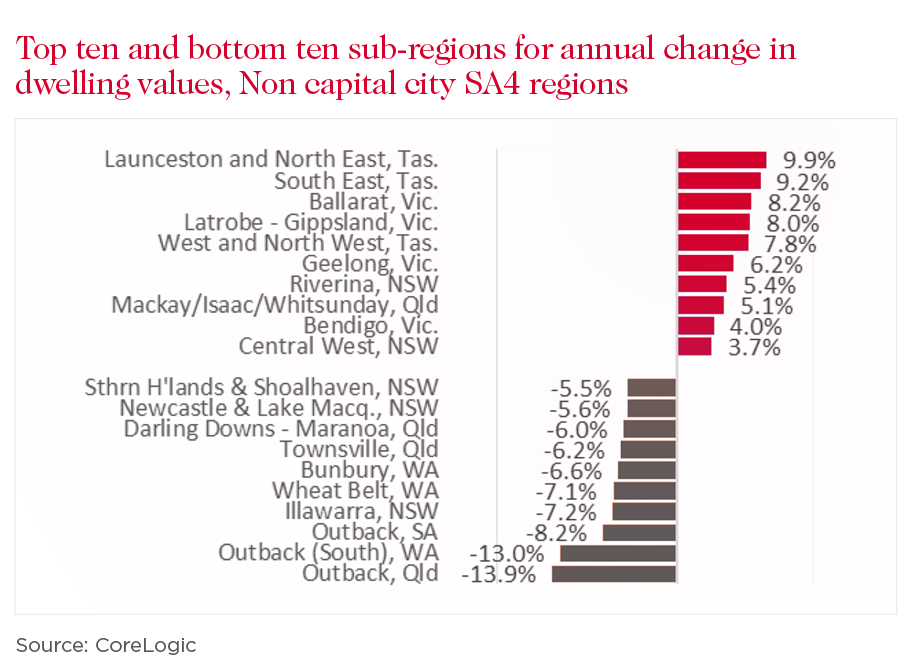 With a median house price of less than $500,000, it has attracted both first-homebuyers and tree-changers looking for an alternative lifestyle.

According to Ballarat Real Estate managing director Allister Morrison it all started turning around in the middle of 2017.

"I think when the big spikes started happening in Melbourne, people started asking around if there was an alternative," Morrison says.

"But interest has really skyrocketed over the past 12 months.

"For example, we sold a house last year that was the third most-viewed on realestate.com.au in the country for the week.

"When you put that in perspective against Ballarat's population (102,000), that's pretty extraordinary. We've noticed huge spikes in enquiry and a big spike in activity for openings and things like that."


Morrison says the affordability factor is one of the major pulls, but Ballarat's high-quality education options and health services – on top of its "laid-back lifestyle" – led lots of perspective buyers originally looking in Melbourne to look further out to the west.

"But we've also seen a lot of farmers from across the state looking to downsize and move here," he says.

"They want to be closer to better services but don't want the hustle and bustle of Melbourne."

With interest in regional cities such as Ballarat and Launceston picking up pace for at least the past 12 months and prices spiking, analysts are now turning their mind to how much it has left in the tank. But according to CoreLogic head of research Tim Lawless, the regions that have performed well over the past year still have some upward movement left.

"I think we'll continue to see those regional areas continue to outperform the capital cities in the near-future," he says.

"When you have regional cities where you can jump on a train to the capital and it takes only about an hour – with such an attractive price point – it's understandable.

"I mean in some areas of outer Melbourne and Sydney it takes more than an hour to get into the city.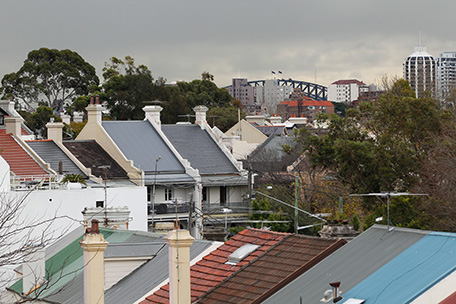 "When Sydney was booming it kind of stemmed out to other areas in the regions (such as the Wollongong region), but that has slowed a bit now.

"And we will probably see it slow a bit over the next six months."

As for Sydney and Melbourne, Westpac's Hassan says there is more weakness to come as prices are yet to fall far enough to noticeably boost affordability and it's unlikely investors will return to the market in a major way. Somewhat ironically, the "patchwork" supply and other factors that drove people out of the cities may also affect the regions looking ahead.

"Tasmania is case in point in this trend. It has been booming, and now it's a very tight market. It's slowing off a bit, but it's still very tight," Hassan says.

Terry Robinson, from Peter Lees real estate, has another way of describing it.

"It's been dynamite," he says. "We're quite often out of sync with the trends in the mainland.

"And I reckon we've got a bit room to run yet."


The views expressed are those of the author and do not necessarily reflect those of the Westpac Group.

Don't miss
By Ben Young
Head of Fraud and Financial Crime Insights