'Teen-ups': Inside rise of teenage founders
Alex Slade was just 12 when he won his first IT client.

Ten years later, the end-to-end IT business he grew from that moment – A Corp Computers – has a growing client base, seven employees and is set to bring in revenue in excess of $500,000 this financial year.

"I'd been tinkering with computers, fixing them for friends, and I built my first computer for mum when I was in Year 7," says Slade, who grew up in the Hunter Valley's Muswellbrook where he still spends time when not in his head office in Sydney's Barangaroo or studying at UTS.

"Then I built a website for one of dad's customers, and started doing a lot of other IT stuff for them. And that first customer is still a customer today. It all grew from there."

That Slade started his business so young is eye-catching. But remarkably, he's not alone as a teenaged business founder.

While statistics are sparse, an annual survey of Australia's startup ecosystem by Startup Muster shows that although the average age of founders is increasing – it's currently 40 – around 1.2 per cent of founders were under 20 years old in 2017, up from 0.5 per cent in 2016.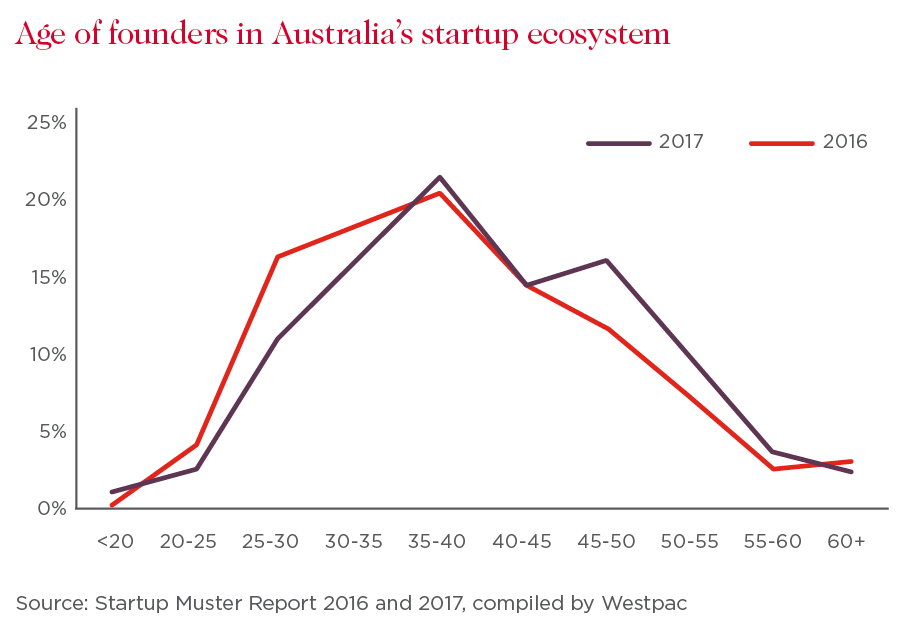 Startup Muster's creator and director of entrepreneurship at UTS, Murray Hurps, has personal experience as a young founder, having started his first company around 20 years ago aged 14.

"I'm certain I wouldn't have the same risk appetite today that I had when I set up my first start-up at 14, or the blissful ignorance of the difficulty in what I was trying to achieve," says Hurps who has founded several technology companies, was CEO of startup incubator Fishburners and ran Australia's first data-led accelerator with Westpac, FUELD.

"Young founders are probably the best positioned to take the risks involved in start-ups. They don't generally have to worry about a mortgage, family or interrupting their career. They can more easily think outside the box, and often have access to talented cofounders across their schools or universities."

While there may be fewer barriers to starting a business today compared to a couple of decades ago – a good web presence and savvy social media skills can gain you access to a massive customer base for very little capital – other factors may also be adding to the rise in younger founders.

Linda Zhang from not-for-profit Generation Entrepreneur believes it reflects a greater visibility of entrepreneurship in schools as more science, technology, engineering and maths – or STEM – is incorporated into the curriculum.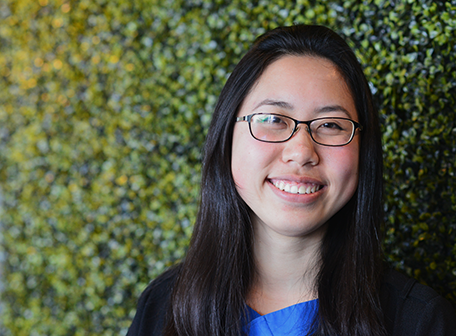 "You have more kids talking about things like apps and start-ups," she says. But she believes there's still too little knowledge about entrepreneurship acquired at school.

Zhang, who is studying commerce and computer science at UNSW, says Generation Entrepreneur – which works with high school students to build entrepreneurial skills through events like "hackathons" and a new "incubator" program – can help.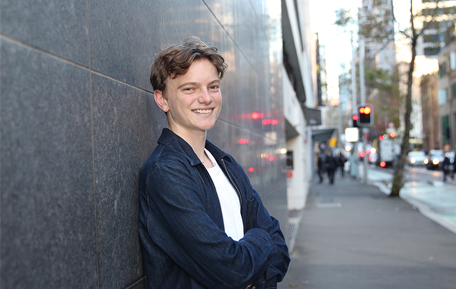 For Year 11 student Connor Cameron, entrepreneurial thinking comes naturally.

In February, the 16-year-old launched his second business, Stakk – a digital platform that connects high school students with jobs. He explains it's like Air Tasker but for under-18s.

"The idea came when my mates and I were all looking for work outside school. There wasn't really anything out there. A platform like Stakk was something that I wanted to have myself, and I knew friends wanted it, so I figured I could make it for everyone," he says.

In less than three months, Stakk attracted more than 800 users, and 30 jobs had been posted worth around $2000. Cameron isn't yet taking commissions until he builds up the profile and reputation of the platform, but his vision is for Stakk to become the "go to" job provider for students around Australia.

Stakk comes on the back of Cameron's first business, a surf clothing venture he set up when he was in Year 9, which he says helped him not only save money to hire a web designer for Stakk but also taught him valuable lessons about customer relations, marketing and "how hard it is to get the first sale".

It comes as the federal government champions innovation and start-ups, Prime Minister Malcolm Turnbull in 2015 trumpeting an "ideas boom" to help drive economic growth as the mining investment boom cooled. More recently, economists say the cooling housing market has put more emphasis on business investment as a driver of jobs and broader growth.

But despite the benefits of being young founders, Cameron, Slade and Zhang concede there are hurdles.

Slade, who is part way through studying his double degree in business and IT and won a 2016 Westpac Young Technologists Scholarship, says balancing his time can be a challenge. In the early days, his experience was also questioned.

"Some customers had been in business for many, many years and the biggest struggle sometimes was if I went to a new customer and had to sell myself. They'd say, 'you're very young, come back in 10 years'," he says. "But on the flip side, people know that 18-24 year olds know tech, we've grown up with it. So being young is a positive now for my business."

Cameron says once he started talking to people and they realised how serious he was, they were quick to help out. He also concedes it won't be easy to run Stakk during his HSC year.

"To be honest it's helped out with school as well. The knowledge I've gained from my business I can use in my classes at school. The students who do more, despite not having much time, do better than those who don't," he says.

Zhang also warns that young founders need to be prepared for failure and rejection. But this should be seen as a positive.

"The earlier you can get exposed to failure in life the better it's going to set you up for future. Nobody likes the feeling of rejection, but if you're starting your own business you're going to be cold calling a lot of people, approaching strangers, asking for favours. Being able to practice that early on is going to pay so many dividends in the future," she says.

She adds that the satisfaction of building something is priceless, as are the entrepreneurial skills gained – being able to think critically, come up with ideas and pitch them – skills not typically learnt in the classroom.