Resettled but untapped: skilled refugees' struggle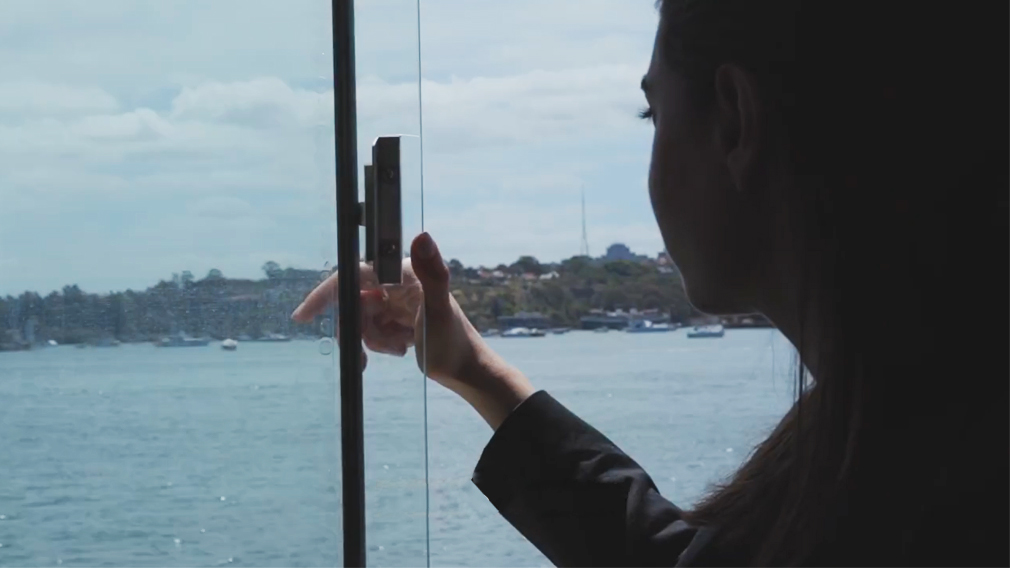 Despite having worked with refugees and asylum seekers for several years, Michael Combs still gets amazed by the stories he hears.

"One of our interns was a pharmacist, in Syria, with her own small business. She told me about the way she lost her business when ISIS occupied her shop and forced her to leave," says Combs, the founder and chief executive of social enterprise CareerSeekers.

"Imagine being forced from the business you built, with fully stocked shelves and cash still sitting in the till. Stories like this really bring home the horrific circumstances that refugees face and the importance of helping them restart their lives in Australia."

Described by the International Committee of The Red Cross as the largest and most complex humanitarian crisis in the world, Syria's civil war – which started seven years ago and shows no sign of ending – has displaced more than half of the country's 18 million people from their homes. Many civilians face the dangers of random airstrikes and snipers, and living conditions are difficult.

"The situation was getting really bad. It wasn't safe there anymore," says Maria*, who also fled Syria and arrived in Australia almost a year ago with her husband after waiting in the safety of Lebanon for her humanitarian visa to come through, a process that took more than two years.

"We felt our lives and our futures were at risk."

Syrians are among an estimated 65.6 million forcibly displaced people worldwide, the highest number ever recorded, according to the United Nations High Commissioner for Refugees.

The Australian government will offer 18,750 places to humanitarian migrants this year, up from 16,250 last year, and 13,750 places in each of the previous four years, plus an additional 12,000 extra places offered from 2015 in response to the conflicts in Syria and Iraq.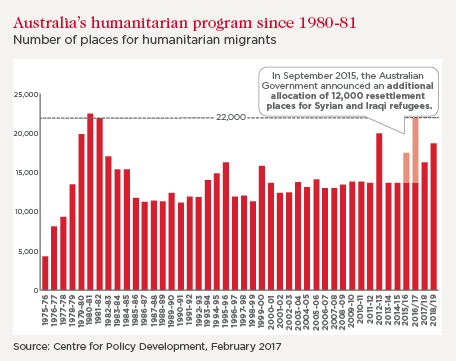 Speaking in English, in which she is fluent alongside her native Armenian and Arabic, Maria says they applied to come to Australia because her husband had family here, making the transition easier. But one of the biggest adjustments for humanitarian migrants remains cracking the job market.

"The biggest worry for me was to find a job," says Maria, who has a tertiary education and professional skills honed during a career in human resources in her home country, most recently in a Syrian telecommunication company.

Indeed, only 17 per cent of humanitarian migrants are in paid work after 18 months in Australia, according to the 2017 Settling Better report by the Centre for Policy Development. And while around 60 per cent held high skill jobs in their home country, only 26 per cent have those jobs in Australia, according to a 2017 Joint Standing Committee on Migration report.

Despite most peoples' assumption that this is due to lack of technical and language skills or qualifications, the most common barriers are lack of local work experience coupled with unconscious bias, says Combs, whose social enterprise CareerSeekers helps open doors for refugees and asylum seekers into professional jobs in Australia.

"It's not because recruiters are malicious. It's more likely they can't see an Australian company on your CV, they don't recognise or know anything about the Bank of Syria or wherever you may have built your career, they have no referees they can call to vouch for you, and there are hundreds of other applicants," he says.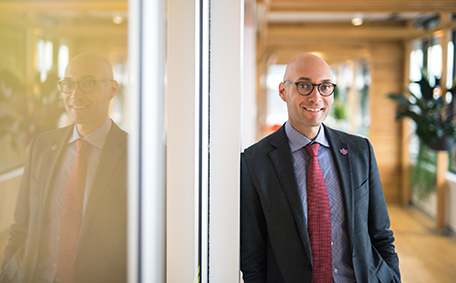 This means Australia is missing an opportunity for significant economic value, according to the Settling Better report.

It estimates that if the most recently arrived 17,500 humanitarian migrants saw a 10 per cent improvement in employment outcomes, the government would bank $65 million in savings from reduced welfare expenditures and increased tax revenue over ten years. If the lift was 50 per cent, savings would increase to $390m. This would multiply over successive intakes of humanitarian migrants, producing a gain of almost $1 billion over the subsequent decade.

While a number of well-established migrant settlement programs exist, Combs says CareerSeekers' focus is on helping refugees and asylum seekers into jobs in their field of expertise more quickly. This is partly done by participants being matched into 12-week paid internships in organisations where they can build local networks of referees, get an Australian company on their CV and are supported in the adjustment to Australian workplace cultures.

"Early on, we thought we could take an accountant from Syria and put them into an accountant's role in Australia. But we quickly realised the workplace culture here is so different from their home country," Combs says.

"We built a five day academy that is all about that transition and the expectations of an Australian workplace. We also sit down with the team where interns will work to explain a bit more about refugees and asylum seekers, provide a forum to ask questions, and then act as a longer term resource for them throughout the internship."

Combs – who became an Australian citizen since moving from the US in 2004 where he himself had benefited from an internship program for ethnic minorities called INROADS – modelled CareerSeekers off his first social enterprise CareerTrackers, which creates internship opportunities for Indigenous Australian university students.

He says he's surprised by the pace at which CareerSeekers has scaled since placing the first cohort of interns in 2015. To date, almost 230 internships have been created through the program, in 45 Australian organisations. And he says 77 per cent of interns have gone on to secure further employment beyond the 12 weeks of the internship.

"We thought it would be difficult to get organisations involved. But what we've seen is that it's not about the topic; it's about the talent. Organisations need to hire people, they want to increase their cultural diversity, and we can give them a trusted, and in many ways cheap, source of great talent."

Maria says her first memory of arriving in Australia, a country she previously knew nothing about, is of CareerSeekers, which matched her into a human resources internship in Westpac for nine months before she secured a specialist HR role in a mid-sized technology company based in North Sydney.

"I love it. It's a small team. It's full on, really busy which is good. That's what I was looking for," says Maria, who adds that although she misses her home town of Damascus where she was born and raised, she loves the vibrancy of Sydney.

Combs says not all applicants are suitable for the program, with some needing greater English proficiency, while others may be too unwilling to adapt to the cultural norms of Australian workplaces. Likewise, he's struggled to get some Australian businesses to join the program.

"One said 'sorry we can't employ these people because we don't have a prayer room'. We had to explain that not all refugees are Muslim, and even if they were, it shouldn't preclude them from having an opportunity, because they will deal with it."

Over time Combs would you like to see the private sector playing a greater role in the resettlement of Australia's humanitarian entrants.

"Your career in many ways defines you as a person. It not only gives you financial stability it immerses you into a community of like-minded professionals which only leads to greater social cohesion."

Westpac Foundation provided $100,000 and other non-financial support to help establish CareerSeekers New Australian Internships in 2015, and provides ongoing funding and support through a Social Scale-up Grant.

*Maria requested her surname to be withheld.