The Global Currency Card is closing
Everything you need to know.
Global Currency Card (GCC) accounts will start closing from 15 June 2021 (AEST).1
We now have a new travel card available, the Westpac Worldwide Wallet. If you have a GCC account, just follow the steps below to quickly and easily retrieve your funds.
Don't forget to take advantage of the special foreign exchange rate
If you're planning to spend, withdraw or transfer in AUD, you can access a special foreign exchange rate by converting your foreign currencies into AUD in the GCC portal or app before you spend.3 This offer ends on 14 June 2021.
Claiming your funds after 15 June 2021
After this date, your account will be automatically closed and your GCC will no longer work.
If you have an eligible Westpac account:
Any remaining funds will be credited into it by the end of July 2021.4
If you don't have an eligible Westpac account:
You'll need to contact Westpac directly to organise the transfer of any remaining funds to a nominated Australian bank account.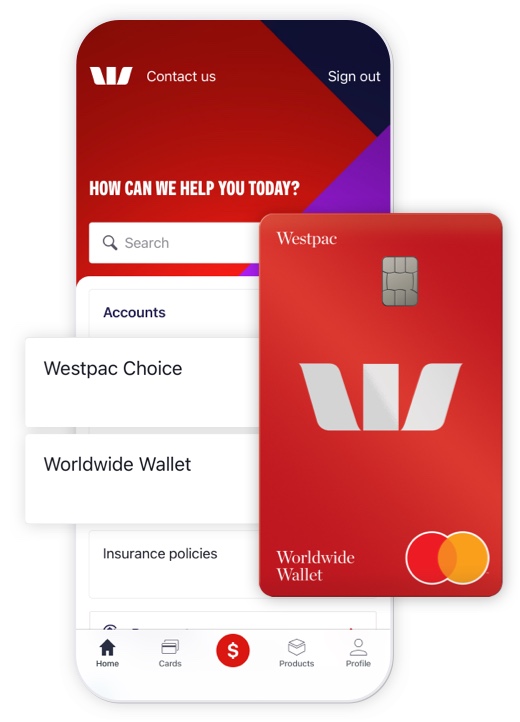 Introducing the Westpac Worldwide Wallet
Our new travel card is a safe and smart way to pay. You can order online or pick one up from your local branch today.
Fee-free shopping

Whether you're home or away, you can avoid foreign transaction fees when you shop online. You'll also pay zero ATM withdrawal fees at over 50,000 Global ATM Alliance ATMs around the world.5

Rewarding perks

Access unforgettable experiences where you live or abroad with access to Priceless® Cities.6 Plus, get cashback when you shop overseas thanks to Mastercard® Travel Rewards.7

Easy management

Enjoy the convenience of managing your travel card alongside your regular banking in the Westpac App.

Stress-free travel

Feel secure from fraudulent transactions with Mastercard Zero Liability protection.8 You can also kick back at one of over 1,000 airport lounges if your flight is delayed.9
We understand this closure may be disappointing for some customers. Unfortunately, the GCC program is ending and will no longer be supported.
We've recently partnered with Mastercard to offer a new travel card, the Westpac Worldwide Wallet. You can learn more about it or order one online here.
While you may no longer have a GCC, you've likely been contacted about the change because either:
Your account is still open even though you no longer have an actual card; or
Your account is closed but there are still funds remaining on your account.

Please check your account balance and withdraw any available funds. If you can no longer access your account, give us a call and we'll be able to help.
Yes, you do. You'll need to use the GCC portal to close both accounts.
However, each GCC account has two cards linked to it with the funds shared across them. Once you've moved all foreign currency into AUD and closed the account, it will apply to both cards.
There are several options you can take to access the funds on your GCC before it closes.
If you plan to make online purchases in the foreign currencies loaded on your card, you can spend as normal. If you're planning to spend, transfer, or withdraw in AUD, you can access a special foreign exchange rate by first converting your funds into AUD via the GCC portal or GCC app. Then, you can either:
Move the funds to a nominated Australian bank account.
Withdraw the balance from an ATM as long as your balance is greater than $20 AUD.2
Use your card in-store as you would with any other card.
Make purchases online.
GCC accounts will automatically start closing from 15 June 2021. After accounts are closed, we'll convert any remaining foreign currency into AUD at the special exchange rate. Your money will then either:
Be credited to your eligible Westpac account by the end of July 2021;4 or
Need to be transferred to a new account if an eligible Westpac account is not available. You'll need to contact us to arrange this.
The Westpac applicable exchange rate at the time the transfer of funds is made will be applied. Keep in mind that the market rate may fluctuate daily which might impact the amount transferred.
If you're planning to convert and transfer your funds or use your card in Australia, you can access a special foreign exchange rate by using your GCC account to convert your foreign currencies into AUD. This special foreign exchange rate is applicable from 19 April 2021 to 14 June 2021 for foreign exchange conversions to AUD via the GCC portal or GCC app. It doesn't apply to spend or ATM withdrawal.
For any questions about converting foreign currencies into AUD, please get in touch with our Customer Care team on
1300 797 470
in Australia or
+61 2 9155 7744
if overseas.
The easiest way to access the GCC portal is to sign in through Online Banking:
Sign in to Online Banking using a web browser and select your GCC account. From the actions menu on the right-hand side, select 'Convert your funds' to be redirected to the GCC portal. If it's your first time using the GCC portal, you'll need to set up a username and password to sign in. You have the option to use these details to sign into the GCC portal directly via gcc.westpac.com.au next time if you'd prefer.
If you're still having issues, feel free to contact our dedicated Travel Card team for further assistance on
1300 797 470
in Australia or
+61 2 9155 7744
from overseas.
Things you should know
Global Currency Card
Westpac Global Currency Card Privacy Policy (PDF 69KB)
Information is current as at 6 November 2020. Westpac Banking Corporation ABN 33 007 457 141 AFSL and Australian credit licence 233714 (Westpac) is the distributor of this product. Rev Australia Pty Ltd ACN 117 378 953 AFSL 401610 manages the Westpac Global Currency Card product for Cuscal Limited ACN 087 822 455 AFSL 244116, an authorised deposit-taking institution and a member of Visa International. Cuscal Limited is the issuer of the product only and does not take deposits from you. Westpac is not responsible for and does not guarantee this product or card, your ability to access any prepaid value or the use of this product or card. Amounts held on the product do not represent a deposit with, or any other liability of Westpac or any company in the Westpac Group.
1.We expect almost all accounts to be closed by midnight 16 June 2021 (AEST).
2.$20 AUD minimum balance required for ATM withdrawals in Australia. No ATM withdrawal fee for cash withdrawals at a Westpac Group ATM within Australia or via a Global ATM Alliance partner's ATM. An ATM operator fee may apply to use other ATMs.
3.Special foreign exchange rate applicable for foreign conversions to AUD in GCC portal until 14 June 2021 or as otherwise applied at our discretion post this date. Does not apply to automated conversion at point of sale or ATM withdrawals.
4.Funds may not be deposited by this date if preauthorisation of funds on your account are waiting to be cleared.
Worldwide Wallet
You should read the Westpac Worldwide Wallet Product Disclosure Statement and Online Banking Terms and Conditions before making a decision and consider whether these products are appropriate for you. This information does not take into account your personal objectives, financial situation or needs and you should consider its appropriateness having regard to these factors before deciding to acquire these products.
Information will be disclosed to third parties about you and your Product, or transactions made by you with the Product, as necessary for the service provision or as required by law. Westpac's Privacy Policy explains our commitment to the protection of your personal information. Please refer to our full
Privacy Policy (PDF 549KB)
.
5.No ATM withdrawal fee at Westpac Group ATMs in Australia and over 50,000 ATMs globally via Global ATM Alliance partners. Other fees and charges may be payable.
6.For Priceless
®
Cities terms of use, visit
www.priceless.com/terms/en_AU
.
7.Individual terms and conditions (T&Cs) apply to each offer. The T&Cs of each offer are specified on
http://mtr.mastercardservices.com/en/i/20657
. Cashback is available on international spend only. Cashback is not available for any local or domestic spend (in Australia). Cashback applies to qualifying transactions only (where a cardholder makes a purchase that meets the cashback offers published criteria and the specific T&Cs, in the local currency stipulated). Cashback is not processed immediately and will not reduce the purchase price of goods and services at the point of sale. The processing of cashback offers is undertaken by automated Mastercard systems and will appear as a credit on your next Westpac card statement. Mastercard Travel Rewards is operated by Mastercard in agreement with Westpac. For the Worldwide Wallet, the cashback processed will depend on the currencies available on your card and the location of your purchase. Examples of how a rebate may be processed are: If the destination currency is listed as a currency into which you can load funds onto your Card, the rebate will be credited as a single amount to the destination currency regardless of whether you have any funds available in that currency; or If the destination currency is not listed as a currency into which you can load funds onto your Card, the rebate will be credited to the local currency in the country in which your Prepaid Card was issued, i.e. AUD.
8.You will be reimbursed for any unauthorised transactions, provided that you have not contributed to the loss, exercised reasonable care in protecting your card and account, and immediately notified Westpac upon becoming aware of loss, theft, or misuse.
9.You must register each flight at least 6 hours before your flight. A flight is defined as a single scheduled airline flight under a single flight number. Delay must be officially announced by the airline and reported to our flight status data service provider. Flight Delay Pass is only available at selected airport terminals. If you are under 18 years old, you must be accompanied by an adult (18 years of age and older) to enter participating lounges. Access to and use of the Flight Delay Pass is subject to T&Cs which may change from time to time. Visit
flightdelaypass.mastercard.com/worldwidewallet
for the T&Cs and the list of participating lounges.
Internet connection may be needed to make purchases using Google Pay or Samsung Pay and normal mobile data charges apply.
Google Pay is a trademark of Google Inc.
Samsung and Samsung Pay are trademarks or registered trademarks of Samsung Electronics Co., Ltd.
Mastercard and Priceless are registered trademarks, and the circles design is a trademark of Mastercard International Incorporated.