Making sustainable living an easier choice
Supporting your choices with products, services, tips and ideas to inspire and support your sustainable living goals, no matter where you are on your life's journey.
We recognise that many customers want to see the action we're taking to embed sustainability into our business, from our direct actions to our products and services. We're also introducing resources and features that may help our customers support their sustainable living goals.
Measure your carbon footprint in the Westpac App
The progressive rollout of our new Carbon Footprint Tracker feature has begun. Watch out for it on the home screen of your Westpac App.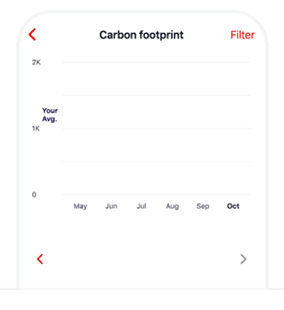 Small changes may have big impacts on your carbon footprint over time. Understanding where and how you spend may be useful if you want to make decisions that could help reduce your carbon footprint.
We're helping by giving you more choices
What people say they're doing
Recycling
claim to recycle when possible
Save water
shower in 10 minutes or less
Paperless
choose to do paperless billing
Source: survey of 913 people by Southern Cross University2
Westpac's goal is to become a net-zero climate resilient bank
In addition to joining the Net Zero Banking Alliance, we've continued our work to reduce our operational and financed emissions and align our lending portfolios with net-zero emissions by 2050, consistent with a maximum temperature rise of 1.5℃.
Sustainability at Westpac
Learn more about ways we seek to create the most meaningful economic, social and environmental impact to build better futures together.
Things you should know
The information provided relates to environment, social and governance (ESG) topics, including but not limited to climate change, targets, projections, scenarios, and other proxy data. All facts on our Sustainable Living Ideas website and CO2e values are estimates. The science, methodologies and data quality and availability relating to ESG topics are rapidly evolving and maturing, including the available data and variations in approaches and common standards in estimating and calculating emissions. There are inherent limitations in the current scientific understanding of climate change and its impact. Carbon footprint estimates are calculated based on industry averages only and are not specific to individual purchases or merchants. The calculations compare transactions conducted via eligible Westpac accounts against industry data provided by Connecting Good Australia Pty Limited (Cogo). Transactions categorised as pending or transfers aren't included. All facts and CO2e values are estimates provided by and published with the permission of Cogo. The information is based on research at an industry level, will be updated as more information becomes available, and Cogo is responsible for its accuracy and completeness. Westpac gives no representation, warranty or guarantee (including as to the quality, accuracy or completeness) of this information. Climate and sustainability related forward-looking statements are not guarantees or prediction of future performance. Actual outcomes may differ from those expressed or implied and are not guarantees or predictions of future performance.
This information is general in nature and has been prepared without taking your objectives, needs and overall financial situation into account. For this reason, you should consider the appropriateness for the information to your own circumstances and, if necessary, seek appropriate professional advice.
For more information on Cogo, visit the website www.cogo.co.
1. Certified under the Mastercard Sustainable Card Program Card Eco Certification ("CEC") Scheme for the Greenpay Planet card body materials produced by IDEMIA and used for Westpac's new card designs.
The Digital Card is only available in the Westpac App and supported with the latest version of the Westpac App. The terms and conditions applicable to your product also apply to the use of your Digital Card. Online Banking Terms & Conditions also apply. You may not always be able to access your Digital Card.
Mastercard is a registered trademark, and the circles design is a trademark of Mastercard International Incorporated.
2. For this 2019 study, 913 respondents were administered online surveys in the United States and Australia. 20.7% of the sample was from Australia, and 79.3% identified as American. Additionally, the sample included 442 women, 469 men, and six participants identifying as neither male nor female. The median age of the group surveyed was 32 years old.
Southern Cross University, 7 July, 2019, Going Green (https://online.scu.edu.au/blog/going-green/)
Read our Privacy Statement for more information about how we handle your personal information.
Apple, the Apple logo and iPhone and iPad are trademarks of Apple Inc., registered in the U.S. and other countries. App Store is a service mark of Apple Inc.
Android, Google Play and the Google Play logo are trademarks of Google LLC.
© Westpac Banking Corporation ABN 33 007 457 141 AFSL and Australian Credit Licence 233714.