Natural Disaster Relief Guide: How to Recover from a Storm, Fire or Flood
Plan your recovery and rebuild following fire, storm, or flood. Just know you don't have to do it alone.
February 2021 – 6 minute read
Key takeaways from this article:
Identifying emergency and crisis supports
Help making a financial recovery plan
The importance of talking about feelings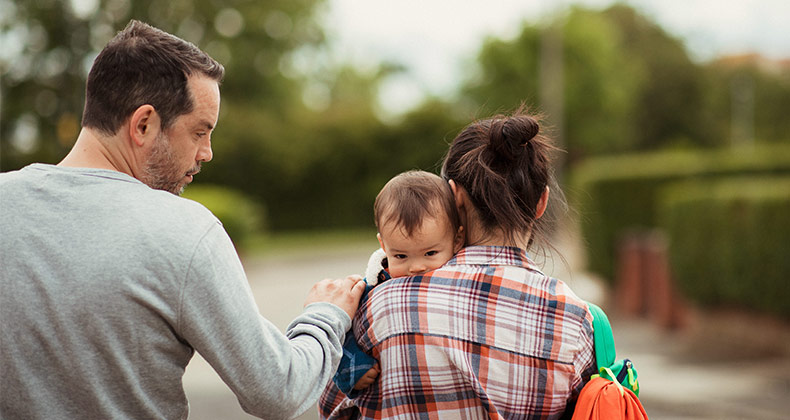 Recovering from the impact of a natural disaster, such as bushfire, flood or severe weather event, can take time. There's the shock and stress of dealing with an emergency, and, of course, the possible personal and property loss to navigate. Here we've listed steps, and possible strategies, aimed at supporting your recovery.
Step 1: Develop an emergency and crisis support network
Call us on 1800 067 497 or visit our Disaster Relief hub to understand what financial and customer support there is available. Check out your eligibility and apply.

If you're insured, check with your insurer about accommodation options.

This listing of Resources to help you out in tough times is a place to start for government related emergency and disaster assistance options. You can also contact Centrelink to see if you're eligible for crisis payments.

Don't forget charities and community organisations, such as the Red Cross, also offer support.

Try your local council, community centres, rural fire and state emergency services in your state or territory for immediate local information and support, including evacuation centre procedures.

If you know of someone who has been through a similar experience have a chat with them about what to expect. Neighbours, friends, and family can help.
Step 2: Contact your financial institutions
Let your bank or other financial institution know if you've been impacted by a natural disaster. You can go online, call, or if possible visit a branch.

We have a range of ways we help customers, including through our hardship team. If you're finding it difficult to meet your home loan, credit card or personal loan repayments, talk to us about the options or go online to visit our Disaster Relief hub for information. You can apply to see if you're eligible for our financial assistance and support packages here.

Visit us in branch or speak to someone from our team at Westpac Assist, call: 1800 067 497.

You may want to contact your utility providers - gas, water, electricity - and find out about their available support options too.
Step 3: Get help making a financial disaster recovery plan
Free financial counselling can help people to find solutions to their money problems. We have a dedicated financial hardship/financial assistance line that offers a range of options to address common financial problems. Contact us on 1800 067 497.

When times are tough financially, budgeting becomes even more important. It puts your income and expenses down in clear, black and white terms, reducing some of the confusion that can come with just "winging it". Getting back control of your money can relieve some of the inherent anxiety and stress of an unpredictable situation and help you in recovery.

Bring things back to basics and focus on essential expenses, specifically housing, food, and health care. Start by creating a personalised budget for you and your family.

Paying your bills and debts is important, but it's more important that you and your family have a roof over your heads and are in good physical and mental health. Budget for these costs first and you'll find it's easier to see where to focus regarding other areas of your finances.

Here's a budget planner template you can use to help get you started:
Here's a budget planner template you can use to help get you started:
Working out your priorities and finding ways to either increase income or decrease costs are all critical to recovery. Check out the Davidson Institute's handy Cost-cutting checklist for strategies.
Step 4: Talk to someone about how you're feeling

The time following a natural disaster is overwhelming and the recovery process is often long, which may significantly increase the emotional impact you and members of your family experience. Making decisions, and this includes important financial ones, can be difficult and stressful which is why you need to look after your mental health and wellbeing and get help when you need it.

There are various money management tools available to support your financial recovery on our Budgeting to help recover from a financial setback page.

Remember, you don't have to go it alone. Many workplaces offer free counselling services. Speak to your doctor. They can help you identify the support you need and guide you around what's available through Medicare.

Most importantly, have a good emotional support network (friends, family, community) and some sort of recreational release (e.g. sport or a hobby, music, meditation, etc) to help you take a break and look after your mental health and wellbeing.
Health Support Services
Lifeline Australia — phone 13 11 14 for a free 24-hour crisis support service. Or try Lifeline's crisis support chat service
Beyond Blue — phone 1300 22 46 36 to speak to a mental health professional 24 hours a day.
Black Dog Institute free mental health fact sheets covering depression, anxiety and stress, wellbeing, and other issues.
You may find these useful
Things you should know
This information is general in nature and has been prepared without taking your objectives, needs and overall financial situation into account. For this reason, you should consider the appropriateness for the information to your own circumstances and, if necessary, seek appropriate professional advice.

© Westpac Banking Corporation ABN 33 007 457 141 AFSL and Australian credit licence 233714.