Farm Management Deposit account
As a primary producer, invest pre-tax income from high yield years to provide a cash reserve for the future.
Benefits for your business
Defer income tax payments while earning interest
Saves money securely away for when you need it
Pays guaranteed returns with a fixed interest rate
Can provide tax benefits for deposits ($1K-800K) of a year or more 2
Could earn higher interest than a standard savings account.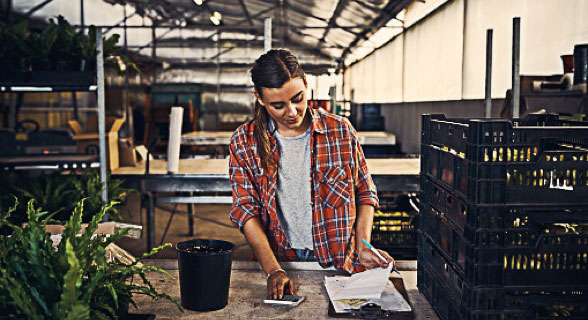 Popular Farm Management Deposit interest rates
These rates are for deposits of between $1,000 and $800,000. Interest is paid at maturity or annually.
Other rates, terms and interest payment frequencies are available.
What is a Farm Management Deposit (FMD)?

Support for primary producers
The FMD scheme is a government initiative that helps farmers build cash reserves for future needs (such as restocking or replanting) using tax-efficient savings.

Guaranteed returns
A Farm Management Deposit account lets you put excess income to work earning interest in a fixed-term savings account.

Deferred tax payment

Eligible income deposited into an FMD account for a year or more is tax deductible in the financial year of the deposit – and only becomes taxable when it's withdrawn.1
Frequently asked questions about Farm Management Deposits
No, you cannot currently apply for a Farm Management Deposit account online. Please request a call back by completing our simple online form, and an FMD business banker will get back to you within one business day to help with your application.
Terms of 12 months or less are paid monthly or on maturity

Terms of 1 to 60 months are paid monthly
Terms greater than 12 months are paid annually, then at the end of the term


Interim interest payments can be made:
directly to an account held with Westpac that is in the same name as your Farm Management Deposit account; or
through direct credit to an account at any Australian financial institution.

Please note that interim interest payments cannot be made back in to your Farm Management Deposit account.
You can withdraw your funds or reinvest: the whole amount (adding more if you wish); just the principal (withdrawing the interest); or part of the principal (receiving the remainder plus interest earned).

If we do not receive instructions and your term deposit rolls over automatically, it may be re-invested at a lower rate than the original fixed interest rate.

At maturity or at the end of any notice period, the principal and any remaining interest instalments can be paid:
directly to an account held with Westpac that is in the same name as your Farm Management Deposit account;
by direct credit to an account at any Australian financial institution;
by bank cheque (fees apply); or
in cash (advanced notice may be required).

The general principle of a Farm Management Deposit is that you are locking in a set interest rate for a period of time and your funds can't be accessed during that term unless you close your account.

You must provide a minimum of 31 days' notice to access funds prior to maturity (except in cases of hardship as defined by us), and early withdrawal may reduce returns as per our Terms and Conditions (PDF 202KB).
Need help finding the right account
Things you should know

This information does not take your personal objectives, circumstances or needs into account.

Credit criteria, fees, charges, terms and conditions apply. Read the Terms and Conditions above before making a decision.

1. The taxation position described is general in nature and should not be relied upon as a complete or definitive statement of the law and its application to your circumstances; and it does not constitute tax advice. Westpac recommends you obtain specific tax and financial advice on your own position from suitably qualified advisers before opening an FMD account.
2. Note: You will have to invest for a minimum of 12 months to receive the tax deferral (except in certain circumstances).