Biz Invoice
Create and send invoices for free in online banking with your Business One Low or High transaction account.*
Create and send professional invoices with ease

Biz Invoice lets you track, reconcile, and send payment reminders – giving you time back to spend on your business.
Free online invoicing tool#
Unlimited invoices
See an overview of your invoices in one place
Set up and send reminders for overdue invoices
Invoice status tracking
Automatic reconciliation on payments1
Unlimited authorised access for your staff, accountant or bookkeeper.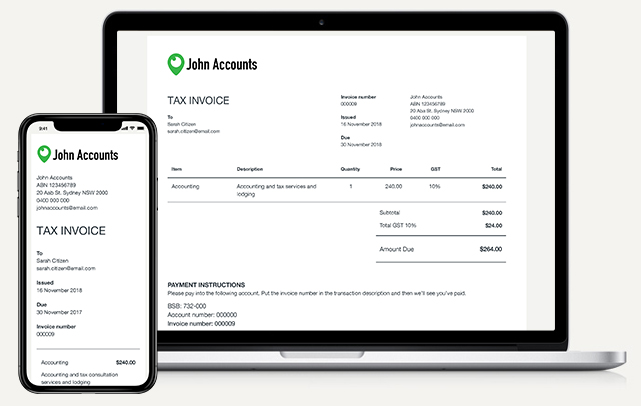 Quick overview of your invoices
See amounts reconciled in the last 30 days, as well as total amounts overdue or unpaid – all in one place.

Send reminders for overdue invoices
Spend less time chasing overdue invoices by sending reminders to your customers. Add a custom message if you like.

Automatic reconciliation
If your customer makes their payment with the correct payment description, we'll automatically reconcile the payment to the correct invoice.3


Access for your accountant or bookkeeper
If you give your accountant or bookkeeper third party access to your eligible business accounts†, they can see your business accounts and related invoices.
Get Biz Invoice for free with one of these accounts

$0 Monthly Plan Fee* for the first 12 months
Save $120 by having your Monthly Plan Fee waived for 12 Months when you open a new Business One Low Plan account by 28 February 2019.
Terms and conditions, fees and charges apply. Find out more
Things you should know
*Terms and Conditions apply. Read the Westpac Online Banking Terms and Conditions (PDF 303KB) before making a decision.

#Free with an eligible business account.

†To be eligible for Biz Invoice you must hold a Westpac Business One Low Plan or Business One High Plan account.


1. Only for cleared funds paid to the linked account where the value does not exceed the outstanding amount of a current invoice.

*Open a new Business One Low Plan account between 1st February and 28th February 2019 to have the Monthly Plan Fee waived for the first 12 months. At the end of the 12 month period the standard Monthly Plan Fee, currently $10, applies to the Business One Low Plan. Other fees and charges, terms and conditions, apply to the Business One Low Plan. This offer may be repeated from time to time, withdrawn, varied or extended at any time. This information does not take your personal objectives, circumstances or needs into account. Consider its appropriateness to these factors and read the disclosure documents for your selected product or service, including the Terms and Conditions or Product Disclosure Statement at https://www.westpac.com.au/business-banking/bank-accounts, before deciding.
^Account opening criteria applies