Viewing your Merchant Services
Before viewing Merchant Services, please ensure the Network Administrator has enabled Merchant Services for the network and authorised Users.
Via Business Hub
To view the Merchant Services screen, hover over Business Hub and select Merchant Services.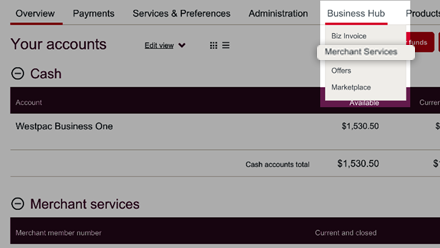 Via Westpac Live Overview
You can also access Merchant Services via the dropdown box next to a Merchant Member Number (MMN)1 on the Westpac Live Overview screen.
Select View all merchant services to access Merchant Services or View statements to view Merchant eStatements.
The Merchant services displayed are based on the level of access granted by your Administrator. The Overview page only displays current merchant services and a maximum of 5 MMN's.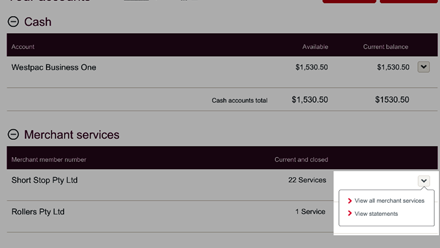 On the Merchant Services screen, authorised Users can view each site ID2, Merchant ID3 and Terminal ID4 associated with the Merchant Member Number (MMN)1.
Users can view Merchant eStatements for eligible products via the View Statements button or the Statements tab.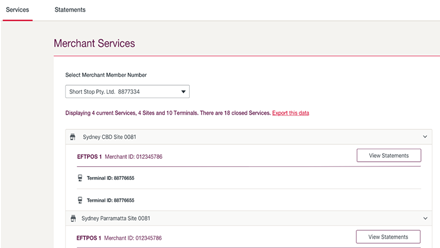 Things you should know
1. Your Merchant Member Number (MMN) is a unique account number which represents all merchant service facilities that are used by your business or organisation. Providing the MMN can assist us to easily identify and help you with your merchant service facility. This MMN is visible to the Administrator via Westpac Live.
2. A unique site ID is assigned to Merchant IDs that share the same trading name and trading address.
3. Linked to your MMN you will have associated Merchant numbers (Merchant IDs) which are identifiers assigned to each individual Merchant product for your business. These are located on your monthly statement.
4. A terminal ID is assigned to each individual merchant terminal associated with a Merchant ID.