What's new in Online and Mobile Banking for Business?
Learn about the latest features we've added to help make your online business banking experience even more convenient, helpful, and mobile-friendly.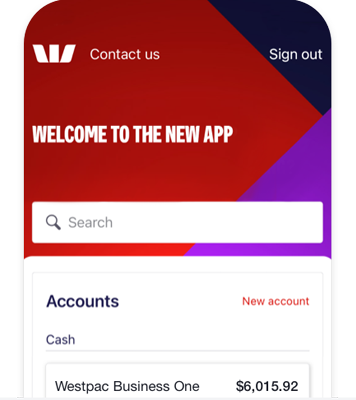 The Westpac App
Bank while life's happening with the Westpac App. With security features like fingerprint ID, Westpac Protect™ and Online Banking Security Guarantee, you can bank with confidence.
Set up a bank feed1 to connect with MYOB

Save time on manual data entry for your Business Credit Cards and Term Deposits by setting up a bank feed. Easily connect or disconnect online.

Business and user daily limits under the one menu

Now it's even easier to update daily payment limits online. Staff can even request an increase to their individual limit from the payments screen.

Renew a Term Deposit held as security online

Using a Term Deposit as security against a loan? Now, at maturity, you can

check rates and renew it

inOnline Banking or the Westpac App.

Open a Farm Management Deposit (FMD) online

Get more control over your EFTPOS sales

Our Merchant Transaction Reporting makes it easier to view and manage terminal sales, track customer card payments and export csv files.

Download your balance and transaction history online
Things you should know
Read the

Westpac Online Banking Terms and Conditions (PDF 409KB)

before making a decision. Not all accounts† are eligible to be included in a bank feed. Not all third-party service providers support bank feeds for all accounts.

Bank feeds must be set up with third-party service provider before it can be connected in Westpac Online Banking. If your third-party service provider doesn't appear in the drop-down menu in Westpac Online Banking, you may need to check that your third-party service provider is registered with Westpac. Should there be any changes to your user access or network access levels, you may need to disconnect your bank feed(s) as any access changes won't impact bank feeds. The products and services offered by third-party service providers are subject to their own terms and conditions and fees and charges. Westpac doesn't guarantee or endorse the services or products offered by third-party service providers

† Currently Business Credit Cards and Business Term Deposits accounts aren't available for third-party service provider's except MYOB. This may be extended to other third-party service providers in the future.

Mobile cheque deposits are subject to eligibility. Contact us to find out if this service is available with your account. Mobile cheque deposits may be used to submit cheque/ cheques totalling up to $20,000 in any 7-day period – as a personal customer and/or across a business network. You may only submit Australian dollar cheques; you must be the true owner of the account; and you must not allow a cheque to be deposited again after it has been submitted. After you have submitted a cheque please keep it safe for 2 weeks, then destroy it securely.
Apple, the Apple logo and iPhone and iPad are trademarks of Apple Inc., registered in the U.S. and other countries. App Store is a service mark of Apple Inc.
Android, Google Play and the Google Play logo are trademarks of Google LLC.