Tap to Pay on iPhone
Take in-person, contactless payments with just your iPhone and the EFTPOS Air app.¹˒²
Accepting payments is easy
Take contactless payments from debit and credit cards, Apple Pay and other digital wallets and wearables
Simple set up with no additional hardware or plug-ins needed
Use as your main payment acceptance device or as an additional terminal for busy times
Same day settlement into your Westpac business account³
1.4% per transaction with no upfront, contract or monthly fees.⁴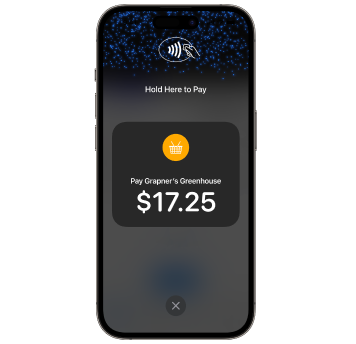 Privacy and security built-in
Tap to Pay on iPhone uses the built-in features of iPhone to help keep your business and customer data private and secure. When a payment is processed, Apple doesn't store card numbers on the device or on Apple servers, so you can rest assured knowing your business, and your customers' details, stay safe.
Accept major card types
Take eftpos, Mastercard® and Visa payments including cards, Apple Pay, and other digital wallets.
Save time with optional POS features
Set up a handy product or service menu and benefit from useful sales insights all in the EFTPOS Air app.
Enjoy the reassurance of 24/7 assistance
Who'll love Tap to Pay on iPhone and the EFTPOS Air app?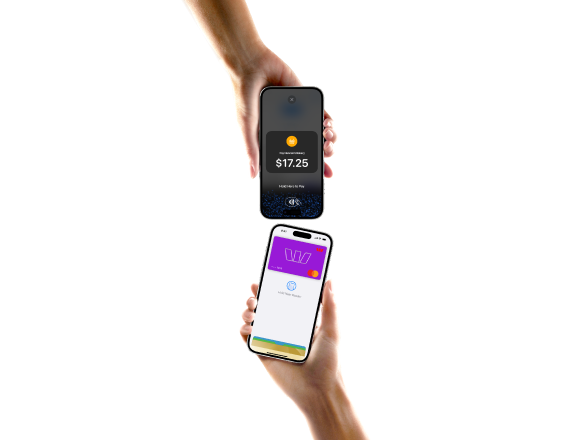 How to get started
You'll need to be a sole trader, company or association and have a Westpac business transaction account to receive settlement payments into.
1. Open
If you don't have one yet, open a business transaction account.5
2. Apply
Apply online for an EFTPOS Air merchant facility.
3. Download
Once approved (takes around 1 business day) download the free EFTPOS Air app and log in to start taking payments with just your iPhone. EFTPOS Air requires iPhone XS or later running iOS 16.4 or later.
Hear from some of our EFTPOS Air users
"What's truly remarkable is how [Tap to Pay on iPhone] with EFTPOS Air has improved our customers' experience. They love the convenience of contactless payments and the flexibility it offers. This innovative solution has streamlined our payment processes and elevated customer satisfaction and trust."
Cook Relocations
"Last year when we just had cash, we were counting coins and notes at the end of the day. It was awesome to just jump on the app and see how much money we'd raised. We'll definitely use it for fundraising, and I'd definitely recommend it to others … it's literally on your iPhone!"
Grays Point Activity Centre
"[Tap to Pay on iPhone] and the EFTPOS Air [app] really helped me to have my day off again. I used to ask clients to transfer money to me. By the time I texted my bank details, it was a few days after I'd provided the service, then it would take a few days to receive the money. With EFTPOS Air, it's immediate and it's perfect."
By Lowri
You'll need to be a sole trader, company or association to apply for an EFTPOS Air merchant facility. Trusts and partnerships are not currently eligible.
Merchant support & stationery
Things you should know
Eligibility criteria, terms and conditions apply for EFTPOS Air.
1. Compatibility: Tap to Pay on iPhone requires iPhone XS or later running iOS 16.4 or later and a supported payment app. Some contactless cards may not be accepted by your payment app.
2. Mobile coverage: Internet connection is required to take payments.
3. Same day settlement: Subject to system availability, settlement is performed directly after business day cut off. Business day cut-off for EFTPOS Air takes place 7-days a week at 8.50 pm (Sydney time). Settlement must be to an eligible Westpac business transaction account.
4. 1.4% flat rate pricing: Applies to eftpos, Mastercard and Visa payments by card, mobile wallet, or wearable.
5. Business accounts: Before making a decision about any of our products or services, please read the terms and conditions available at westpac.com.au. Fees and charges apply and may change.
Apple, the Apple logo, iPhone are trademarks of Apple Inc., registered in the U.S. and other countries. App Store is a Service mark of Apple Inc.
Mastercard is a registered trademark and the circles design is a trademark of Mastercard International Incorporated.
Visa is a registered trademark of Visa International Service Association.