Tap to Pay on the EFTPOS Air app
Take secure in-person payments with EFTPOS Air on your compatible phone or tablet.¹
Accepting payments is easy with just a tap on your phone2
No extra hardware needed

Once your application is approved, download the EFTPOS Air app on your compatible device¹. Easy.

Simple costs

No setup costs, monthly fees or lock-in contracts. Just pay 1.4% per transaction.³

Same day settlement

Keep your cash flowing with nightly settlement of funds into your Westpac business account.⁴

Safe, secure and supported
With round-the-clock support, rest assured we've got you covered when you're taking payments on the go.
Data defence
Payment data is encrypted in the same way as it is for an EFTPOS machine.
Built to do business
EFTPOS Air is flexible enough to integrate seamlessly into the way you do business.
Accept all major card types – eftpos, Mastercard® and Visa plus digital wallets.
Record cash transactions – And let customers split payments between cash and card.
Set automatic card surcharging – To help recover transaction costs.
EFTPOS Air makes it easy to get paid
Whether you're a tradie, stallholder or barista, EFTPOS Air is a simple solution that'll keep the payments flowing, whatever the day throws at you.
Watch EFTPOS Air unpacked
See what EFTPOS Air is all about – in just over a minute.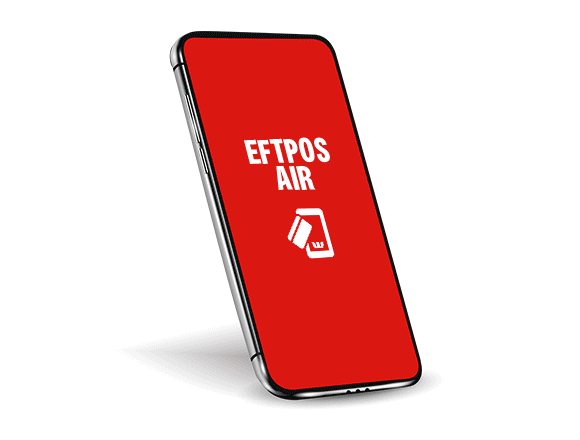 Get started with EFTPOS Air
You'll need to be a sole trader, company or association and have a Westpac business transaction account to receive settlements into.
1. Open
If you don't have a Business Transaction account yet, open a Business One , Business One Plus or Community Solutions Account.5
Apply online for an EFTPOS Air merchant facility. Approvals are typically received in one business day.
3. Download

Once approved, download the EFTPOS Air app to your compatible device and log in to start taking payments.
How EFTPOS Air helps businesses like yours
"It's very easy to set up and use the app, and we didn't need to buy any external devices. We didn't need to learn anything new to be able to operate this."

Gabrielle Head, NSW Guide Leader

"The app is great for busy times as it helps our team serve customers faster. It allows me to accept payments both in the café and at our market stall."
Ron Danieli, founder of Danieli Café, The Rocks, Sydney
FAQs about our mobile EFTPOS app
You'll need to be a sole trader, company or association to apply for EFTPOS Air. Trusts and partnerships are not currently eligible.
Merchant support & stationery
Things you should know
Eligibility criteria, terms and conditions apply for EFTPOS Air.
1. Compatibility: To use EFTPOS Air your iPhone or Android device will need to be Near Field Communication (NFC) enabled and running on one of the supported iPhone Operating Systems (iOS) or Android Operating Systems (OS) listed at https://help.eftposair.westpac.com.au/compatibility/, which may change from time to time. Tap to Pay on iPhone requires iPhone XS or later running iOS 16.4 or later and a supported payment app. Some contactless cards may not be accepted by your payment app.
2. Mobile coverage: Internet connection is required to take payments.
3. 1.4% flat rate pricing: Applies to eftpos, Mastercard and Visa payments by card, mobile wallet, or wearable.
4. Same day settlement: Subject to system availability, settlement is performed directly after business day cut off. Business day cut-off for EFTPOS Air takes place 7-days a week at 8.50 pm (Sydney time). Settlement must be to an eligible Westpac business transaction account.
5. Business accounts: Before making a decision about any of our products or services, please read the terms and conditions available at westpac.com.au. Fees and charges apply and may change.
Mastercard is a registered trademark and the circles design is a trademark of Mastercard International Incorporated.

Visa is a registered trademark of Visa International Service Association.