Business equipment finance
Get the equipment your business needs without tying up cashflow.
Buy and upgrade equipment for your business
Why choose a Westpac equipment loan?
Negotiate repayments that work for you
Express approval for eligible customers and asset types
A fixed rate helps you plan ahead, as you know what your repayments will be
Borrow from $15k
Loan terms from 1 to 7 years.
Who's eligible?
You'll need to meet these requirements to be eligible:
Be a tax resident of Australia – that is based, registered and operating in Australia
Equipment will be used fully or mostly for business purposes.
Your business equipment loan at a glance
Borrow from $15k
Competitive interest rates
Establishment fee from $450
Types of equipment we can help you finance

Professional services equipment
Computers, hardware and fit outs
Specialised equipment for health care
Agricultural equipment
Tractors, trowels, cultivators and more
Construction equipment
Excavators, loaders, forklifts, scissor lifts and more
Manufacturing equipment
Further information on fees and charges are available in the PDF download.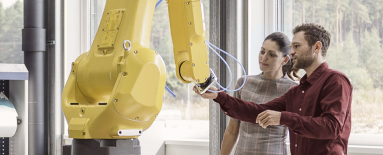 Financing new vehicles, machinery and equipment purchases
Just about every business needs to spend on equipment, even if it's just for a computer or mobile phone. Whether the investment is large or small, you'll need to consider how best to pay for it. One of the first things you may wish to consider is the useful life of the equipment you're thinking of purchasing. Not just how long it's going to last, but how long it will last in the market.
Frequently asked questions
What is a business equipment loan?
Sometimes referred to as a goods loan or chattel mortgage
Your business buys and owns the equipment from the start
Your business makes regular repayments to pay back the loan
The loan is secured against the equipment.
What are the interest rates?
Interest rates and repayments vary depending on a number of factors. Some of these may be:
Type and age of the asset being purchased
Term of the finance agreement.
To find out the interest rate you could be paying, get a quote online or call us on 1300 360 322 to speak to a business lending specialist.
What is a balloon payment?
A balloon payment is an amount due at the end of your loan, sometimes called a final repayment amount.
Balloon payments keep monthly repayments lower and help free up your cash flow.
You'll be left with a lump sum to pay at the end of the loan. You'll also end up paying more interest over the life of the loan.
Choosing to have a balloon payment means your monthly repayments won't fully pay off the loan, you'll still need to pay the balloon (or lump sum) leftover to close out the loan.
What is the maximum loan term?
Loan terms range from 1 to 7 years
Loan terms depend on the repayment amount you can afford and the useful life of the asset
If you have a loan term in mind, make sure you let us know
If you're buying used or second-hand equipment the loan term may be shorter depending on the age of the equipment
The longer the loan term the more interest you will pay.
Is there a minimum loan amount?
Yes, the minimum loan amount is $15k.
Can I get an equipment loan if I have a bad credit history?
While a bad credit history is likely to decrease your chances of getting approved, it doesn't mean you can't get a loan at all.
Get in touch with one of our business lending specialists to find out how we can help you.
Where can I get information on a payout figure?
Call us on 1300 360 322 to speak to one of our business lending specialists.
Additionally, you may like to refer to our agreement for important information including fees and charges that may apply if you choose to end the agreement early.
Things you should know
Credit criteria, terms and conditions, fees and charges apply. On-the-spot conditional approval only available to eligible existing Westpac customers with a valid ABN, trading in the same business for 2 years, no outstanding statutory payments and acceptable credit history.
Applications for equipment and equipment finance are subject to the Bank's normal lending criteria. Credit criteria, terms and conditions, fees and charges apply.
* The taxation position described is a general statement and should only be used as a guide. It does not constitute tax advice and is based on current tax laws and their interpretation. Customers must seek their own independent tax advice in relation to their individual circumstances.
Interest rates and repayments vary depending on a number of factors. Some of these may be which finance option you choose, the type and age of the asset being purchased and term of the finance agreement.