Low rate business credit card
Keep all your everyday business purchase records in one place, with a BusinessChoice Everyday Mastercard®.
BusinessChoice Everyday Mastercard®

Stay on top of your business expenses with a credit card that offers a lower interest rate on purchases, a low annual Card Fee and credit limits from $2,000 to $250,000.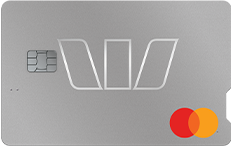 Lower annual Card Fee
Currently $75 annual Card Fee. If spend on a specific card is $15,000 or more then the annual Card Fee will be waived on that card in the following year.

Lower rates
Stay on top of your business expenses with access to two lower rates: 14.25% p.a. variable interest rate on purchases and 19.96% p.a. variable interest rate on cash advances.

Up to 99 cards
Manage your employee business expenses more easily with access to up to 99 cards allowing for different credit limits to be assigned to each.
Things you should know
Fees, charges and credit criteria apply. Read the terms and conditions available above before making a decision.
1.
Complimentary insurance covers:
AWP Australia Pty Ltd ABN 52 097 227 177 AFSL 245631, trading as Allianz Global Assistance (AGA), under a binder from the insurer, Allianz Australia Insurance Limited ABN 15 000 122 850 AFSL 234708 (Allianz), has issued an insurance group policy to Westpac Banking Corporation ABN 33 007 457 141 AFSL and Australian credit licence 233714 (Westpac) which allows eligible persons to claim under it as third party beneficiaries. Access to the benefit of cover under the Credit Card Complimentary Insurance is provided to eligible Westpac cardholders by operation of s48 of the Insurance Contracts Act 1984 (Cth). If an eligible persons wishes to claim any of these benefits, they will be bound by the eligibility criteria, terms, conditions, limits and exclusions contained in the
Westpac Business Credit Cards Complimentary Insurance Policy (PDF 338KB)
/
Commercial Cards Insurance Policy (PDF 160KB)
which may be amended from time to time. This insurance is underwritten by Allianz. Westpac does not guarantee this insurance. This information does not take your personal objectives, circumstances or needs into account. Consider its appropriateness to these factors before acting on it.
2. Read the Westpac Online Banking Terms and Conditions (PDF 236KB) before making a decision.

*Not all accounts are eligible to be connected via a bank feed. These can include loan accounts and accounts requiring multiple authorisations for transactions.
Note: Your bank feed must be set up with your third-party service provider (software company) before it can be connected in Westpac Online Banking. If your software company does not appear in the drop down menu in Westpac Online Banking, you may need to check that it is registered with Westpac. Should there be any changes in your user access or network access levels, you may wish to disconnect your bank feed(s) as any such changes will have no impact on your bank feeds.
Annual Card Fee: For Altitude Business Platinum Mastercard and Altitude Business Gold Mastercard credit cards, the annual Card Fee covers all cards associated with the product. For BusinessChoice Rewards Platinum Mastercard and BusinessChoice Everyday Mastercard credit cards, an annual Card Fee is payable for each card associated with the facility.

Mastercard is a registered trademark and the circles design is a trademark of Mastercard International Incorporated.