SME Business Loans with fixed rates from 2.38% p.a.⁵
Loans to support the recovery of your business under the Government's SME Guarantee Scheme. Purchase vehicles, equipment and more. Loans available until 30 June 2021.
SME Recovery Loan
Further support for customers impacted by COVID-19.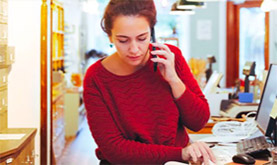 You may be eligible for a business loan under the SME Recovery Loan Scheme.
Applications are now open:

Repayment deferral options available
Loan terms up to 10 years
Loans can be used for a wide range of business purposes.
Benefits and features of SME business loans
Loans from $5k up to $1m
No establishment fee¹ , ²
Eligible equipment and vehicle purchases may qualify for an immediate tax write-off³
For new and existing customers, subject to eligibility
Eligible businesses will:
Have a valid ABN
Have an annual turnover of less than $50 million

Be a tax resident of Australia – that is based, registered and operating in Australia
Use the loan for business purposes only and not to refinance existing debt (except for other Scheme loans), lend to an associated entity, purchase residential property or financial products, or to lease, rent, hire or hire purchase assets more than halfway into their effective life
Not have loans supported by Phase 2 of the Government's Coronavirus SME Guarantee Scheme totalling more than $1 million (including this loan and those from other lenders).

Apply or submit an enquiry by clicking on your preferred loan option
A Business Lending Specialist will follow up with a call and talk through next steps.
If you're an existing Westpac customer with a Relationship Manager, we'll pass on your details and they will contact you directly.

Tips to prepare for your call:
Have details of your financial situation handy, such as:
Business Activity Statements (BAS)
Business financial statements
Bank statements
Management accounts
Personal tax returns.
Frequently Asked Questions
Under the instant asset write-off, eligible businesses can claim an immediate deduction for the business portion of the cost of an asset in the year the asset is first used, or installed ready for use.
The ATO website has more information on eligibility, thresholds and exclusions. Customers must seek their own independent tax advice in relation to their individual circumstances.
For new and existing Westpac customers , you can get started by submitting an enquiry online. Alternatively, if you are an existing customer with a Relationship Manager, you can speak to your Relationship Manager to apply.
Once you a submit the enquiry online a Business Lending Specialist will contact you. If you are an existing Westpac customer with a Relationship Manager, we'll pass on your details and they will get in touch directly.
To prepare for the call, it's worth having details of your business' financial situation to hand, including Business Activity Statements (BAS). We'll talk about any additional information we need when we contact you.
This Scheme may not be used to acquire an interest in Residential Property (including mixed use properties).
Residential Property is defined by the Scheme as land or a building that is, or is capable of being, occupied as a residence for residential accommodation in whole or in part, other than:
(a) a hotel, motel, inn, hostel or boarding house;
(b) premises used to provide accommodation in connection with a school;
(c) a ship that is mainly let out on hire in the ordinary course of a business of letting ships out on hire;
(d) a ship that is mainly used for entertainment or transport in the ordinary course of a business of providing ships for entertainment or transport;
(e) a marina at which one or more of the berths are occupied, or are to be occupied, by ships used as residences;
(f) a caravan park or a camping ground; or
(g) anything similar to property described in paragraphs (a) to (f).
Yes, provided they meet the relevant eligibility criteria.
Things you should know
Credit criteria, fees, charges, terms and conditions apply.
1. Other fees and charges apply.
2. Vehicle and equipment goods loan establishment fee waived: Information is correct as at 4 November 2020. This offer waives the relevant establishment fee (usually from $450) on Westpac Vehicle and Equipment goods loan applications. This offer is only available to Business customers for business purposes and only for new applications (excludes roll-overs and refinances) for vehicles and equipment.

3. The taxation position described is a general statement and should only be used as a guide. It does not constitute tax advice and is based on current tax laws and their interpretation. Customers must seek their own independent tax advice in relation to their individual circumstances.
4. Security supporting these loans excludes residential property or commercial/rural property that may be used for residential purposes.

5. This rate is available for applications submitted prior to 30 April 2021 that are supported by owner occupied commercial security.
6. Unsecured business loans available up to $75,000. Director guarantees may be required.
7. Interest and fees will accrue during the 6 months and capitalise at the end of this periods.