The working capital cycle

Understanding and managing your working capital cycle is the key to a strong cash flow
Insufficient cash flow is one of the most common reasons that businesses fail. Sales, leads, even referrals might all be on track, but if cash is being poorly managed, the cycle of working capital will be out of synch.
Every single business has a working capital cycle; what differs is their ability to manage it. An understanding of the cycle (i.e. how cash flows through a business), helps identify and rectify any potential blockages.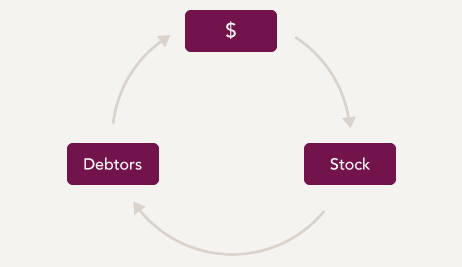 Most businesses can be divided into 3 distinct categories; a stock and debtor business, a retail business, and a service business.
For a stock and debtor business, its working capital cycle can be broken down into 4 basic steps:
The business uses its cash to purchase or manufacture stock for sale
The business sells that stock
The business issues an invoice to the purchaser (creating a debtor)
The business collects outstanding monies from the debtor at a later date.
Retail industry variation - instead of issuing an invoice and creating a debtor, they'll collect the cash at the time of sale.
Service industry variation - uses cash to pay for "work in progress" (i.e. jobs they're doing for customers) instead of purchasing stock. They will issue an invoice to their customer when the work is completed, and collect the cash at a later date.
Some businesses even operate in all 3 categories, making cash flow management all the more complex.
Keep the cash flowing
No matter the type of business, the key is keeping cash flowing around this cycle, and not let it slow or even cease.
Imagine a business that takes 55 days to sell its stock, then 45 days to collect its debtors; their cash is tied up in the working capital cycle for up to 100 days.
But the business stills needs cash merely to operate in the interim; to purchase stock, pay wages, and conduct marketing. So the faster the working capital cycle spins, the faster cash is returned to the business.
A Business Overdraft can help with cashflow shortfalls to help pay wages and invoices.
Hints and tips for managing debtors
Make issuing invoices a high priority
Ensure due dates and terms of trade are clear on all invoices
Keep accurate and dependable records
Provide customers with a range of payment methods (including electronic) and ensure they're clearly detailed on the invoice
Develop and adhere to a thorough procedure for payment reminders and following up overdue accounts
Introduce an electronic payment facility to automate collections
Make collection calls early in the week, and talk directly to the person who authorises payments
Give the debtor the chance to explain; there may be a good reason for the delay
Try to get at least partial payment - then arrange an ongoing payment schedule.

Hints and tips for managing stock
Have a good stock management system and keep records accurate and up to date
Understand and plan for seasonality
Develop good relationships with suppliers
Keep 'stock on hand' to a minimum - both raw materials and finished goods
Review suppliers regularly to ensure quality is maintained and prices remain competitive
Develop good buying practices to maintain the right stock levels at the right time and the right price
Review handling procedures to reduce damage or wastage
Ensure appropriate lot sizes are used when purchasing
Refine the accuracy of the business's sales forecasts to better predict stock requirements.
Hints and tips for managing work in progress (WIP)
Establish, measure and manage a deposit and/or progress payment policy
Identify and eliminate process blockages or inefficiencies
Give employees good training, guidance and support to complete output and deliverables on time
Understand which products or services are more profitable, and promote them over others
Keep the customer happy.

Next steps: Watch Foundations of cash flow webinar

This webinar is produced by the Davidson Institute, Westpac's home of free financial education resources, building confidence today for a better financial future.
Which loan is right for you?
Things you should know
General advice: This information is general only and does not constitute any recommendation or advice. It is current at the time of publication, and is subject to change. It has been prepared without taking account of your objectives, financial situation or needs. Because of this you should, before acting on the information, consider its appropriateness, having regard to these matters. Consider obtaining personalised advice from a professional financial adviser and your accountant before making any financial decisions in relation to the matters discussed in this document, including when considering the finance options for your business.