Biz Invoice: Our handy online invoicing tool
Set up an invoice template to create, send and manage invoices from any device.
Benefits for your business
Complimentary with Business One Low and High Plan accounts and most Foreign Currency Accounts1
Easy to use on the move in Westpac Online Banking
Encourages fast payments with simple ways to pay including BPAY option (sole traders only)
Saves time writing, sending and reconciling invoices
Simplifies invoice chasing with automatic payment reminders
Smart-looking invoices that reinforce your professionalism.
Take our 70-second invoice template tour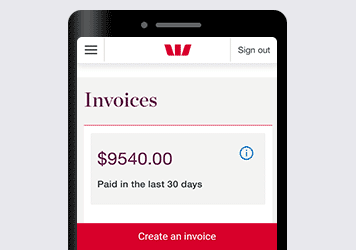 Automatic reconciliation3
(When correct details are provided)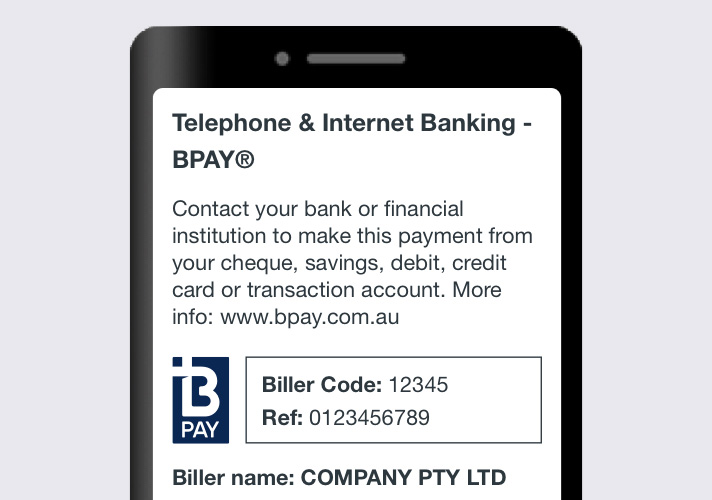 BPAY option for sole traders
(We'll cover the $150 set up fee4)
How can I start sending online invoices?
What do businesses love about Biz Invoice?
"Biz Invoice saves me time and the template looks professional."
Joshua Costa, Costa Contractors Pty Ltd
"Biz Invoice is easy to use and I needed an invoicing tool. Biz Invoice is on the cloud, you can access it anywhere. It's all in one place."
Edwin Polis, Owner, AAA Claims
Make tax less taxing
See how much easier it is to complete your tax return using Online Banking.
Things you should know
* Open a new Business One Low Plan account online between 18 October and 3 December 2021 to have monthly plan fees waived for the first 12 months. At the end of the 12-month period, the standard monthly plan fee (currently $10) will apply. Other fees and charges, terms and conditions apply to the Business One Low Plan. This offer may be repeated from time to time, withdrawn, varied or extended at any time.

1.
To be eligible for Biz Invoice you must be registered for Online Banking and hold a Westpac Business One Low Plan or Business One High Plan or Foreign Currency Account (excluding the Chinese Yuan RMB foreign currency account). Terms and conditions, fees and charges apply in relation to the above accounts. Read the disclosure documents for your selected product or service, including the Terms and Conditions or Product Disclosure Statement for
Westpac's Online Banking facility
,
Business transaction accounts
and
Foreign currency account (PDF 291KB)
, before deciding.
2. Account opening criteria applies to Westpac Online Banking.
3. If your customer makes their payment with the correct payment description, we'll automatically reconcile the payment to the correct invoice. Only for cleared funds paid to the linked Business One Low Plan or Business One High Plan account where the value does not exceed the outstanding amount of a current invoice.
BPAY® and Osko® are registered trademarks of BPAY Pty Ltd ABN 69 079 137 518.