2019 performance reports archive
We are committed to regular, transparent reporting to enable stakeholders to compare our relative performance over time.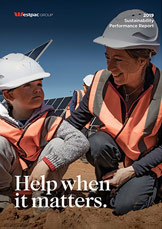 2019 Sustainability Performance Report
Released 4 November 2019
A detailed report of sustainability's performance is contained in the Sustainability Performance Report available in the 2019 annual report suite.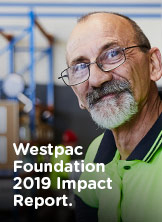 2019 Westpac Foundation Impact Report
Released 6 November 2019
A report on the collective impact Westpac Foundation and its community and social enterprise partners are creating across Australia to help change lives for the better, one job at a time.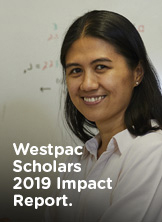 2019 Westpac Scholars Impact Report
Released 16 December 2019
A report documenting the progress of the Westpac Scholars Program in 2019 and celebrating the success of Westpac Scholars – homegrown innovators shaping tomorrow.
2019 Carbon Neutral Disclosures
5 December 2019
Since 2013, Westpac Group's operations have been certified as carbon neutral under the Australian Government's National Carbon Offset Standard (NCOS) Carbon Neutral Program
2019 UK Modern Slavery Statement
An annual statement setting out the steps we have taken to prevent modern slavery in our business and supply chains globally in accordance with Transparency in Supply Chains provision (section 54) of the United Kingdom's Modern Slavery Act 2015.

2019 Global Compact Communication on Progress
January 2020
An annual submission on progress against the UN Global Compact confirming our status as 'Active'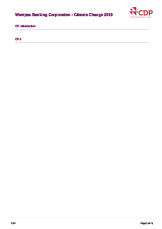 2019 CDP Climate Change Submission
Submitted July 2019
Westpac's submission to the 2019 CDP (formerly Carbon Disclosure Project) Climate Change Questionnaire.