Westpac Indigenous and remote banking

We're here to help you, your business and community prosper and grow.
We have a strong Indigenous and remote banking capability, with specialists who understand that helping Indigenous Australians, businesses and remote communities to thrive requires respect for culture and community.
Remote banking services
We have banking service points to assist Aboriginal and Torres Strait Islander customers in remote communities.
Indigenous Call Centre
No matter how remote your location in Australia, our Indigenous Call Centre Team could help you with:

Basic everyday banking enquiries such as balance enquiries and card replacements.
Access to translation services including Indigenous languages.
Determining which products and services may be suitable for you.

Call us on 1800 230 144. This service is available Monday to Friday 9am – 6:30pm CST.
Translator service
Our Call Centre Team can arrange for a translator to be involved in a call if you would prefer to speak in an Indigenous language. Simply ask for a translator when you call us.
Making sure it's really you
When you call us to make a banking request, we have to make sure it's really you and not someone else trying to access your accounts without you knowing.

This is why we may ask you questions that only you should know the answers to and why it's really important that you let us know if your personal details change - like your address, phone number or email - so we have the most current information to assist us in keeping your account safe when identifying you.
Online banking
You can manage your banking, cards, and accounts online with Westpac Online Banking.

As access to the internet improves in remote areas, we know many people are using our Westpac Online Banking platforms for the first time and may need a little more information on how to use the service. You can watch a number of How To videos on our website in the Westpac Online Banking support and FAQ page.

We know that not all remote areas have online access yet. You can access our Westpac Online Banking using a Centrelink Agent computer. Find your closest Centrelink Agent using the Find Centrelink tool on their website.
Find a branch
We have branches in many remote and regional communities. Find your closest branch using the
Locate Us tool
on our website or by calling us on
132 032
8am – 8pm Sydney Time, 7 days.
Our partnership with Australia Post brings Bank@Post services to many remote and regional areas that don't have any bank representation. Find your closest Bank@Post using the Australia Post Locate Us tool on their website.
Westpac Remote Services
Our visits provide financial education and help for customers and service providers to access and maintain banking from a remote community. You can ask questions, solve problems (including identification), and help ensure your banking is right for you. These services can be requested by a community representative by emailing: indigenousbusiness@westpac.com.au
My accounts
We have accounts that may suit your needs. You can learn more about them here.
 
Things you need to know
You can tell us what you think or get in touch if something goes wrong with your keycard or your account.
 
Westpac Card Services Telephone number 8am – 8pm AEDT, 7 days 1300 651 089, or ( +61 2) 9155 7700 (24 hours a day, 7 days a week) if calling from overseas. Please note that calls made from mobile phones, public telephones or hotel rooms may attract additional charges.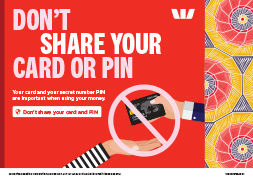 Easy English guides
We've translated key documents into Easy English, a style of writing that helps people with a range of communication needs to understand important information.
If you need to, you can get someone to help you:
Read this guide.
Understand what this guide is about. 
Find more information.

Indigenous Business Banking
Westpac's Indigenous Business team provides specialist support by connecting you and your business to the most appropriate bankers in the right locations and partnering with you to build financial confidence.

This includes supporting your business to build its capability and capacity by working with Westpac's Davidson Institute to deliver tailored financial education sessions via webinar or face to face.

To talk with us about your business needs, contact the Indigenous Business Banking team by email indigenousbusiness@westpac.com.au.
Financial education
Westpac's Davidson Institute offers a range of free money management topics for individuals, businesses, not for profit organisations and community groups. Choose from live webinars, on-demand videos, or downloadable tools and guides to help build your financial confidence.

Find out more about Davidson Institute.
Our vision for Reconciliation
Westpac Group's vision for reconciliation is an Australia where Aboriginal and Torres Strait Islander peoples have equitable economic participation and financial wellbeing. We seek to achieve this by listening to, learning from, partnering with, and elevating Aboriginal and Torres Strait Islander voices.

Our 2022-2025 Reconciliation Action Plan (RAP) – the fifth since we launched our initial plan in 2010, lays out our vision for reconciliation, focusing on four areas where we believe we can achieve the most significant outcomes. Reconciliation Australia has again recognised Westpac at the highest level as an Elevate RAP Partner, a status that reflects our ongoing commitment and leadership in reconciliation.

Find out more about our Reconciliation Action Plan.