Listening to stakeholders and our materiality assessment process
Engaging with our stakeholders enables us to understand and respond to their expectations and concerns.
Our approach to engaging with stakeholders is guided by the Global Reporting Initiative (GRI) Universal Standards 2021 and its principles for defining reporting content, which includes stakeholder inclusiveness. In line with the GRI, we engage with our stakeholders to identify and report on the expectations and interests of key stakeholder groups. We seek to ensure that our stakeholders are able to engage with us in a meaningful way.

Our sustainability management framework, which includes internal frameworks, policies and committees, also supports our stakeholder engagement process. External stakeholder forums including our Stakeholder Advisory Council, Customer Council, Safer Children, Safer Communities Roundtable, and Westpac Indigenous Advisory Committee, play an important role by bringing wider perspectives to help inform our approach.

A number of channels enable us to further understand concerns and respond to stakeholders:
Stakeholders
Ways we engage
Customers

Call centres
Online
Social media
Customer advocate
Focus groups
Customer councils
Branch teams and relationship managers
Customer surveys
Customer feedback from branches

Employees

Quarterly Surveys
Yammer (internal social media)
People leader forums
CEO check-ins
Ongoing team meetings

Investors

Surveys
Briefings and meetings
Annual General Meeting
Round tables

Government and regulators

Policy and trend analysis
Industry forums
Submissions
Reform proposals
Meetings
Media Updates

Suppliers

Supplier forums
Meetings
Surveys
Assessment against our Responsible Sourcing Code of Conduct

Non-governmental organisations

One on one meetings
NGO participation in industry meetings

Communities

Ongoing dialogue with community partners
Local branch engagement
Skill-based volunteering, mentoring and secondments
Strategic workshops and working groups
Grants and sponsorships
Our sustainability materiality process
Through our annual sustainability materiality assessment process and ongoing stakeholder engagement, we identify the issues and opportunities that matter most to our stakeholders.
Our sustainability materiality assessment is based on the updated Global Reporting Initiative (GRI) Material Topics Universal Standards 2021 and defined by the significance of the impacts of our business activities on the economy, environment, and people, including impacts on their human rights.
In 2022, in consideration of global sustainability reporting developments, we enhanced our approach to further consider the information needs of financial stakeholders and increased our sustainability disclosures in our Annual Report.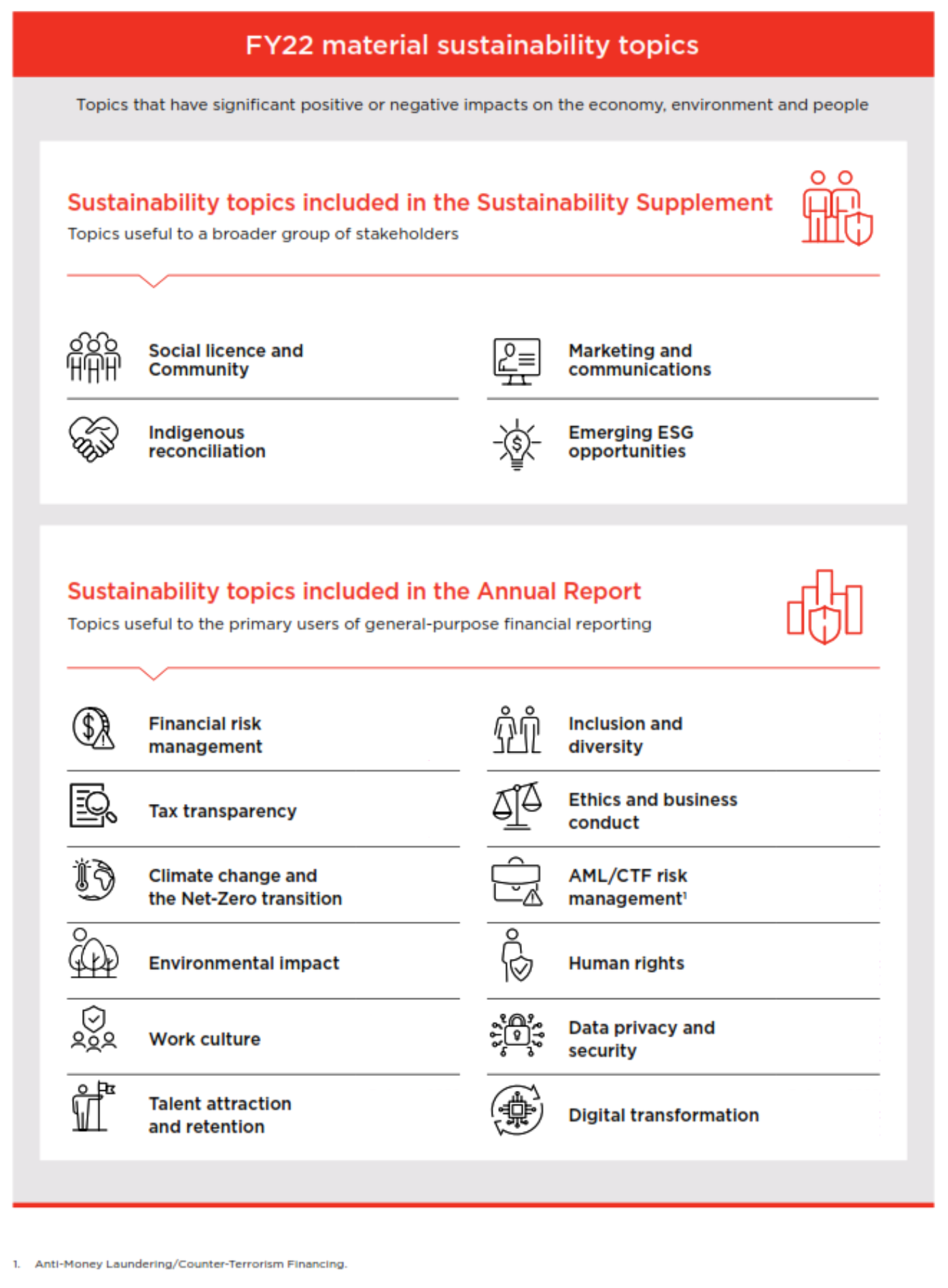 For information on our latest materiality assessment, see our 2022 Sustainability Supplement.
Your feedback
We know how important it is to listen and respond to customer and community concerns on a wide range of issues and we are committed to doing business in a responsible manner.

If you would like to provide feedback or raise an issue, you can contact sustainability@westpac.com.au.