Westpac tops Access & Inclusion list; Westpac Foundation announces new Inclusive Employment Grants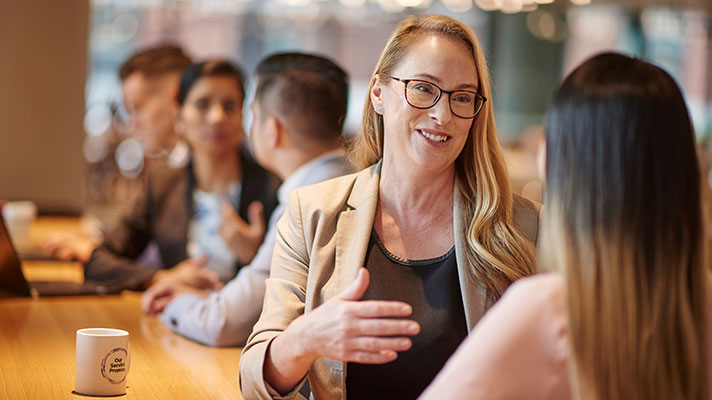 9 June 2022
Westpac is proud to have been awarded first place on the Access & Inclusion Top Performers 2021-2022 list, awarded by the Australian Network on Disability.

To secure the top spot, Westpac demonstrated clear action and progress on access and inclusion, for both employees and customers.

This follows the 2021 release of Westpac's latest Access & Inclusion Action Plan (2021-2024), of which the organisation has already embedded 40% of actions, and is on track to complete all actions on time.

Christine Parker, Group Executive Human Resources Westpac, said that Westpac is working hard to provide even better access and more inclusive operations for both employees and customers.

"As one of Australia's largest employers, and with ten million customers, we want our people and customers to have access to, and be included in, how we do business. As technology transforms our business, so must our approach to accessibility, with innovation at the forefront."

Westpac's access and inclusion initiatives include:

The roll out of more than 105,000 EFTPOS Now terminals with industry-leading accessibility features.
The launch of Easy English Guides, making information more accessible for customers with a diverse range of communication needs. These guides cover topics including financial hardship, getting help from an interpreter, and how to provide feedback or make a complaint.
Westpac's new banking app which provides equal access to customers with disability. The new app is compatible with screen reader software, has adaptable colour contrast and uses plain English so it is easy to understand.
Westpac workplaces are designed to be accessible and inclusive, including having accessible wayfinding such as Braille Tactile on stairwells and lockers, options for using Hearing Loops in all meeting rooms, and adjustable workstations to suit an employee's individual and unique needs.
Westpac runs Disability Confidence Training & Employee Workshops to build awareness, skills, and knowledge in accessibility, enabling employees to better assist colleagues and customers who have accessibility requirements.
We have created a more inclusive customer complaint process for customers needing to raise a complaint via Auslan.

"We are proud of our progress, but we know we have more work to do and are focused on implementing the next stage of our plan," Ms Parker said.

This week, the Westpac Foundation has also announced the launch of new Inclusive Employment Grants, designed to support community organisations, and social enterprises, that create jobs and training opportunities for individuals and communities experiencing disadvantage.

The grants seek to foster innovative, collaborative and place-based approaches by organisations building a more inclusive economy and resilient communities in response to the significant impacts across Australia of COVID, the changing nature of work, and climate change.

Westpac Foundation will offer up to 40 grants of $50,000 over two years, to help build the capacity of the organisation, increase their sustainability and scale for greater impact in key priority areas

Westpac Foundation Acting CEO Amy Lyden says inclusive and sustainable jobs are those that take a "people-centred" approach.

"Many people across the nation face barriers to finding employment in the mainstream job market, where their skills and talent can be overlooked.

"Inclusive and sustainable jobs focus on addressing the complex needs of individuals and communities and offer the flexibility and support that helps them transition to quality mainstream employment," Ms Lyden said.

Grant recipients will be matched with a Westpac Community Ambassador to help access a broad range of networking, leadership, business strategy, governance and financial capability programs.
Media Contact: