If you have arrived at this page by following a link in the following emails, it's likely you've been the target of a hoax email, pictured below.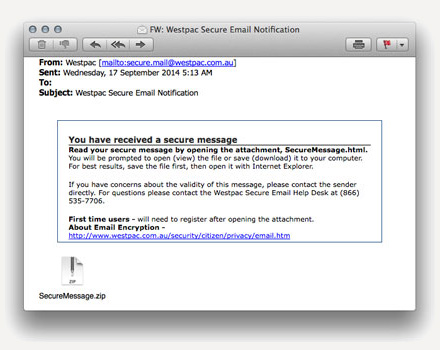 The email contains a malicious attachment that is designed to infect your computer with credential stealing software. Both the email and the related attachment are fraudulent and were not sent to you by Westpac. Please delete the email and do not open the attachment.

If you have opened the attachment, we recommend that you immediately update your operating system, firewall and anti-virus protection. We recommend that you consult with a computer specialist to obtain professional assistance in removing the threat from your computer. We also recommend that you use an alternative computer for Online Banking until the threat has been removed. Find out more information on how to protect your computer.

Westpac will never send an email asking you to update, verify or correct your personal details. For more information about scams, please visit our fraud and scams section.
If you believe that your security has been compromised or you notice a transaction you did not make, contact us immediately on 132 032 (24 hours a day, 7 days a week).