SMSF Investor Hub
Explore insights and strategies to help you make the most of your self managed super fund (SMSF).

Westpac and BT – we're here to help
As part of our Group and one of Australia's leading wealth experts, BT has been helping Australians build and protect their wealth since 1969.
Through BT, you can access a range of solutions across super, investments and insurance, to help you plan for today and tomorrow.

Looking for more insights?
Explore BT's latest market and investment insights for self-managed super funds.
Check your SMSF investment strategy
It's important to review your investment strategy regularly. BT can help you explore:
Is your SMSF strategy still right?
How are other SMSFs investing?
What are the latest SMSF investment insights?

Open up your investment options with BT SMSF
Access to Australian shares, ETFs, term deposits, managed funds and more

See how you're performing with portfolio tracking and tax reporting

Dedicated SMSF consultants and support team for when you need help

Suitable for established SMSFs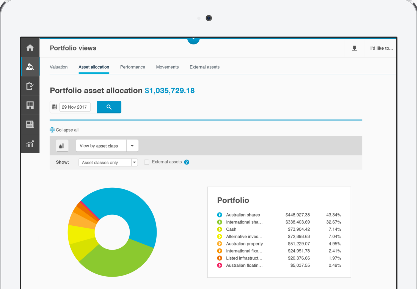 Things you should know
The information on this webpage about Panorama products and services has been prepared by BT Portfolio Services Ltd ABN 73 095 055 208 AFSL 233715 (BTPS) and is current as at December 2021. The information provided is general in nature and does not take into account your personal objectives, financial situation or needs and so you should consider its appropriateness having regard to these factors before acting on it and read the disclosure documents, including the terms and conditions or Product Disclosure Statement, before making any decision. All examples and images are for illustrative purposes only. Your portfolio value and performance are likely to be different and will depend on the investment options you have selected and the time period over which you are invested in those options. Past performance is not a reliable indicator of future performance.
BT Portfolio Services Ltd ABN 73 095 055 208 AFSL 233715 (BTPS) operates Panorama Investments. Westpac Financial Services Ltd ABN 20 000 241 127 AFSL 233716 (WFSL) is the responsible entity and issuer of interests in BT Managed Portfolios. Westpac Banking Corporation ABN 33 007 457 141 AFSL and Australian credit licence 233714 (Westpac) is the issuer of the BT Cash Management Account (BT CMA). Together, these products are referred to as the Panorama products.
A Product Disclosure Statement or other disclosure document (PDS) for the Panorama products can be obtained by contacting us on 1800 622 910 or by visiting www.bt.com.au/smsf. You should obtain and consider the relevant PDS before deciding whether to acquire, continue to hold or dispose of interests in the Panorama products.
BTPS and WFSL are subsidiaries of Westpac. Apart from any interest investors may have in Westpac term deposits, Westpac securities and BT CMA acquired through the Panorama products, an investment acquired using the Panorama products is not an investment in, deposit with or any other liability of Westpac or any other company in the Westpac Group. These investments are subject to investment risk, including possible delays in repayment of withdrawal proceeds and loss of income and principal invested. Westpac and its related entities do not stand behind or otherwise guarantee the capital value or investment performance of any investments acquired through the Panorama products.