Questions To Ask When Saving For Your First Home
Answers to some of the most common questions you'll have on one of the biggest purchases you'll ever make.
September 2020 – 7 minute read
Key takeaways from this article:
Saving for a house deposit
Your borrowing power
Key fees and charges explained
Tips for saving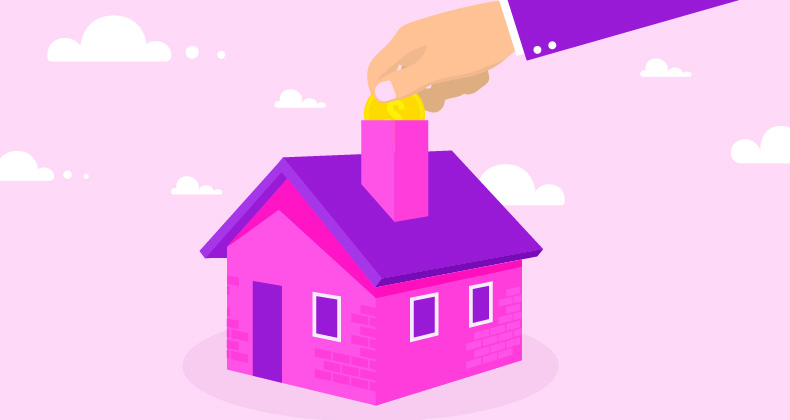 There's nothing more exciting than buying a first home. It's one of the biggest purchases you'll ever make and one that will change your life.

So it's normal to have a few questions about how everything works. And when you're asking more questions than you're getting answers, it's normal to feel stressed or anxious. But it's never too early to start reading up on things like saving for a house deposit or how much you'll be able to borrow. The more you know now, the sooner you'll be moving in.
How much do I need to save?
It's a good idea to aim for 20% of the purchase price, plus a bit extra. If you know the area you'd like to buy in, have a look at property listings to get a sense of the average house price. And don't be afraid to start small – you could always move to something bigger later on.

Be aware there can be a difference between a property's market value and its bank valuation. If the bank valuation is lower than the current market value, you may need to add more to your deposit to make up the difference.

House prices vary by region, but the ABS has stated Australia's average house price was $690,200 in the June 2020 quarter. This means you could need to save a deposit of approximately $138,040 (excluding additional costs) to avoid paying Lender's Mortgage Insurance.

If you have between 5% and 20% of the property's value (which is based on your lender's valuation of the property), you can still put down a deposit, but you may need to pay Lenders Mortgage Insurance. This lets you borrow a larger percentage of the purchase price and can either be paid up front or be included in your loan repayments, so it's spread out over time.

'Lenders Mortgage Insurance' (or LMI)
Is a premium added to your home loan when you're approved to borrow funds with less than a 20% deposit. It protects your financial institution from losses if you're unable to make repayments on your mortgage. The price of your premium is calculated according to how much you borrow, but the more you contribute, the lower it will be.
How long will it take to save a deposit?

Real talk: saving a deposit for a home takes time. On average, first-home-buyer couples in Australia take 4.6 years to save a 20% deposit. If you're in Sydney, it takes a lot longer.

Whatever happens in the market in the next few years, you'll thank yourself later if you start saving now.
How much can I borrow?
You can work out how much you can borrow for a home loan by using a borrowing calculator. You'll be asked to input information like your income, financial commitments and whether you have any debt. It will then give you a guide to your potential borrowing capacity.

Home loan calculators are just a guide, but they're good for giving you a ballpark figure. When you're ready, you can visit your local Westpac branch or request a call back to get more detailed information.
What else do I need to budget for?
There are a few other costs you need to anticipate when buying a home. These can include:
1. Stamp duty
Stamp duty is a broad-based tax applied to different types of transactions by the government. It's also sometimes known as "land transfer duty" when it's applied to property purchases. The amount of stamp duty you'll pay is variable, depending on the type of property you're buying, whether or not you're a first-home buyer, and if it's an established home or a new build.
2. Lending fees
"Lending fees" is an umbrella term for the different fees you're required to pay upfront when buying a home or property. They include:

Application fees, which cover the cost of drawing up documentation for your loan

Valuation fees, which help the lender ensure you're borrowing an appropriate amount for the cost of your property

Conveyancing fees, which cover the cost of transferring the property's title to the new owner

Stamp duty
3. Inspection fees
Inspection fees, such as building and pest inspections, aren't included in the costs associated with your loan as they're generally optional extras completed prior to the final sale.
4. Legal fees
Unless you're a legal eagle, you'll likely need help from a conveyancer or solicitor to prepare your home loan. Their fees for advice and document preparation vary depending on your lender and the size of your loan.
What about how to save money?
A great first step is creating a budget and savings plan. Add up all your expenses and work out how much of your income is left after you've paid them. Next, you can decide on a realistic percentage of your total income to save. Remember: saving for a home is a marathon, not a sprint.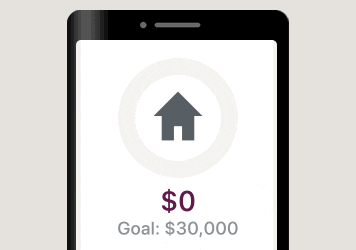 Picking a savings target and breaking it up into smaller chunks is another great way to help keep you on track.


A high-interest savings account will help your savings build up faster. If you're aged between 18 and 29, you could earn up to 2.5% p.a. variable interest on savings up to $30k, with Westpac Life savings and Choice Everyday accounts.*
The Westpac Life account allows you to set and prioritise savings goals. That means you can dedicate your account entirely to saving a house deposit, or save for both a deposit and that much-needed holiday at the same time. To make things easier, you can set regular transfers from your linked Westpac Choice account.
You may find these useful

Things you should know
This information is general in nature and does not take your personal objectives, circumstances or needs into account. Before making a decision about any of our products or services, please read all the terms and conditions and consider whether the product or service is right for you. Fees and charges apply and may change.
Westpac Life variable interest: includes a standard variable base rate plus a variable bonus rate. To earn the variable bonus interest you must make a deposit to your Westpac Life account, ensure the account balance is higher at the end than the beginning of the month and keep the account balance above $0. Interest is calculated on the daily balance of your Westpac Life account and paid on the last business day of the month.
Spend&Save bonus variable interest
: to earn the bonus variable interest, you must make 5 eligible purchases with the debit card linked to your Choice account and have these settled (not pending) within a calendar month. The following transactions are ineligible: ATM transactions, BPAY, EFTPOS cash out only transactions and purchases settled to a credit card account. Interest is calculated on the daily balance of your Westpac Life account(s) up to $30,000 and paid to your Westpac Life by the 20th day of the next month. If the account is closed, the interest payable will be paid into an alternate open Westpac transaction or savings account in your name by the end of the next month.
Available to individuals aged 18-29 on new and existing sets of Westpac Life and Choice accounts from 1st July 2020 and may be varied or withdrawn at any time in accordance with the deposit account terms and conditions. Westpac Choice and Westpac Life sole or joint accounts must be opened in the same customer name(s). Eligible on a maximum of 3 sets of Choice and Westpac Life sole and/or joint accounts.
Westpac Deposit Accounts for personal and self-managed superannuation fund customers
Terms and Conditions apply. (PDF 1007KB)
2.5% p.a. variable interest: earn up to 2.5% p.a. variable interest when you meet the criteria for both Westpac Life variable interest and Spend&Save Bonus variable interest. For bonus interest qualification, a month is the period from close of business on the last business day of the prior month to close of business on the last business day of the current month.