How share trading works

There's more to share trading than buying and selling. Find out about the steps involved.
Working out what to buy and/or sell
There are many tools available to assist you to make investment decisions. Before making decisions on what to buy and/or sell it's important that you are well informed about your decision. However, if you don't have the time, interest or skill to be a successful investor, you may be best served by seeking advice from a financial planner.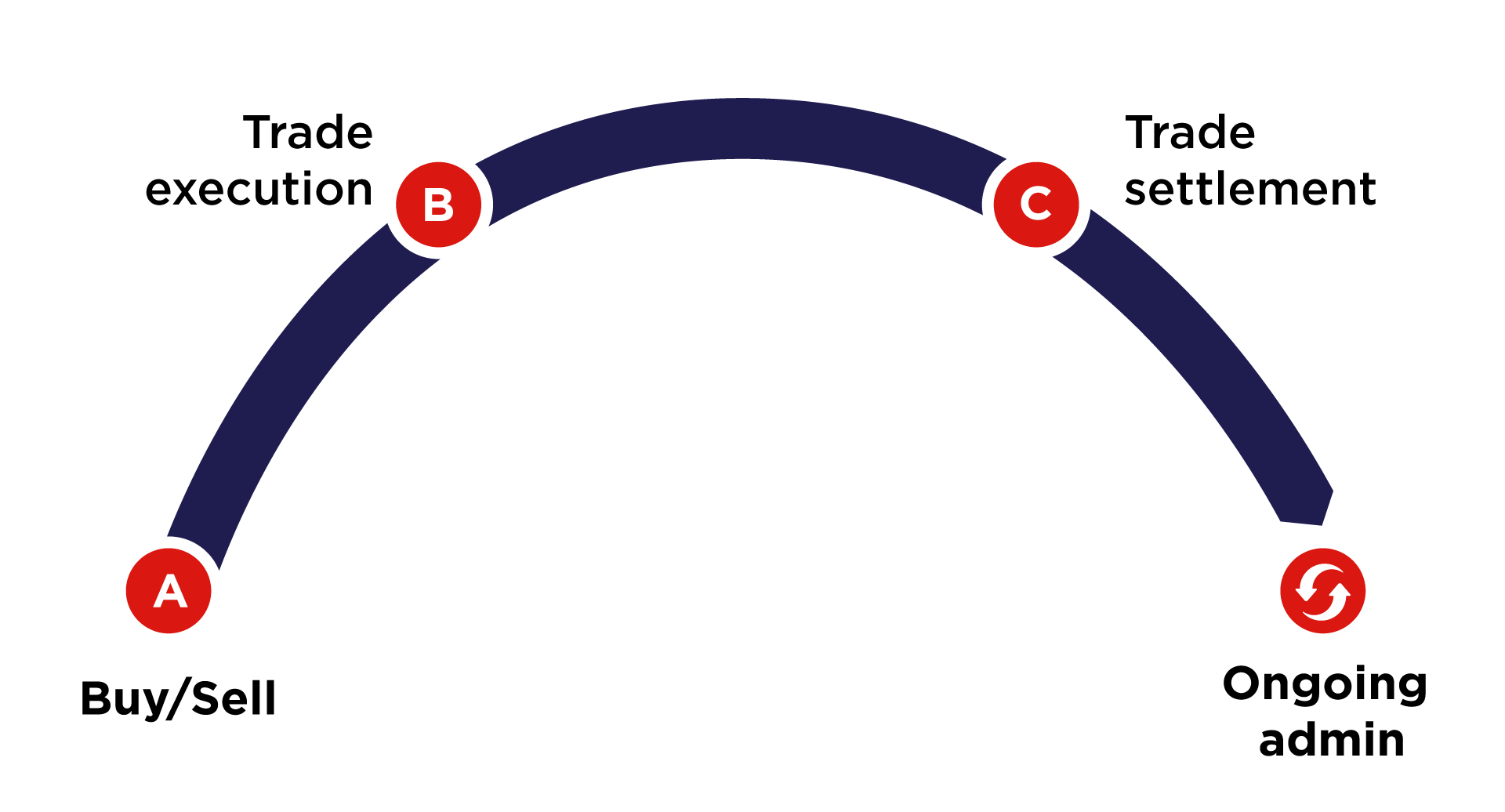 Trade execution
Bid/offer prices
For each security on the share market, there will generally be a series of 'offers' (prices sellers are willing to sell their shares for) and 'bids' (prices buyers are willing to pay to buy them). When a bid matches an offer, a trade is executed at that price.
Types of orders
There are two basic types of orders; an 'at market' order or an 'at limit' order. An 'at market' order will be executed at, or around, the current market price (noting that your order may not be completed in full if the market moves away from the current price). An 'at limit' order allows you to be specific about the price you want to pay. If you limit a buy order, the trade will only be executed at or below this price. If you limit a sell order, the trade will only be executed at or above this price.
Contract notes (confirmations)
After your trade has been executed, you will receive a contract note (also known as a confirmation) from your broker, showing the details of the trade.
Trade settlement
Trades are 'settled' 2 trading days after the trade execution date ('T+2'). On settlement, ownership of the shares is transferred from the seller to the buyer, and payment for the shares is transferred from the buyer to the seller.
It doesn't stop there...
If you are buying shares in a company for the first time, you will receive a welcome letter from the company's share registry. You will need to complete and return some documents, such as your bank account details (for dividend payments), and a tax file number declaration.
You will receive holding statements from the clearing house (called 'CHESS' for the ASX), detailing your transactions and holdings for each security.
When dividends are paid, you will receive a statement from the share registry. The dividend will normally be paid directly to your nominated bank account. Some companies have Dividend Reinvestment Plans (DRPs) which allow you to reinvest dividends to buy more shares in the company, often at a discounted price.
Companies hold Annual General Meetings (AGMs), and from time to time will have 'corporate actions' (such as share buybacks or additional capital raisings) that you will need to consider. The share registry will notify you of these. It's important to keep records of all transactions and dividends for tax purposes.
Things you should know
The information on this website has been prepared without taking account of your objectives, financial situation or needs. Because of this, you should consider its appropriateness, having regard to your objectives, financial situation and needs and, if necessary, seek appropriate professional advice. If a Product Disclosure Statement is available in relation to a particular financial product, you should obtain and consider that Product Disclosure Statement before making any decisions about whether to acquire the financial product. The information contained on this website does not constitute the provision of advice or constitute or form part of any offer, solicitation or invitation to subscribe for or purchase any securities or other financial product nor shall it form part of it or form the basis of or be relied upon in connection with any contract or commitment whatsoever. Any securities or prices used in the examples on this website are for illustrative purposes only and should not be considered as a recommendation to buy, sell or hold. Past performance is not a reliable indicator of future performance. This website may contain material provided directly by third parties. This information is given in good faith and has been derived from sources believed to be accurate at its issue date. While such material is published with necessary permission, no company in the Westpac Group nor any of their related entities, employees or directors (together, "Westpac"), nor the Participant, accepts responsibility for the accuracy or completeness of, or endorses any such material. This website may also contain links to external websites. Westpac and the Participant do not accept responsibility for, or endorse the content of, such external websites. Except where contrary to law, Westpac and the Participant intend by this notice to exclude liability for material provided directly by third parties and the content of external websites.