Manage Your Term Deposit
Renew your Term Deposit in Westpac Live Online Banking* - without having to call or visit a branch.
With Online and Mobile Banking you can:
Renew your Term Deposit when it reaches maturity1
Access a special rate when renewing your Term Deposit online
Compare interest rates
Top-up your Term Deposit
Provide maturity instructions during the variation period1
Funds can be paid directly into your Westpac account or other bank (within Australia)
Receive notifications via email and Online Banking Message centre when your term deposit is maturing

Find out more about Westpac Term Deposits.

How to Manage Your Term Deposit
Images and figures displayed below are for illustrative purposes only.
Sign in and tap on the menu icon at the top left of the screen

---
Tap Services and security

---
Tap Term Deposit instructions under Account services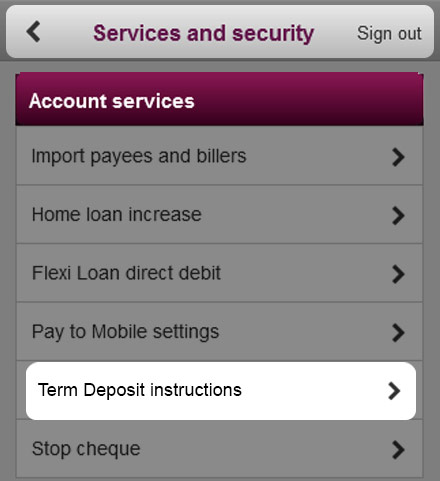 ---
Here you can view the current renewal details for your Term Deposit

---
Here you can view the current renewal details for your Term Deposit. To make changes to your renewal details, tap Make Changes.

---
Complete all the required details (including whether you would like to renew the current balance, add or withdraw funds, change the term and more) then tap Continue.

---
Review the renewal details and tap Renew

Things you should know
*Westpac Live will be available to update Term Deposits from 8:00 am to 9.30 pm on a Business Day and 8:00am to 4:00pm Saturdays (Sydney time)
1 'Variation period' means 6 Business Days from the date the Term Deposit matures.
Westpac Mobile Banking applications are only available for use by Westpac Australia customers. Internet connection is needed to access Westpac Mobile Banking app. Normal mobile data charges apply.