Introducing Westpac Keyboard for Android
Start banking without leaving your current screen or conversation
Westpac Keyboard for Android

Banking has come to your keyboard – instantly pay friends and share your details with one click.

Pay Anyone
Make a payment to an existing payee in just one click. Pay an existing payee direct from your keyboard

Share your BSB and Account details
Never forget to Share BSB and account details again, now at your fingertips
Get started
Make sure you have version 8.6 of the Westpac Android Mobile Banking App.
Step 1:
Tap the shelf menu in the top left of the screen and select Westpac Keyboard
Step 2:
Tap Turn on keyboard to review and accept the permissions of Westpac Keyboard
Step 3:
Tap choose keyboard to set Westpac keyboard as the default keyboard
Step 4:
Tap Sign in and choose account
Step 5:
Sign in using fingerprint, passcode or password
Step 6:
Nominate a default account from the list of eligible accounts and tap Next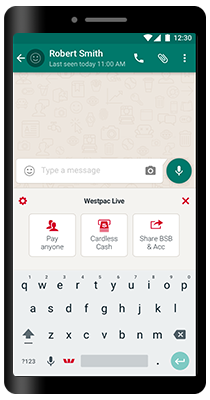 Tap Cardless Cash
Sign in to Mobile Banking
Select the amount that the recipient of the cash code can withdraw from any Westpac ATM (max $500) tap Next
You will see the Cash code which can be shared or used in any Westpac Group ATM within 3 hours
Share the code via SMS by tapping Send
Learn more about Cardless Cash
Choose Send BSB & Acc
This is the default account which has been set up.
The account details will appear within the messaging app. There is an option to edit before sending
Things you should know
Westpac Keyboard requires the Westpac Live Mobile Banking app V8.6 or later. Read the Online Banking terms and conditions at westpac.com.au and consider whether the product is right for you. Internet connection is needed to access the Westpac Live Mobile Banking app. Normal mobile data charges apply. Android is a trademark of Google Inc. © 2018 Westpac Banking Corporation ABN 33 007 457 141 AFSL and Australian credit licence 233714.