Money talks. Now it texts.
Introducing Westpac for iMessage – your new shortcut to Westpac Live.
Introducing Westpac for iMessage
A new way to pay friends, request to be reimbursed and share your BSB and account details without leaving your iMessage conversation.
Features include:
Make a payment to an existing payee
Generate and share a Cardless Cash code with a friend or family member to retrieve at any Westpac Group ATM
Request a payment and share your BSB at the touch of a button to never miss being reimbursed again.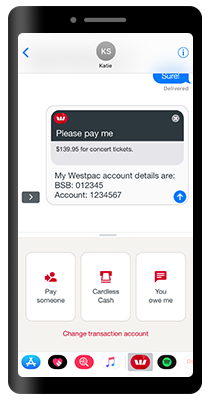 How to set up and use Westpac for iMessage
Westpac for iMessage is an extension of the iPhone Mobile Banking App. When you make a payment via Westpac for iMessage it is the same as making the payment via the iPhone Mobile Banking App. Simply authenticate using your fingerprint or 4 digit mobile banking passcode, select the relevant payee and make the payment (standard payment cut off times and processing times apply).
How to make a payment
Pay Someone
Tap Pay Someone
Sign in
Select a Payee from your contacts list (NB. if the person you are paying is not in your contacts list, sign in to Westpac Live Online or Mobile Banking and add them as a new payee and make the first payment, any subsequent payments can be done using Westpac for iMessage)
Enter the amount and tap Next
Add a description
Confirm
You will see a confirmation screen and tap Done
Message is prepopulated which you can share with a payee
Share a Cardless Cash code
Tap Cardless Cash
Sign in to Mobile Banking
Select amount to send via Cardless Cash (max $500) tap Next
You will see the Cash code which can be shared or used in any Westpac Group ATM within 3 hours
You can share this message via SMS
Learn more about Cardless Cash

You Owe Me
Choose You Owe Me
This is the default account which has been set up.
Frequently asked questions
Things you should know
Available in version 8.4 of the iPhone Mobile banking app running iOS 11. Three iPhone Mobile banking app features - Pay Anyone, generate Cardless Cash codes, and share BSB and account number – will be available when sending messages using iMessage. Cardless Cash terms and conditions apply with a limit of 3 Cardless transactions per day, subject to daily withdrawal limit of $500 and weekly withdrawal limit of $1,000.

Westpac Mobile Banking applications are only available for use by Westpac Australia customers.
Internet connection is needed to access Westpac Mobile Banking app. Normal mobile data charges apply. Westpac branch and banker locations are available within Australia only. Westpac, St.George, Bank of Melbourne and BankSA ATM locations are available within Australia, and Global Alliance ATMs are available worldwide.
Westpac's security guarantee
To enjoy the benefit of our security guarantee, you need to comply with Westpac's Online Banking Terms and Conditions. Read the detail about your access codes, passwords and SecurID tokens. Always adhere to manufacturers' software and support to ensure your mobile devices are covered by the latest software and security updates.

Apple, the Apple logo and iPhone are trademarks of Apple Inc., registered in the U.S. and other countries.